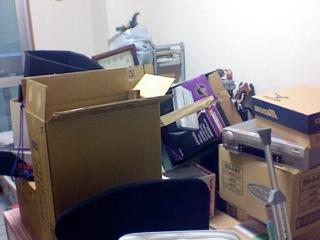 CONTRIBUTED BY JANNINE MYERS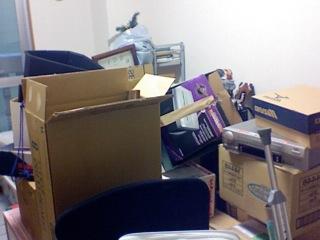 During the summer my husband and I decided that the Kadena flightline, located directly across the road from our off-base home, wasn't necessarily a great landmark to have near our front yard. Watching my youngest child throw her hands up over her ears more times in a day than I could care to count was just one of the factors that prompted us to move; the smell of aircraft fumes wafting in through our windows each morning was another major factor. Hence the process of moving house and all that it involves quickly began.
Since moving, my husband and I have encountered several people who for various reasons, were either considering the notion of moving or they had already moved from one home to another. Those who were still in the undecided phase had similar questions and problems they needed to resolve before seriously contemplating a move.
The following is a list of concerns/questions that were brought up in our conversations, and the answers we were able to give based on our own moving experience:
Did you move everything yourselves, or did you hire a moving company?
We researched the costs involved with both options and ended up hiring Global Van Company to move our household goods for us. Most moving companies will come into your home prior to the move and give you an estimated cost free of charge. You can ask for one or more quotes, for example, how much it would cost to have everything packed up, moved, and unpacked vs. the cost of having everything packed up and moved, but not unpacked. You can also opt to pack and unpack everything yourselves, and just have the movers pick up and drop off your items. If you choose to go that route, the cost should be significantly lower, and the moving company will drop off boxes and packing tape about a week prior to your move. Also, ask your housing agency to recommend a moving company; sometimes your housing agency can work out a deal and get you a discounted rate.
Did you encounter any problems with the housing office? And did you have to get their permission first?
It's a good idea to call the housing office first to make sure no new policies have been introduced which might affect your housing allowance if you move. We called ahead to inform the housing office that a) we were intending to move from one off-base residence to another off-base residence, and b) we intended to move into a slightly larger and more expensive home as my husband had been promoted the year before and we now rated a higher housing allowance. The housing office had no objections and proceeded to advise us on the necessary course of action.
What were the costs involved?
Our costs as I remember, included the moving company fees, housing agency fee, housing agency deposit, final inspection and cleaning fees, and re-installation of AFN cable, internet and phone. The housing agency fee was minimal however as we stayed with the same housing agency. I highly recommend putting off a move if you don't have reserve funds available to help cover the costs; you would be better off waiting until your financial situation is a little better.
Which housing agency would you recommend?
I don't think we can fairly answer this question, as apart from our own housing agency we have had little to do with other agencies. I can say however that Tokuzato Housing Agency was very accommodating in their quest to help us find a new home, especially once we explained our reasons for wanting to move and our intent to remain as their clients. Once this was understood by them, they made every effort to help us find the perfect home; they even gave us advance viewings and showed us homes before they were advertised.
Would you recommend moving at a specific time of year?
We began looking for a home in May and were in our new home by mid-July. We chose a good time of year to move as many families were getting ready to PCS at that time and homes were being vacated on a weekly basis. That being said however, I believe that there are a good number of homes available at this time due to the recent policy change which prevents families arriving on Okinawa from living off-base.
What did you do with large items that needed to be disposed of?
We placed our larger waste items outside our house, near the trash can, and had our housing agency send a staff member to come and assess how much it would cost to have it collected. The collection fee was added to our final bill.
Can you choose to clean the house yourselves once you've moved out, or do you have to pay for professional cleaning services?
I believe most housing agencies will allow you to do a self-clean but from what I've heard, their standards are very stringent and it's often difficult to do a "good enough" job. Our housing agency quoted us somewhere in the vicinity of Y20000 or Y30000 to have the house cleaned professionally.
I hope these questions and answers are useful, and please feel free to add any further comments/tips that might also be helpful to those contemplating a future move.
One more final tip for you that's more of a cultural rather than practical tip; I've been told that many Okinawans moving into a new home will wait for high tide, then sprinkle salt and miso throughout the home to ward off evil.