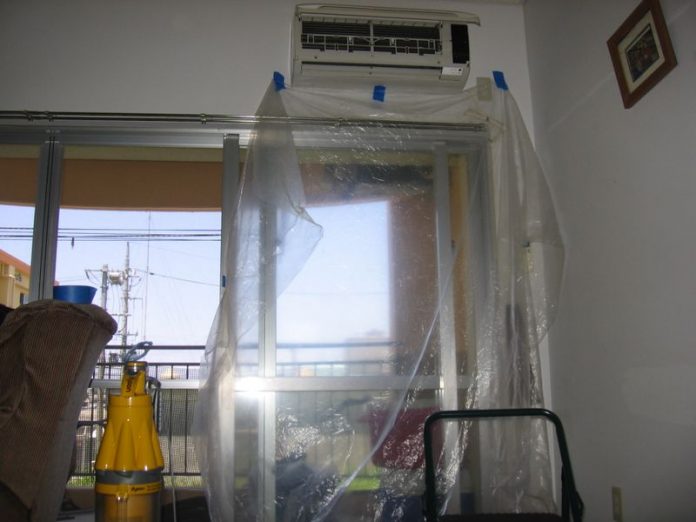 CONTRIBUTED BY KANDY
The weather seems to have changed from crisp mornings and breezy nights to just humid.  If you live off-base, you probably have at least one Japanese Air Conditioner.  Its bad enough learning how to read the Air Conditioner Remote,  let alone maintaining your salvation from heat and humidity.
I noticed that there were periods of time when the air flowing from one of our air conditioners smelled like a funky dishrag less than desirable.   After some research and a little reassuring translation from family,  I started my project.  Disclaimer, if this seems too intense of a mission just call this guy Heavenly A/C Cleaning. If you are up for the challenge here are the steps I took:
First: Get yourself a can of Air Con Cleaning Spray.  They can be found in DIY, grocery and department stores.  The blue can is fragrance free. Green is fragrance of forest.  And Pink is a new floral fragrance.  I went with green.  If you would like to see more photos of their products, click HERE.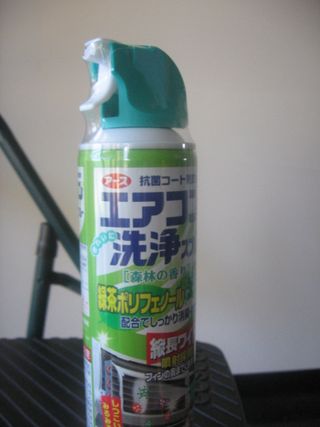 Second:  Prep your work area.  Since this was my first time, I erred on the side of caution and used a light painters plastic drape held onto the wall with painter's tape under the air conditioning unit.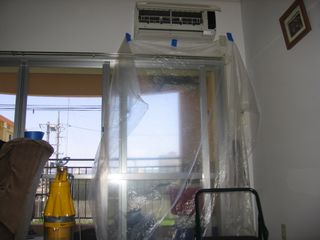 Third: Unplug your Air Conditioning unit.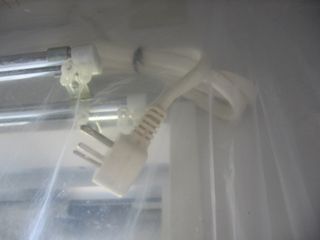 Fourth:  Lift the hood on the unit and pull out the filter screens.  We used the attachment on our vacuum and sucked away all of the dust that had accumulated on them.  Set them aside.  They won't be sprayed.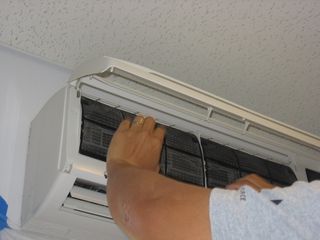 Fifth:  As stated on the directions, open windows for ventilation.  Its okay to let in a little humid air while doing this.  Just think how forresty or floraly fresh and cool your place will be in no time!
Sixth, remove the plastic wrap off of the can of spray.  Then lift the little white square tab on the top until it snaps off to "unlock" the sprayer.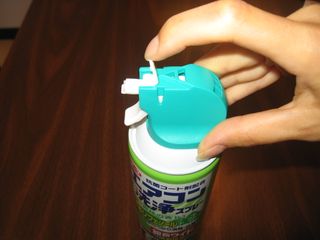 Seventh, shake the can 5 or 6 times.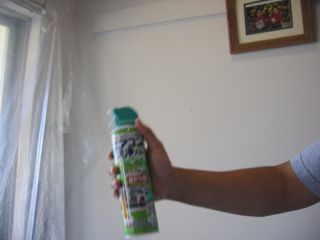 Eighth, with a distance of 5 centimeters, spray evenly to saturate the inside of the air conditioner.  If it looks like an electrical part or motor, avoid spraying it.  Sunglasses are optional.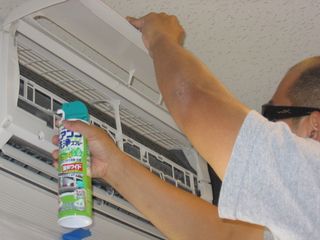 *There were a few drops of spray that landed on the painter's drape, so if you have furniture under your A/C, you might want to cover it up.
Ninth:   Wait 10 minutes.  That's the hardest part!
Tenth:  Put the filters back in and plug in your A/C.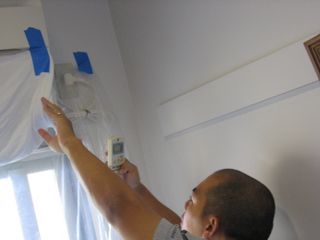 We covered the front with a light towel to catch anything.  It didn't seem like anything but air came out.  Whew!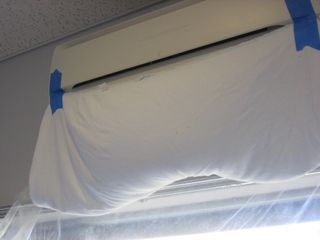 The liquid from the spray and all of the stink-causing-bacteria will come out with the water through the hose that runs outside.