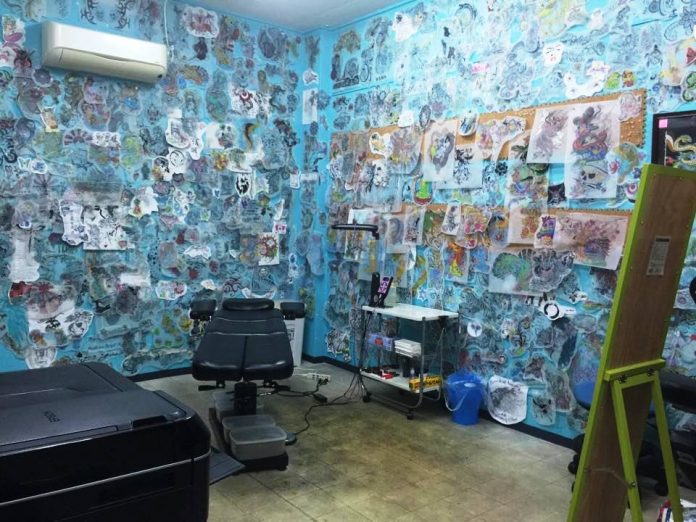 CONTRIBUTED BY LAURA SNELL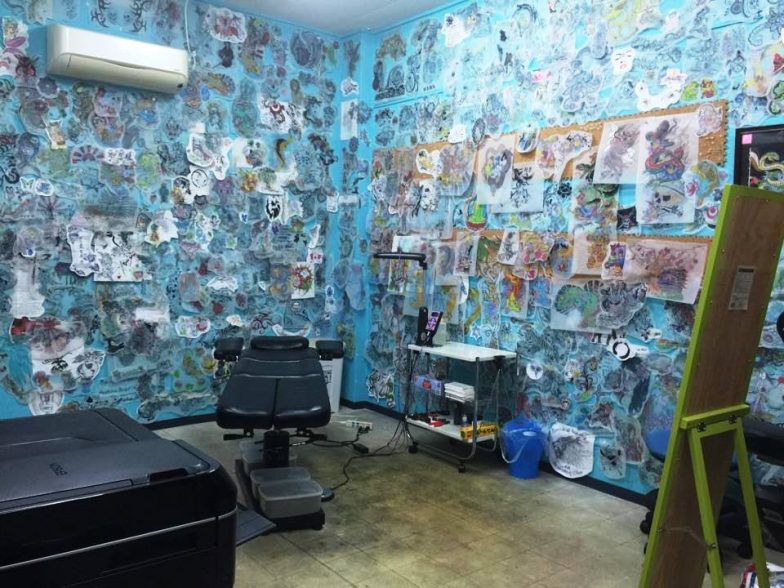 Looking to get a tattoo while in Okinawa, or perhaps something to commemorate an event or your time here? Melissa of Inkspirations is the person to go to! She only takes appointments, so no walk-ins. And, just to forewarn, she books up pretty fast so you have to schedule your appointment a little ways out. I knew I was coming back to the island so I contacted her in early August and I had my appointment September 19.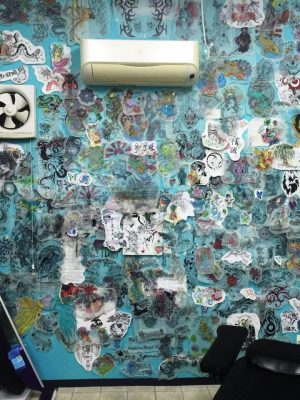 Melissa runs her shop out of her house (yes, the shop is separate). If she hasn't opened the shop gate in the front, you'll likely drive around trying to find it because there is not an outside sign. She is awaiting her new sign, so hopefully by the time this gets published the new sign will be up! (Editor's Note: If you have a photo of the outside with the sign, please send it to submissions@okinawahai.com.)
The shop walls are covered in her amazing designs, all tattoos that she has done on the island.
The environment was very clean and sterile and she works quickly (which is good when you're getting a tattoo on your ribs), yet very efficiently! I was in and out in two hours, thrilled with the piece I was leaving with! When you leave she gives you some care instructions to ensure proper healing and tattoo longevity.
If you are looking to get a tattoo done while on island, Melissa is amazing. Her creative talents are priceless. She works with you on design, concept, and color to get a one-of-a-kind piece that you'll be happy with forever!
She also has another artist who does work out of her shop (using the traditional bamboo tattoo method), if that's something you're looking for.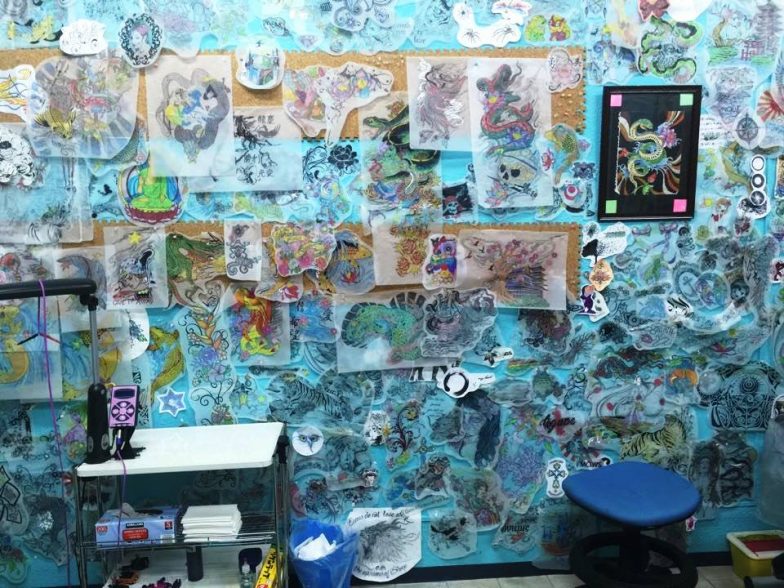 Phone: N/A
Payment: Yen, US Dollars
Cost: 10,000 Yen/Hour
Hours: By appointment only
Website: Inkspirations Tattoo Okinawa
Facebook: https://www.facebook.com/InkspirationsTattooOkinawa
Address: 1-18-8 Misato, Okinawa, Okinawa 904-2153
Map Coordinates: 26.3417096, 127.81607370000006
Directions: From Kadena gate 2, drive down Gate 2 street and turn left on 330 (Koza Intersection). Go straight for about 5 minutes, down the hill and through the intersection with 329. You will pass a Family Mart on the RIGHT, make sure you are in the LEFT lane because you will turn left on a small road after the convenience store. There is a small green sign with Kanji on the corner where you will turn left. If you pass a McDonald's on the RIGHT you have gone too far.
Once you turn left off of 330, go straight up the hill. They are at the top of the hill on the left. Turn left after the studio and there is parking in the second lot behind the building (marked). There are two spots on the left closest to the parking lot entrance.