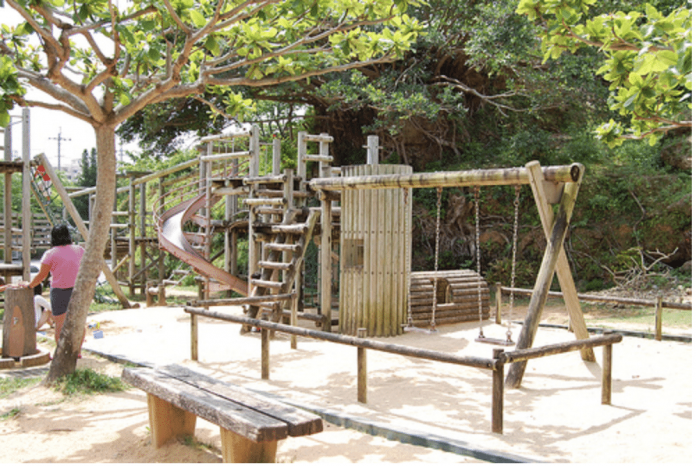 Iso Park, originally uploaded by juliamagnolia.
CONTRIBUTED BY MEREDITH NOVARIO
Iso Park has a great wooden play structure for older children and is okay for toddlers as well with some supervision.  There are a couple of slides and swings, a log bridge and rope bridge, a zip line, and lots of places to climb for your little monkeys. HERE is another shot.
Directions from Camp Foster:
Take a LEFT from the Foster Commissary Gate to head South on Hwy 58.
Pass McDonalds on your left side and make sure to stay in the left lane so that you DO NOT go over the overpass.
Pass A& W Drive-Thru Restaurant and Mos Burger.
Take a LEFT at the intersection of Arin Krin Garlic Restaurant (white building on your far left with garlic head people running around) and a McDonalds and Pachinko Parlor on your right.
Pass Meiji (big red and white sign) on your right.
Iso Park will be on your right shortly afterward.
Take a RIGHT directly into the parking lot just before a pink building on your left.