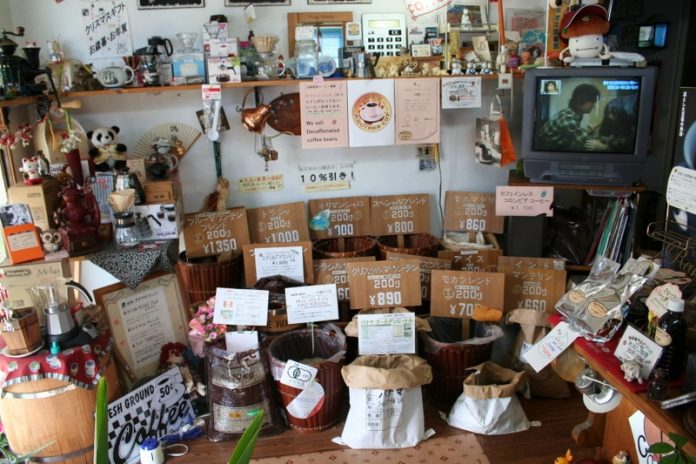 CONTRIBUTED BY KELLYERACE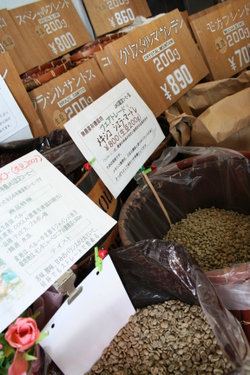 So last week's post was about coffee. And this week's post is about coffee. I've been kind of obsessed with the stuff lately. I think it started at Jusco about a month ago. I was there with my friend, Nana, doing a little window shopping when I honed in on a booth giving out coffee samples. We made a bee-line to it and the lady there handed us multiple shot size cups of coffee and offered some pieces of airy homemade banana cake. Oishii! She told us her name was Junko, and she worked at a shop called Good Company. (Check out their website HERE)
After that I was lost, because my Japanese is horrendous. Luckily Nana stepped in and found out some pretty darn interesting information about the business. So, it's a coffee shop, but not your ordinary coffee shop. It's a coffee roaster. You don't go there to order a cup of coffee or two; instead, you go to order coffee beans, custom roasted on the spot. Coffee roasted especially for you? Yes. And, according to Junko-san, it only takes 15 minutes. She'll give you a little cake to nibble on while you wait.
Wow. Wow, wow, wow! She told us it was near Camp Courtney, clear on the other side of the island from me. Drats. But, I couldn't let a little thing like that, or the crazy google translated directions from the website stop me. So on the weekend, hubby, baby and I went on (yet another) coffee quest. Surprisingly, it wasn't that hard to get too. It's really just a hop skip and a jump from McT and Courtney, you lucky people. Of course, it was closed the day we went (Sunday), but at least I knew where it was.
So today, I dragged a friend and her baby along with me and Gabe and we tried again. It was open. And the smell. The smell. Can I even describe it? The aroma of freshly roasted coffee, wafting through the air, penetrating the closed windows of your car in the parking lot? Ah…divine. Paradise. Well, a very tiny paradise. It's about the size of, I don't know, maybe your kitchen. But the floor is covered with a dozen or so bags of green coffee beans: Kilimanjaro beans, Brazilian beans, Panamanian, mocha, special blend beans, and more. About three varieties are organic and they also sell decaffinated beans.
The beans range in price from about 700 yen – 1000 yen per 200 grams (that's about 1/3 smaller than the bags they sell at the commissary), but you can get it roasted to suit your taste. Frankly, I was kind of overwhelmed. When I drink a cup of coffee, I know when I like it (strong, full bodied, hot) and when I don't (stale, burnt, weak) but I don't know anything about bean varietals. And, to be honest, I don't know much about roasts either. I get French Roast usually. It tastes richer to me but that's about as far as I go.
At Good Company, the owner Masaki-san showed me a menu of the different roasts they do: Italian, French, City, and many more. What kind of bean should I pick? What kind of roast? I had no idea. So I decided to ask Masaki-san in my broken Japanese which bean he liked. I think he said "all" at first, but then he pointed to "Kilimanjaro". I decided to get that bean and the Special Blend bean and have them both roasted French Roast. (Junko-san, who drinks three cups of coffee a day, opts for medium roast.)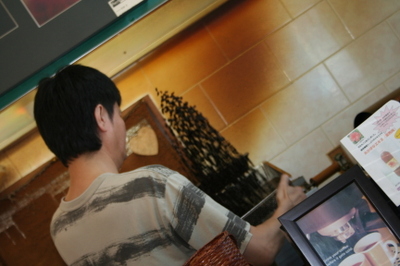 So, here begins my coffee self education. My plan is to do a little taste-off between the two kinds of beans I bought and then eventually try out all the different roasts. Then later, if I'm up to it, I'll do the same thing with the other kinds of beans too. I suppose there are easier ways to do my coffee learnin', like asking Good Company to do a tasting for me, or a "cupping" as they are called in the coffee world. But this seems funner. Less objective, perhaps, but ah well. Free feel to follow along on my coffee journey on this blog: www.coffeefilter.wordpress.com which I'm starting in the hopes that it'll make me disciplined in my experiment.
If you'd like to make the journey to Good Company, look for the little green star (top right) in the maps below. Courtney and McT folks, I'm jealous because y'all are so close. However, I learned today that for an extra few hundred yen Good Company will actually DELIVER coffee to YOUR HOME (off base). Lovin' that. Fax or call your order in and they'll drive it your way. They only speak Japanese though, so you might need to get some help on that one.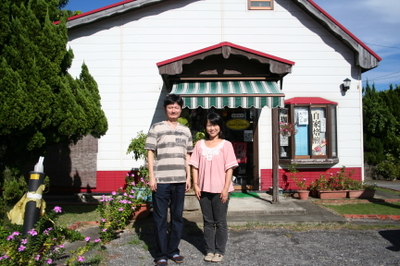 HOURS and PHONE: Open 10am-7pm (last order 6pm) Closed Sundays Phone/fax 098-974-2002
DIRECTIONS: From Kadena Gate 3: Hang a right on 74. Then hang a left on 85 like you are going to San A Main Place (Marino's). From 85, you can EITHER take a left on 329 north or wait a few more lights and go left on 75 north, both of these roads will intersect Rte 8. (I don't know which way is quicker.) Turn right on Rte 8. Look for a Max Value on the right side of the road, two signals after 75. Turn right there. It's Rte 224. There's also a bus station. Good Company is a small building on the left with a yellow and black sign, next to a water store and before a Coco's convenience store.