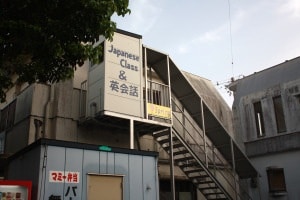 CONTRIBUTED BY MARY RICHARDSON
Living on Okinawa for a year and a half, I've taken several Japanese classes.
I started with the basic classes at Camp Foster Personal Service Center and moved on to a two-month long class at Kadena USO.  Both courses were helpful and gave me a good foundation. But afterwards, I didn't know where to turn next. It seems that many of the long-term Japanese programs here are expensive, too academic for my needs, or offered at inconvenient times.
Well, last summer, I found Izumi's Japanese School, conveniently located near Camp Lester. I've been studying there ever since.
Izumi offers both group and private classes. The group class meets on Thursday nights from 6:00-7:30 and costs 4,000 yen/month. Private classes meet according to your schedule one hour/week and cost 6,000 yen/month. Anyone who has researched classes in the area knows these prices are a great deal.
There are definitely benefits to both classes. I really liked practicing with other students in the group class. And privately, I appreciated personalizing lessons based on what was relevant to me.
Overall, my language goal is simple. I want to interact in Japanese and make a few local friends.
However, even though I still consider myself a beginner, I can function in situations I never thought possible. I've ordered a pizza over the phone, made various reservations for hotels and appointments, and negotiated over price at Yomitan Pottery Village. Often I even understand simple conversations I hear around me in town.
If interested in basic practical classes, give Izumi a try. You might be surprised how fast you absorb the language.
Izumi Hirata's Contact phone: 090-1179-1912
Email address: springizumi2005@yahoo.ne.jp
Directions: From Kadena Gate 2, take Rte 23 towards the 58. On the left side, you'll pass Coco curry and you'll see a bowling pin sign for the Chatan Sports Center. Turn left there and go straight. You'll pass the sports center on the right. Continue straight to the high school. Just past the school, you'll see a red vending machine on the right side. Turn right there and park. Izumi's school is on the second level of that building.