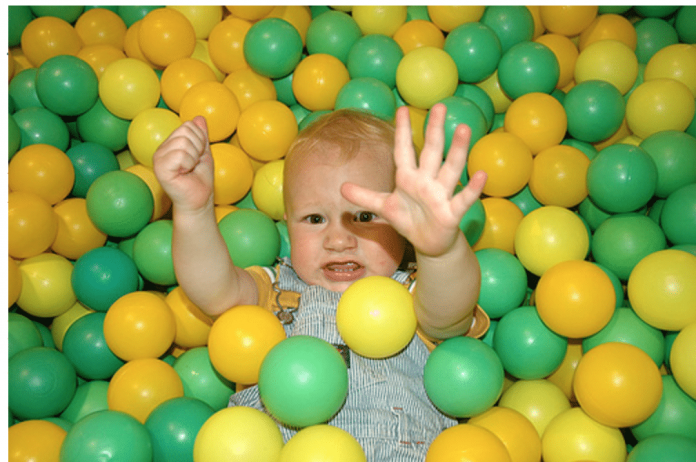 jusco ball pit, originally uploaded by okimamas&papas.
CONTRIBUTED BY MEREDITH NOVARIO
Now that Eli gets the correlation between his signing and our actions he's gotten wicked bossy. Almost all other signs have been retired for HELP because HELP causes Mom and Dad to appear instantaneously and concerned at his side. Is there better magic out there?
Sometimes I rebel and let him sign madly in a pool of boy-eating balls.
Jusco in Mihama/American Village: Straight out Lester's main gate. Let's count that as the first light. At the next light (2nd) there will be a Hot Spar on your left. Continue straight. At the next light (3rd) you can take a right and park in the parking lot that is on your right. Or you can go straight and take an immediate right into the parking that is specific to Jusco. When you enter you can take a right for some limited outdoor parking or take that left up a ramp. I recommend the second floor because it is indoors and when it's hot the roof will cook your car.
Jusco in Gushikawa: From Kadena Gate 2, take a left at the first stop light. You'll go down a ramp to merge Route 85. Drive for 2-3 minutes and you'll see a pedestrian overpass and immediately after that there is a T-junction where you can turn to the right to get onto another 85. Take this right on 85. Drive on this 85 all the way down. Jusco will be on your right. It takes about 8 minuts without traffic from the junction where you turned right to Jusco.
From the Legion Gate: Leave Legion Gate on Foster and go straight to get on 81. Drive Route 81 all the way down to 329. This will be a long drive. Take a left on 329. Several stop lights later, you'll come to a Hiyagon  junction with McDonald's. Take a right at this junction. Drive several blocks and you'll come to a junction where you can turn left onto 85. Take a left here. Drive down this road and you'll find Jusco on your left. McDonald's will be on your right.
Both playrooms include more than just a ball pit. There are train sets, climbing tunnels, bouncy toys and massage chairs for the guardians. I believe in both malls that these playrooms are part of the arcades near the food courts. The cost is 300 yen for the first 20 minutes and then 100 yen for each additional twenty minutes.