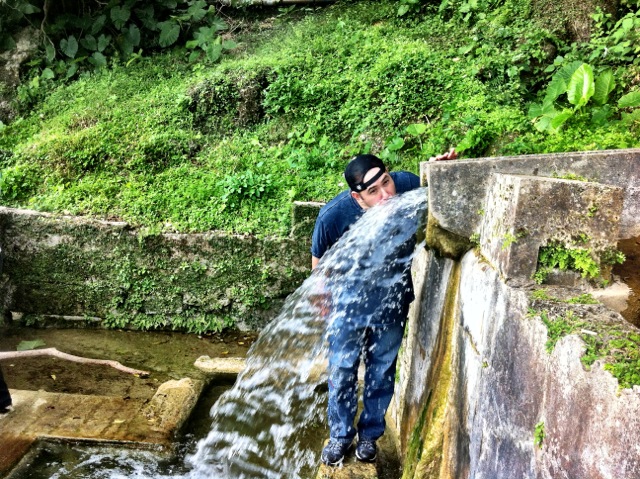 CONTRIBUTED BY QUENTIN RICHARDSON

KKHHJ View

KKHHJ Sign
I took another trip to the Nanjo area to find this place after seeing a sign for it off of Highway 331. I also saw a picture of this place from various websites. So, in conjunction with a visit to Thai in the Sky, I took a few friends and set out on a trip when the weather was nice.

KKHHJ Pool
The site itself is a spring fed from an underground aquifer. The aquifer runs north to south beneath the Okinawa mainland. So simply put, there is an underground freshwater river flowing under us from Cape Hedo to Cape Kyan. Every so often, the water surfaces at various points on the island.

KKHHJ Drinking
This area sits on top of a hill overlooking a beautiful seascape of the Philipine Sea. A pool of water is fed from a cool, drinkable spring that flows rapidly from a cave. On our visit, families of locals were gathered playing in the water. I advise you not to drink the water from the dragon's head since that water comes from a pipe. The site also has small ponds with lillies and flows into the ocean. You can follow the flow downward to Highway 331 if you like.

KKHHJ Path

KKHHJ Vine Sign
Directions:  To get to this site, use the Okinawa Expressway connecting you to the Naha Airport Expressway. Exit off at Haebaru-Kita and turn left towards Yonabaru. You are now on Highway 329, which later turns into Highway 331. The site can be accessed from two different ways at this point.
The easy way: Follow Highway 331 south past Chinen until you reach Marker 33. A few meters past that marker are the steps (marked by a white sign) up to the spring. If you miss the steps continue south and the next junction (Pref. Route 137) leads you to the spring (also marked by white signs). Turn right at the junction and follow the white signs until you see the vine covered sign in front of the steps leading down to the spring.
The way for those who can navigate: Follow Highway 331 south until you reach Pref. Route 137 for Tamagusuku and veer right on to it. Follow it south until you see the white sign for the spring on your left. Follow the white signs until you reach the vine covered sign. If you drive past the vine covered sign a few more meters, there is a playground where you can park your car.