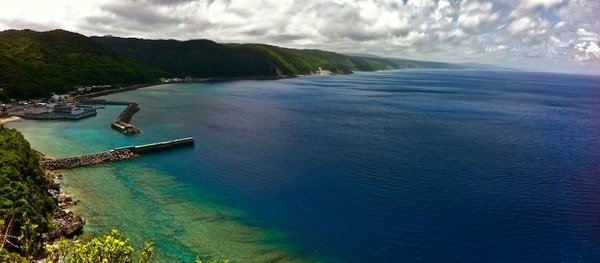 CONTRIBUTED BY QUENTIN RICHARDSON

Kaya View 3
I found this spectacular place on my way to Cape Hedo. If you want to see how beautiful Okinawa really is, this is the place. It's one of those spots where a photo of this place will convince anyone to visit!

Kaya Hut
Located above the northernmost tunnel on Highway 58 in Kunigami Village, the area was a great place to stop and rest before going to Hedo and Dai-Sekirinzan Park. It has a bathroom and parking lot on one end, which faces west towards the deep blue sea. The other side faces south, overlooking a marina, a tunnel, a small village and of course, Highway 58.

Kaya View

Kaya Sign
Directions:  To get there is a snap! Traveling north on Highway 58 in Kunigami Village, you will see a white sign within 10-12 km of Cape Hedo labelled "Kayauchibanta Viewpoint". Turn right and follow the narrow road up (very scenic). Be very carefully as there will be cars coming down from this route as well as debris from storms tend to pile up here. You will see stone rocks in kanji hidden amongst trees at the top (also look for a gazebo). If you miss them do not worry, keep going and the parking lot will emerge less than 100 meters up the road (now widened). Simply follow the trail to find the viewpoint.
This place can be also found by actually going to Cape Hedo. Travelling north directly to Cape Hedo, you will come to it's intersection. If you look at the sign above the intersection, the left points to Cape Hedo and the right points to Kayauchibanta Veiwpoint. Yes! They are on the same road (So is the entrance to Dai-Sekirinzan Park). Turn right and follow the road until you see the parking lot to the right.
There are no hours or fees.