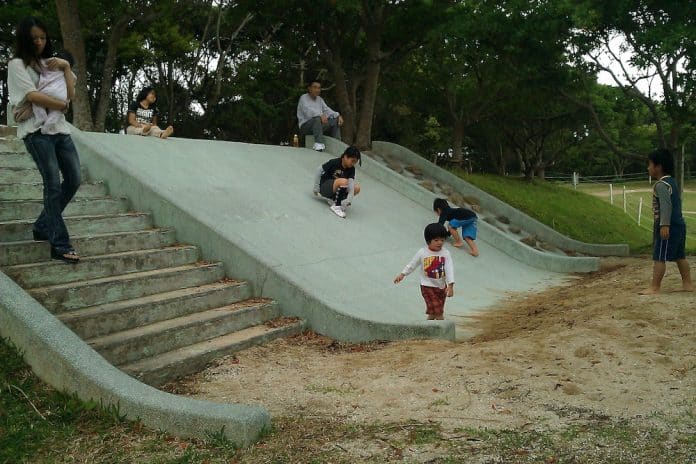 CONTRIBUTED BY KRISTY WELLS
Another geocaching adventure took us north to Kin on a beautiful, spring Saturday. The cache was located at Kenmin no Mori (Prefectural Citizen's Forest). This day trip destination is FULL of things to do, including camping!
There is a snack shack, with ice cream and chips, etc:

Kenmin Snack Shack
There is (what looks like) a central office by the bathrooms. There was a sign outside of it that showed rental prices for all sorts of sports gear to use here at the park. I imagine this is where you'd register to camp during camping season.
Bring the bikes (and helmets)! There is a really cool bike track that we'd let our 3 year old ride his balance bike on too (if we remember it next time!) and it would be fun for adults too!

Kenmin Biketrack
There is a small concrete slide perfect for the toddlers. On one side is stairs to climb to the top, and the other side is a rock climb that is also perfect for toddlers. The slide is small enough to be safe for the young ones, but with enough of an incline to be fun at the same time.

Kenmin Concrete slide
After enjoying the concrete slide, climb back to the top of the slide and continue on the walking path. Soon you will find fun wood structures typical of Okinawan parks. Test your balance on a set of 3 different height balance beams; test your climbing ability on a rope wall to traverse; and go flying down a zip line (yes, fun for the adult kids too). And go hiking in the woods if you are adventurous! (We did not venture down this path.)

Kenmin Balance beam Rope wall

Kenmin Zipline

Kenmin Hiking
At the top of this walking path loop, you can roll (or slide, or run, etc) down a long gentle slope of nicely kept grass. The ground was a bit damp when we visited, so we passed on this opportunity. I believe the park central office can rent out grass skis if you like! There is a very long roller slide to slide down too, but it was a bit old and the rollers are not the easiest to keep moving. But feel free to have fun anyway!

Kenmin Rollerslide
If you head back to the parking area, behind and back along the jungle are camping spots. There is also a community grill area with sinks and a wash area. There are some really nice and secluded plots for camping! There is also a museum in this park too, but we did not go in as it was closing time by the time we got around to that area to explore.
And here is a map of the entire park (we only explore the top big section). There are also tennis courts and many, many more hiking trails and paths to explore.
Directions:  To get here, take the expressway from Foster/Kadena area to the Kin (8) exit. This park is near Camp Hansen if you are familiar with the area. Once you exit the highway, turn left (north) on 329 for a short bit. You will see the intersection for 104 and it is a left merge onto the 104. Start tracking your mileage, as your next turn roughly 4 km from this point. The directions are a bit hard to describe, as we didn't think to track mileage and figured out the 4 km from Google maps. You will go along the 104 passing base property on either side (you will know by the fencing and barbed wire). Once you stop seeing that, you will be in Kisenbaru, a very small village. You will want to turn (according to Google's satellite photos) up the 6th road on your right. Shortly after you turn, you will pass a school on your left (this is how you know you are on the correct road). Keep going, the road is narrow and has pull offs occasionally in case you encounter traffic. The park entrance (roughly 1.7 km) will be a left turn into a gated area, so its obvious you are at the right spot! Drive down and parking will be obvious.
Hours:  The park is not open 24/7. The gates will be closed if the park is closed. Park hours are 9:00AM to 6:30PM (April through August) and 9:00AM ~ 5:30PM (September through March). We were there on 3 March, and the park was closing at 5:30 PM. There will be announcements on the loud speaker and music to let you know it is time to pack up and go home. The park is closed Mondays.
Camping:  The camping season is April 1 to November 30.
Map:  Of the park – click to enlarge.

Kenmin Map