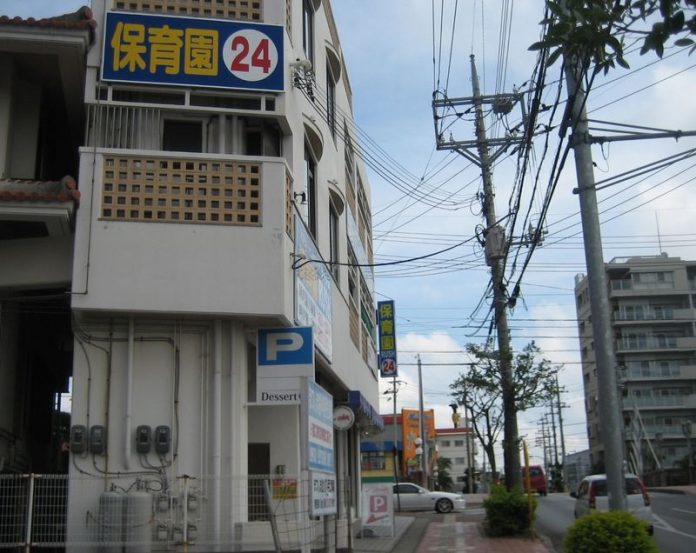 For all you parents looking for a preschool that suits your kids, we're hoping to add a little something to aid in your search. Parents of children who attend various preschools on island have filled out a series of questions about the schools for the benefit of the rest of us. We welcome more than one voice on each school since everyone has a different experience, so please feel free to add in your two cents in the comments.
If your child attends a school that has not been reviewed on this site, please contact our Submissions Manager for the template.
CONTRIBUTED BY KATHERINE MOORE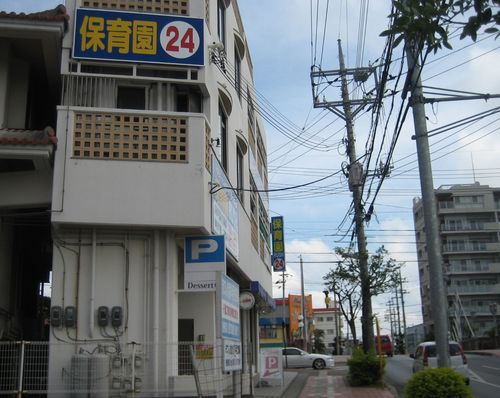 Name of the school: Kids Place 24 Rush
Address: 1-1-6 Mihama, Chatan-chō, Nakagami-gun
Phone: 098-926-0393
Email: info@kids24.jp
Ages Accepted: 3 months and up
Ages of Your Kid(s) in this School: 0-3years old (older siblings are welcome)
Admissions/Enrollment: 
What is the maximum number of students that your school has?  25
 What is the current number of students?  20
 Is enrollment open/year-round enrollment or per semester?  Open year-round
 Does my child have to be potty-trained to attend?  No
Can I bring my child in for a pre-enrollment visit? Can do hourly care first before enrolling full-time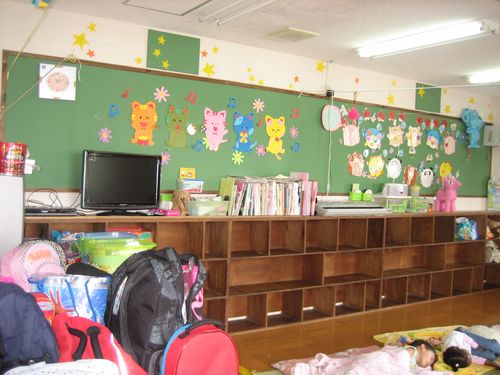 Days and hours:
What are the school's hours?  Monthly care: Monday-Friday 7:00am to 7:00pm, Saturday 7:00am-2:00pm, Hourly care: Monday-Thursday 6:30am-9:00pm, Friday to Saturday 24hours, Closed on Sundays.
Is the school on a Japanese or American schedule?  On a Japanese schedule
How flexible is the school with pickup and drop-off times?  Very flexible
Costs:
What are the registration fees?  Monthly care is 20,000yen, no registration fee for hourly care
What are the tuition fees? Monthly care: 0-6 months = 38,500yen, 7-12 months = 35,500yen, 1 year = 32,500, 2 year = 30,500, 3 year = 28,500.  Hourly care is 700yen per hour (500yen per hour for full-time students).
If any, what are the assessment and school supplies fees? 100yen a month for supplies, 1000yen per month for air conditioning fees (usually from July to October), lunch and snacks are included for monthly care and 300yen per meal for hourly care, shower is also available for 300yen.
Are any discounts offered for referrals, siblings, volunteering, working there, etc.? Registration fee is per family, siblings can be registered for 20,000yen (one time 20,000yen no matter how many siblings there are).  No referrals or volunteer discount.
Is there a late-pickup fee? Hourly care is 700yen per hour anytime, while monthly care is 500yen per hour after the regular hours.
How and when does the school require payment (in yen, dollars, etc.)? They accept yen and dollars.
Parent Involvement and Interaction:
Does the school encourage spontaneous visits from parents? They recommend doing whatever will make parents more comfortable.  Visiting is always welcome, anytime.
How do you communicate with parents?  For monthly care, daily reports are given to the parents.  For hourly care, a report can be requested at the time of drop-off.
Are there parent/teacher conferences? No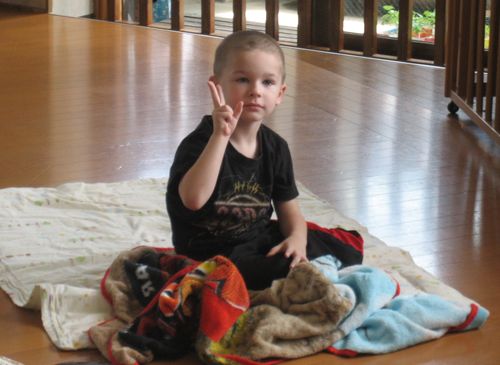 Classroom Structure and Size:
How are the kids grouped? Mixed ages / grouped by age? Everybody is grouped together
What's the teacher-child ratio in each group? 1:3 for 0-1 year olds, and 4 teachers for the rest of the class (they have 20 at the moment, so 4 teachers for the 17 children).
How many full-time teachers do you have? How many assistants? All teachers are full-time, except 1 part-time.
What is the school's educational philosophy? Is the school program developmentally-based or does it have an academic focus? Since everybody is in one room, children are encouraged to learn and play with other children.
Is there a playground for the children to play on? They do not have a playground outdoors, but do go out to the park twice a week.
What do the children do on any given day? Mostly learn and play with other children.
Are there extracurricular activities or field trips? How does the school discipline children? Field trips are only walking distance, picnic kind of field trips.  They discipline children by talking to them and letting them know what they did was wrong.
How does the school comfort children? They make every effort to make children feel as comfortable as possible.  The teachers are very children friendly.
Final Comments or Observations about the School: Very good childcare, especially for those who just want to have a night out with their spouse.  I have taken our daughter to this facility using their hourly care.  My husband and I usually hang out around Jusco, American Village, and Araha beach, so it's nice knowing that our daughter is just nearby.  They also have a webcam that is online the whole time the facility is open.  We were able to check on our daughter at any time.  The staff even told us that we can give the grandparents back in the states the website, so that they may see their granddaughter as well.  They will even put your child closer to the webcam , per request, at certain time if you know for sure that somebody wants to see him or her.  Altogether, I recommend this place for hourly care.  I have no experience with their monthly care, but do know that they are friendly and flexible.  Very good place to have for those "I need a sitter right now" moment.

 Make sure to park where it is marked (as shown on picture), or else you will be towed.  The easiest way to remember this sign is that it is the same yellow and blue color as the daycare's "24" sign.  They are the only one who used colors for their parking signs.  Everybody else is just plain black and white.
---
Address: 1-1-6 Mihama, Chatan-chō, Nakagami-gun
GPS Coordinates: 26.3098978, 127.76213430000007
Directions: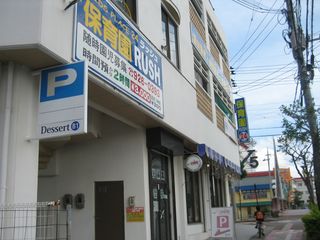 From Kadena Gate 1, turn left on 58 towards Chatan (Jusco).  You will pass on your right side a Starbucks, Autobacs, Honda car dealer, and Suzuki car dealer.  Turn right on the next light where Toyota car dealer (there is also an overpass on this light)is.
Turn left on the light and the daycare will be immediately on your left side.  Look for a blue, yellow and red sign with the number 24 on it (see pictures).  Their parking is located under the building (turn left on the blue P sign that says "dessert" on it, as shown on the pictures).  The brown door shown on the picture is the entrance to the daycare.  They are located on the second floor.