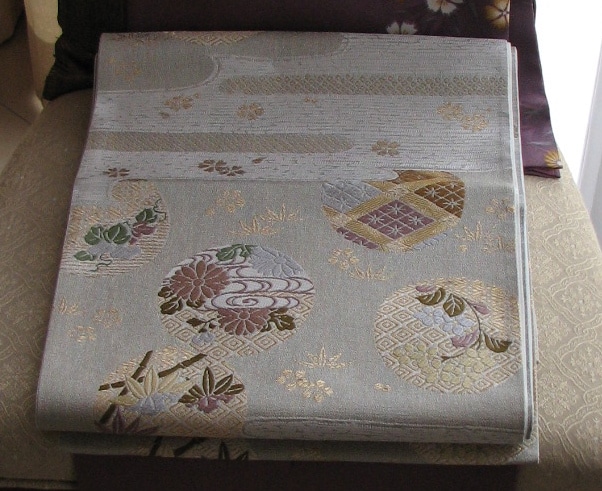 CONTRIBUTED BY KAHO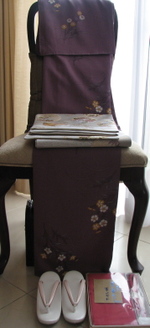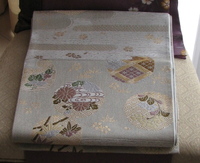 I recently bought a kimono for the first time because I have started taking a kimono class called "kitsuke" with my friend.  It is a class to learn how to put on kimono.
In my opinion, Japanese kimono is not practical because you have to learn how to put it on yourself.  To wear a kimono is an art itself.  My instructor told me that it's complicated because you're trying to put a piece of fabric on a three-dimensional body without having creases and make it look good.
When it comes to putting obi on myself, I feel like I'm learning acrobatics.  By the time I finish wearing kimono, I'm all sweaty.  I just started, so maybe that's why.  I can't imagine putting on kimono first thing in the morning which Japanese people in the old time did everyday.  It's fun to learn it though.
I started taking the class because my friend asked me, but also I have always wanted to learn it as I will leave Japan soon and I don't always find people who can help me put on kimono outside of Japan.
The pictures above are kimono, obi and some accessories which I recently purchased.  The kimono only cost 5,000 yen.  The obi in the picture was 15,000 yen though…  Ouch.  This kimono I bought is cheap because it's made of polyester.  It's a casual wear and I am not supposed to wear it to a formal function, but that's okay.  I like it because I can wash it in a washing machine.  There are more casual kimonos you can wash at home now with a very reasonable price.  Formal kimonos are made of silk, so you have to take it to a cleaner.
You can also buy recycled kimono at a kimono fair on base.  Kadena Gift Corner is hosting a Kimono Bargain Sale at Kadena Officer's Club on April 24 and 25, 2008.  If you are looking for kimono or obi (belt) to decorate your room with, this would be a great place to find something inexpensive.
Following is the pictures of accessories that I had to buy to prepare for the kimono lesson.  You are required to prepare all these little accessories in order to wear kimono!




This is the picture of the store on the second floor of that I bought my kimono.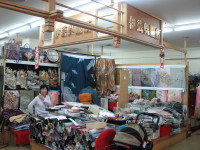 The lady who helped me find my kimono and accessories and my daughter.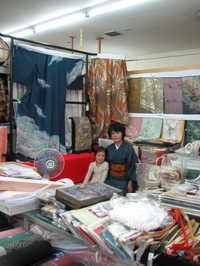 Directions
The store is located on the Heiwa Dori (Peace Street) whose entrance is across the street from Mitsukoshi Department Store on Kokusai Street in Downtown Naha.  Heiwa Dori is an arcade, so you can go shopping there even on a bad weather day.  Walk down the Heiwa Dori for a while.  You'll see this T-shirt store with a pig.


Next to the T-shirt store is a 100 Yen Store called "Can do".


The entry way to the Kimono Mall is across the street from the 100 Yen Store which will be on the right side of the Heiwa Dori.  The photo below is the entrance to the Gofuku (Kimono) Mall.  There are more to the 2nd floor.