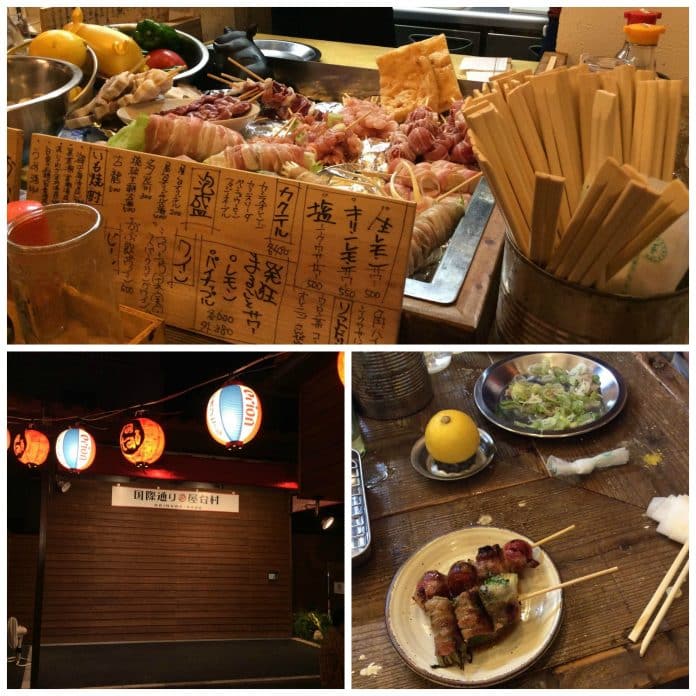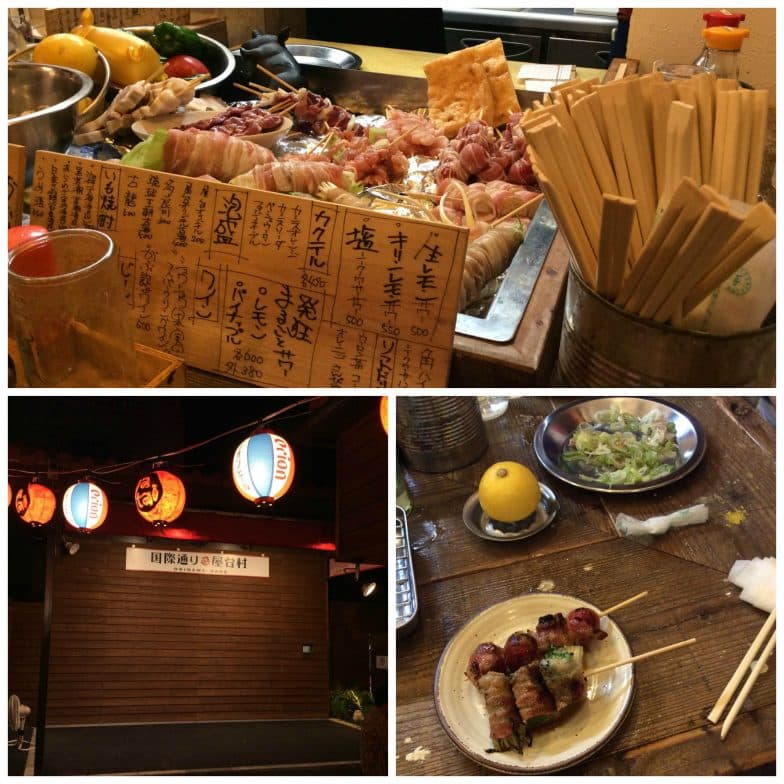 Upon my return to my beloved second home, I notice a tremendous amount of changes inland. A recent and very welcomed change is the new Food Street just off Kokusai Dori. If you really want to have the izakaya atmosphere, similar to Ebisu-cho or other popular izakaya districts, this is the place to be. Before going into the details, realize that this place is small, very crowded at times, and definitely is best enjoyed with a local friend.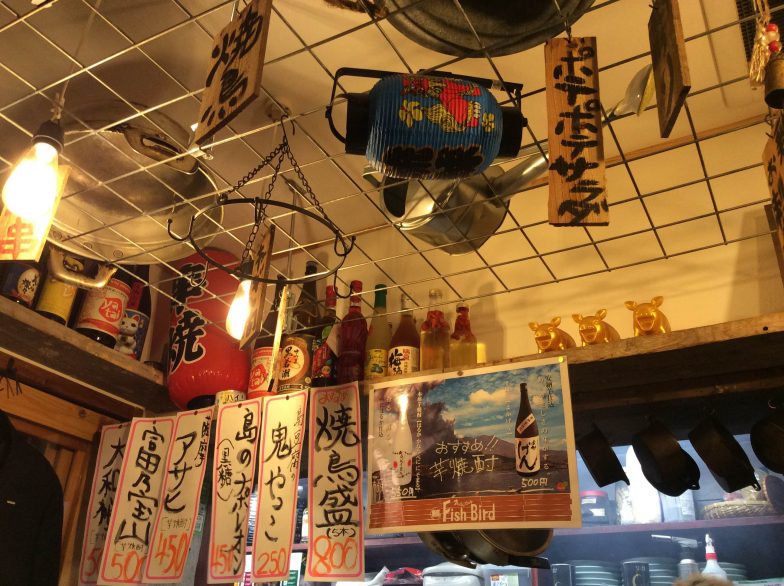 There are a variety of izakaya packed into this tiny area of side streets with options to eat, both inside the tiny bars or outside. The intent of this area is to sample food and drinks, while sharing casual conversations. In no way are drunk and disorderly behaviors tolerated, only casual drinking with minimal dining. We met both tourists and locals during our first visit and toasted many beers and Chuhais. Most yakatori or sashimi dishes are around ¥300 or so, and sashimi can range depending on what you order. Choices are not limited to local foods, there are other bar and snack foods available, like nachos.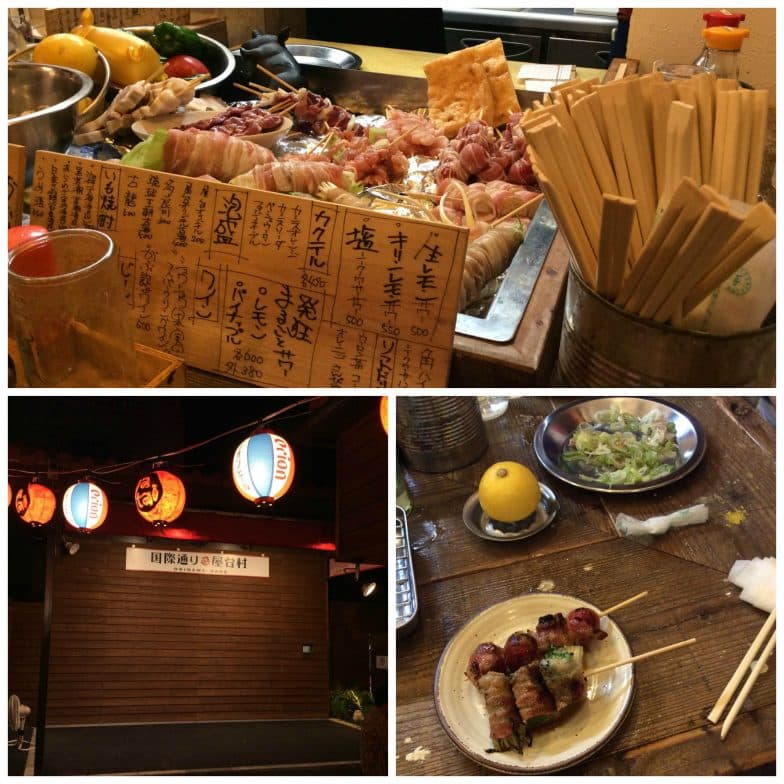 The area is new, maybe a few months old. And again: the area is small and the bars are smaller. Each restaurant has staff both inside and outside to assist you in making your choices. There are also full range display of menus outside the entrances as well as outside the establishments. If you are not a native Japanese speaker, getting what you need will be a bit difficult, so it's best to have someone who can translate handy. Before anyone asks, yes, there is a bathroom and smoking area.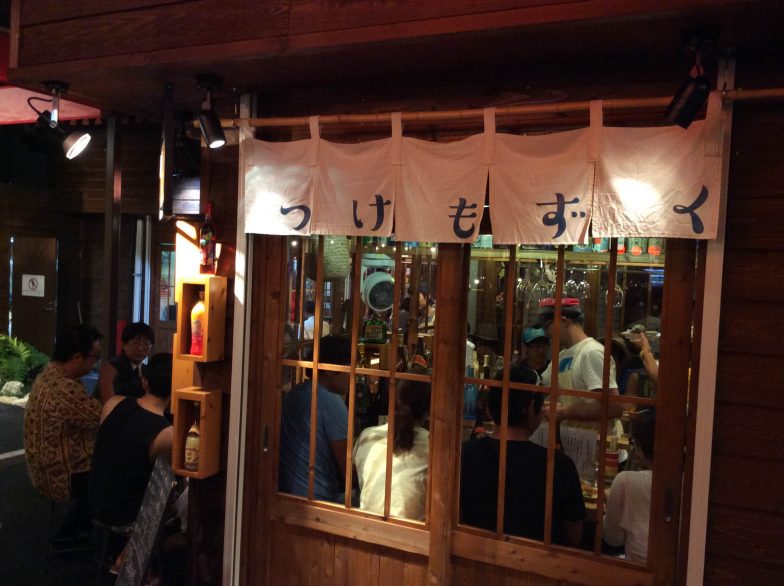 The website and Facebook pages are in Japanese, but the map is handy for locating restaurants since some names use Alphabet characters and English names.
---
Kokusai Dori Food Street
Hours: Vary, but most vendors close around 11:00 p.m.
* The Okinawa Island Guide has a complete list of vendors and their operating hours available here: 
Kokusai Dori Yataimura
Address: 3 Chome-11-18 Makishi, Naha-shi, Okinawa-ken 900-0013
GPS Coordinates: 26.2166177, 127.6902196
Directions: There are many ways to get there, but the easiest is to get to Naha (take the express or 58) and follow the signs for Kokusai Street. We usually turn left off of the 58 onto the 42, and then turn left on the second light (this puts you right on Kokusai). Once you get there, parking is interesting. There are several lots where you pay to park, but keep in mind that the closer you get to the actual "street," the more expensive the lot is. We found the cheapest lots one or two blocks off of the main street, toward the southern end of the main street. They are usually packed on the weekends, but we have never had a problem finding parking if we are patient. We did park on a lot right on Kokusai once, but it was more than twice as expensive as the lots a block away.
This area is not hard to find near the center of the Kokusai Dori stretch, between Grand Orion Dori  グランドオリオン通りand Ryūgū-dōri 竜宮通り. If you are at the Makishi monorail station, this area is less than 10 minutes away westward on the left hand side of Kokusai Dori. The main entrance is marked with a sign that says Kokusai Street Food Village 国際通り屋台村 in Kanji, Hangul and English.