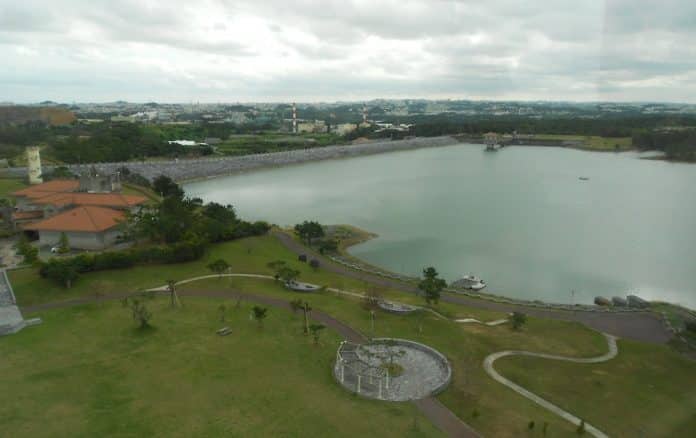 CONTRIBUTED BY AMY MADDOCKS & DIANA MIDDLETON
This post was originally contributed by Diana Middleton in 2007.  But we felt it deserved an update!  Thanks to Amy for helping writing up this new post.

Kurashiki View 1
We had the wonderful opportunity a few weekends ago to visit the Kurashiki Dam. I have seen many signs pointing the way and have often wondered what sights there would be there for my viewing pleasure. Turns out—there are many things to do there that are hidden little treasures just waiting to be discovered! One of the best parts…it's completely free! There is plenty of parking and you can actually drive right across the dam. Here are a few highlights:
There is a beautifully landscaped area on the south side of the dam and you can actually walk out toward the middle of the dam on a walk-way that surrounds an In-take Facility. Bathrooms were located there as well, and they were very clean and well-maintained.

Kurashiki Path
Another treat was a Seepage Observatory surrounded by beautiful sub-tropical plants, walkways, and multiple viewing spots on the east side of the dam. This area wasn't very populated because not many people know it exists, but it was beautiful and peaceful and not an area you'll want to miss.

Kurashiki View 2
On the north side of the dam is where most people spend their time. For one, there is an artificial river and pond that you can enjoy. It's a beautiful spot with rocks situated perfectly so you can hop across them—or you can use the bridge farther down the river to cross. Many children were playing in the water, which is very shallow. Several kids were having boat races with their plastic sail boats. Overall, it was just adorable to see the children having so much fun in the water—I wanted to get in myself!

Kurashiki Play Area
My favorite part of the day was the Information Center. Out of the multitudes of people we saw at the dam that day (and we spent a few hours there), not one of them went into the Information Center! At first we thought maybe it was just for employees, as it is also the building where the controls are for the entire dam. But we were brave and went in—turns out it's a museum! Although everything was in Japanese, there were so many pictures that we didn't need a translator. It's a small museum showing the history of the dam and surrounding area through pictures, illustrations, and even small-scale models (some of which were in English). Kids can use the typical Okinawan "stamp" to take home a little piece of their visit on paper and there are brochures in English telling about all the areas surrounding the dam that you can enjoy.

Kurashiki Interior

Kurashiki Cave
But wait; there's more! (I'm starting to sound like an infomercial) When you walk in the Center, head towards your right and you will see what could only be called a "Bat Cave." This whole section has fun lab experiments set up that you can manipulate and play with while learning about the nature of water. They have gone to a lot of trouble to make you feel like you are in a cave and it makes the whole experience fun and interesting. This was one place I wish I could have read the language. There were electronic quizzes and such but we couldn't take them due to the language barrier. If you keep traveling through the cave you'll end up in a theater room. This also has museum history on the walls, and if you plan it right, you can sit down and enjoy a presentation involving not just a movie (with English subtitles, thank goodness) but lighting, sound, and special effects. The presentation was about 15 minutes long with a surprise dragon at the end coming out of the ceiling. It was a blast! We took pictures of the cool dragon but I won't post them here so you can go see the surprise for yourself. ☺

Kurashiki View 3
The only way to get the most out of this adventure is for you to really get out and discover things on your own. There were so many trails, paths, walkways, etc. that you could take to explore the whole area that you really need a good afternoon to spend exploring. Kids will love running around and enjoying nature while kids and adults alike will enjoy learning the history and information about the dam. So go have fun!

Kurashiki Bldgs
Cost: Free-even the museum and Dragon Show
Food: Drinks-only vending machines, Yen only (bring a picnic to enjoy!)
Museum Times: 0900-1700 daily
Dragon Show Times: 0930, 1030, 1100, 1130, 1230, 1300, 1330, 1430, 1530, 1630 (subject to change)
Parking: Three different parking areas with plenty of space; no charge
Directions: Go straight out of Kadena Gate 3 and turn left at the second light (you'll see signs showing you the way). Pass Western World on your right side and take a right at the intersection for Southeast Botanical Gardens. Follow the road past the landfill (can't miss the mountain—not kidding—of garbage) until you come to the dam. You can go right or left at this point, depending on which part of the dam you want to see. There are also walkways along the road crossing over the dam, so if you want to do some nature walking it's probably best to park on the north side (to your right) and then walk to your little heart's content!
 
Previous content by Diana published on August 30, 2007…
This a great place to take the kids for a dip in the water and for a picnic. Some local Okinawan friends of ours brought us here and we have loved it ever since.
To get here, go straight out of Kadena Gate 3 and turn LEFT at the second light (you'll see large signs guiding you there).  Pass Western World on your right side and take a RIGHT at the intersection for Southeast Botanical Gardens.  (You'll see a large sign for Southeast Botanical and a small white one for Kurashiki Dam at this intersection.)  Follow the road a little further down (roughly 2 km) until it dead ends.  You'll see parking on the right with large stone steps leading you to the dam entrance and the little waterfall and play pond area.
The play pond area is not deep and the kids can wade in the water or play near the falls. It's a blast!! The kids love it every time we go here. They also have an observatory and display room.