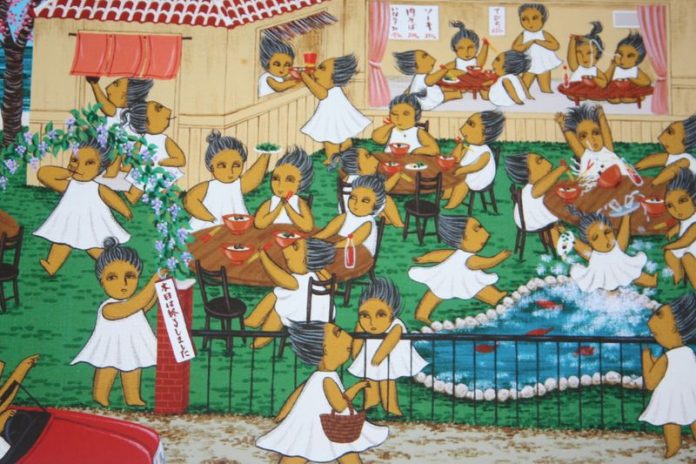 CONTRIBUTED BY MARY RICHARDSON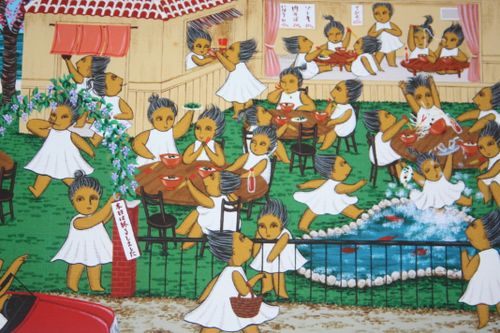 Next time you head to Shuri Castle, why not take a short detour and drop in Kyoko Art Gallery?
Kyoko Nakamoto is an Okinawan artist who has featured her work locally, in mainland Japan, and internationally in such places as New York City and Los Angeles. Her tiny gallery in the Shuri castle vicinity displays some of her paintings, drawings, and prints.
I was first introduced to her work last year at a Marine Spouse function when a friend won a print from one of Kyoko's collections as a door prize. Curious about the artist and interested in seeing more for myself, I sought out her art gallery in Naha, and I have since purchased of few of her pieces for myself.
You also may have seen her distinctive art around Okinawa.
She creates extremely detailed depictions of children (or rather small people) enjoying themselves, participating in Okinawan past times. Scenes include cherry blossom viewing, watching dragon boat races, Eisa dancing, attending fireworks festivals, and many others. I love how her art reflects all the things we see around us every day that we live here.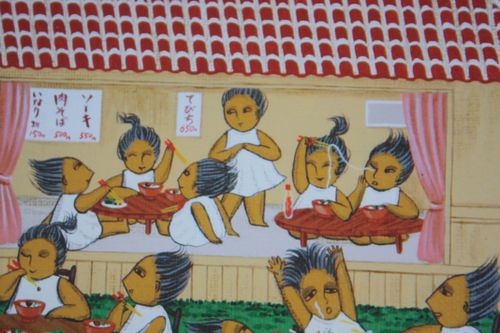 On the occasion that I visited her small gallery, I was lucky enough to meet her and chat with her about her inspirations as well as some of her favorite creations. After telling me about the cultural sentiments behind several of them, I chose a print that shows an Okinawan soba shop in all its glory, noodle slurping and small chili peppers and all. Kyoko explained the significance of soba to locals and even pointed out some of the details in the painting that I hadn't even noticed for myself. Overall, it was so enjoyable meeting her and she even signed my print.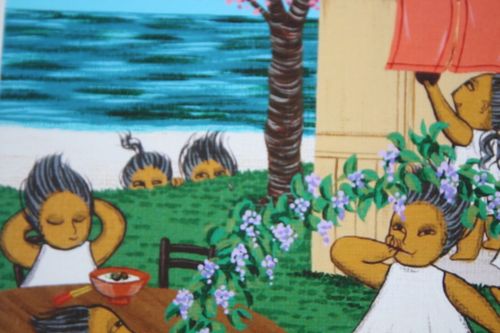 If you are an avid art collector or just someone looking to browse, I recommend visiting her gallery and taking a look. You just might recognize one of your Okinawan island experiences reflected in her art. Her fine art prints range in price from 3,000 to 6,000 yen. Of course her actual paintings are quite expensive, so I did not even price those. She also sells ceramic plates and mugs featuring her scenes. You can view other examples of Kyoko's art on her website
here
.
---
Kyoko Art Gallery
Hours: by appointment only
E-mail: kyokoartgallery@gmail.com
Address: 1-10-1, Aja, Naha, Okinawa, JAPAN
Parking available