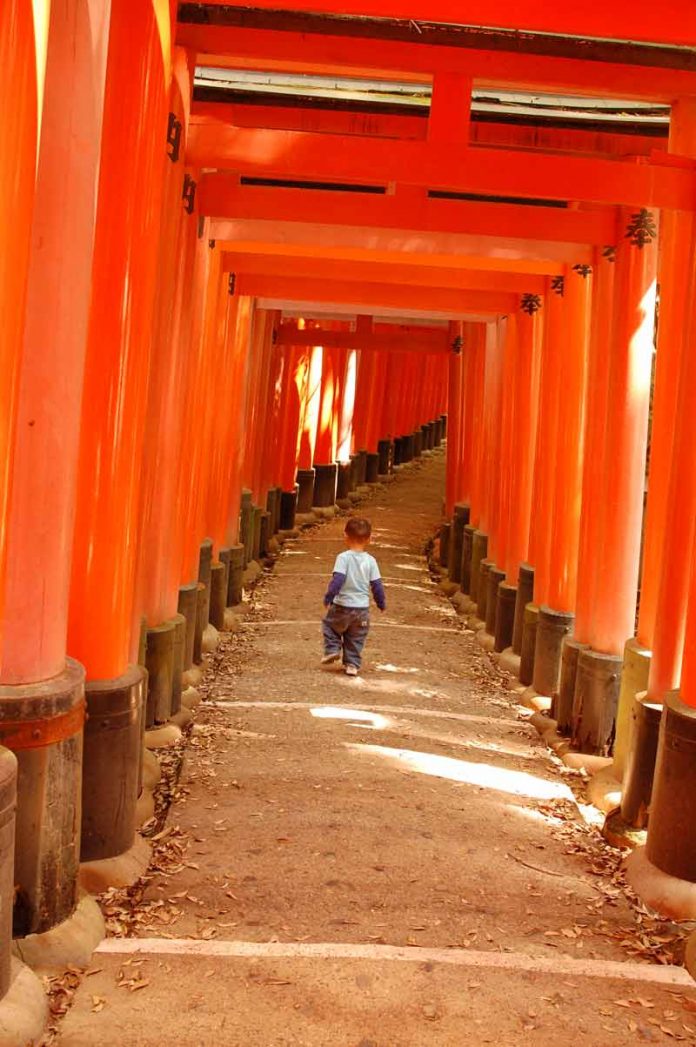 CONTRIBUTED BY JULIA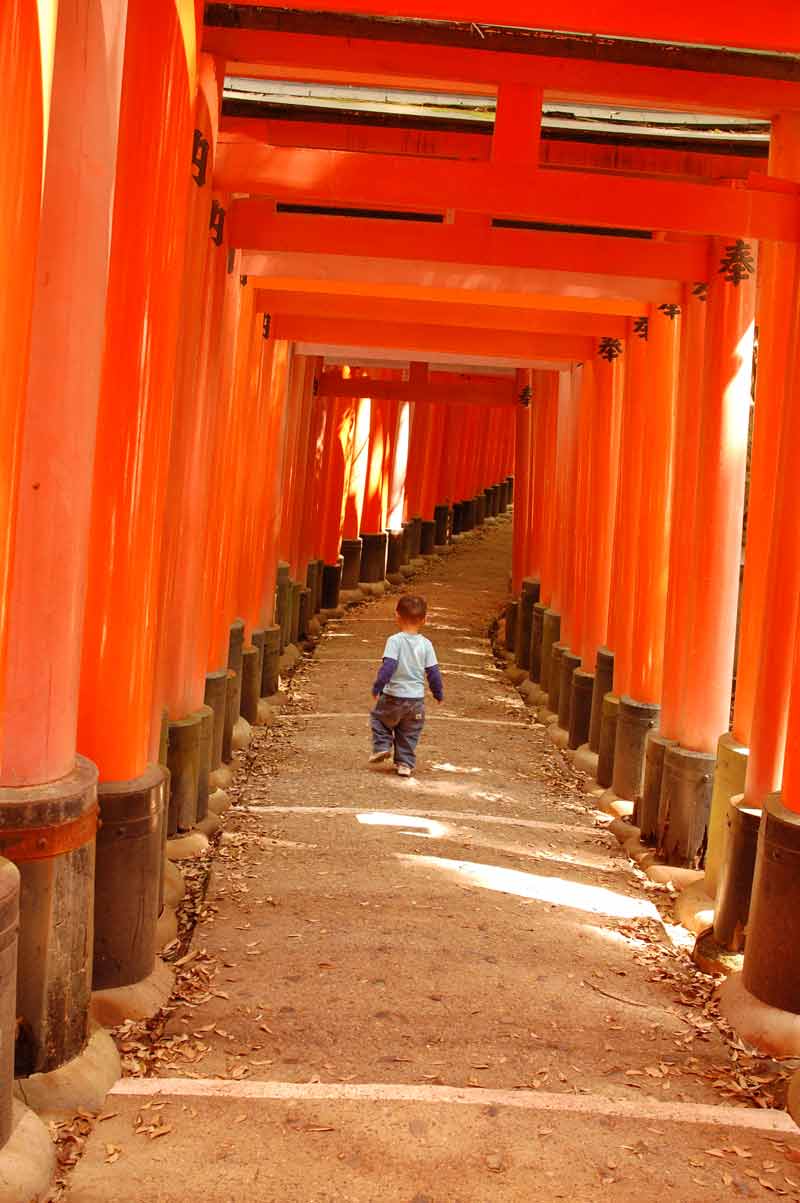 Big thanks to Julia for sharing her trip with us!
1.  How did you book your trip?
We booked our airfare through OTS at Plaza Housing although they have since relocated to Gate 2 street. We booked lodging ourselves either online or by calling the hotel using Skype.
2.  How long was the flight?
We had to fly into Osaka Kansai Airport (KIX) which took about 2 hours. Then we had to take a train to Kyoto Station which was about another 60-90 minutes.
3.  How much was the ticket?
We paid $240 roundtrip.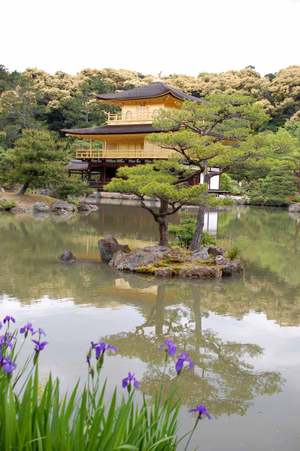 4.  Where did you stay?
For the first three nights we stayed at the Westin Miyako Kyoto in their Kasui-en annex. The Kasui-en annex consists of Japanese-style rooms with tatami mats. In the evenings they will have someone come and set up futons for you. The room we had was supposed to be just for 2-3 adults but we called them and explained that we had two kids and they were very accommodating. They set up 3 futons for us and it was extremely comfortable…probably ended up being the equivalent of two queens pushed together. Originally I was set on staying at a traditional ryokan but we ended up choosing the Westin so we could have all of the amenities but still have a more cultural experience. The room was a pricey $300/night which I think is actually cheaper than some of the nicer ryokans. They used to have more photos on their site of these Japanese-style guestrooms but for some reason they are no longer there. Here are a few sites you can check for more information:
More Westin Miyako Kyoto
Frommer's Info on the same
In Osaka we stayed at the Kintetsu Universal City Hotel (about $130/night). We chose this hotel because it was right next to Universal Studios and a convenient 10 minute ferry ride away from the Kaiyukan Aquarium. Perfect for our trip there since those were the only things we planned on seeing in Osaka.
5.  Did you rent a car or use public transportation?
We either walked, took trains, or took a taxi. Both hotels were located near train stations so it was very convenient.
6.  Is it small kid friendly or better to wait?
Kyoto was much harder with the kids since we were doing a lot of the tourist sites including shrines and temples. It's probably better to wait if you can. We'll be PCSing out soon so I wanted to make sure I visited Kyoto before leaving. Osaka was much easier since our trip there was geared towards entertaining the kids.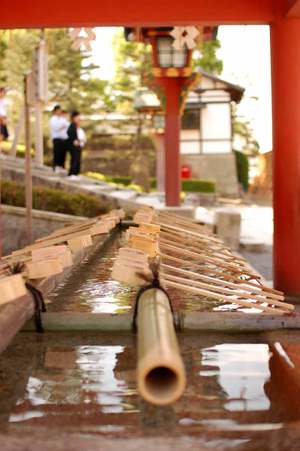 7.  What were the highlights?
Highlights in Kyoto were Kinkakuji Temple (Golden Pavilion), Fushimi Inari shrine, and the Gion district. The Golden Pavilion was just breathtaking. Fushimi Inari shrine has a trail consisting of countless torii gates. It would have been a neat hike without the kids but since they were tagging along (of course) we just snapped a few shots and then left.
8.  And lowlights?
I'd have to say that the lowlight for both cities was Universal Studios. It was expensive and not worth it for our kids since they were too young to enjoy most of it. Only one of them was able to do any of the rides and even though it was a relatively short wait of 20-30 minutes for a ride, that's quite a long time for a 3 year-old. Something like Tokyo Disney probably would have been more appropriate. In retrospect I'm not sure why we thought Universal was a good idea.
9.  The best meal on your trip?
Due to our picky kid we ended up eating ramen or soba for practically every meal so there was really no "best meal". The best opportunity for a best meal though was probably the Ponto-cho area in Kyoto. It's located across the river from the Gion district and has a ton of restaurants lining a narrow street. And for all of you beignet lovers out there there's a Café du Monde in Kyoto Station as well as the mall adjacent to the Kaiyukan Aquarium in Osaka.
10.  What was the best thing you found to buy (like tourist items)?
My favorite tourist items were change purses and little stuffed animals made out of kimono cloth. There was a store called Ippuya on the way up to Kiyomizudera Temple in Kyoto that sold change purses and handbags. There were a few other shops nearby that had little stuffed bears, kittens, and bunny rabbits that I thought would make great gifts for my nieces.
11.  What was the weather like at the time of year you went?
We went in mid-May and the weather was fantastic. In the early morning and evenings it was cool enough to require a sweater or windbreaker but during the day it was warm enough for short sleeves. Perfect for sightseeing!
12.  Any local cultural no-nos to keep in mind?
We had a soaking tub in our bathroom which is supposed to be used only after you've already showered.
13.  Did you have a tour guide or did you do it yourself?
I had considered booking a one-day tour of Kyoto but we decided that it would be too strenuous for the kids since at least one of them needs a nap in the afternoon. We did it ourselves so that we could spend as much time at each site as we wished or skip some sites. We ended up seeing practically everything on the tour but it was spread out over the course of 2-1/2 days. There were times when we were walking from one site to another when I wished we HAD taken a tour. It was tiring since we only brought one stroller and oftentimes one of us was carrying our other child who is close to 30 lbs! However, I think it all worked out in the end.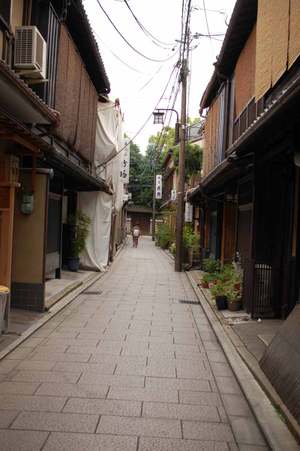 14.  Did the area have a big city feel or an untouched feel?
Depends on what part of Kyoto you were in. One of the reasons we liked Fushimi-Inari shrine was because the cobble stoned streets around it gave it a more of an old town feeling and the hiking trail was peaceful and quiet. Osaka felt like a big city.
15.  What would you do differently if you went again?
I would go to the Gion district at night as well. We tried the last evening we were there but it started raining so we went the next morning instead. It was great for taking photos and to stroll around since it wasn't as crowded but it would have been nice to see the hustle and bustle of Gion's nightlife too.
16.  Would you go again?
Absolutely! I'm so glad we got to see Kyoto before we move back to the States!