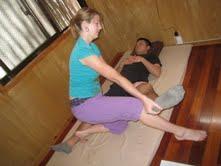 CONTRIBUTED BY TONI BRADBURY
Since I was a little girl, it has been my dream to become a massage therapist, so I had searched the web looking for places in Oki where I could learn.  I found ALA Relaxation and gave them a call.  The owner's name is Kaz and he has a place right by the seawall in the Sunabe area.
I have now taken both levels of massage with Kaz and am about to graduate and get my certificate from ITM Chaing Mai, Thailand, where Kaz learned Thai massage and received his teacher certification.  Anyone wanting to learn how to massage I highly recommend this course.  It's one-on-one and very professional.  I have three children, so was worried whether I'd be able to figure out a schedule that would work for me.  But they are all so nice and understanding that I've been able to make my own schedule.  
Kaz offers two levels here, each is 30 hours and you can take your time and do it over a month if need be.  Level 1 is learning how to do Thai massage from front position, meaning the client is lying on their back face up.  Level II is learning how to do Thai massage with the client on their side, belly and sitting up.  Level I class was about $1,200, which might seem pricey but it's one-on-one and has definitely been worth it.  Level II is $300-400 more than Level I, but if you take the two together he gives a discount and it ends up being the same price as Level I.  I was able to take the class any time during the day or evening that he was open for regular business.  I believe his hours are from 1100 – 2000.  I took classes from 1230 until 1430, three days a week, since I have kids to pick up from school and run around.
In December, I am going to Thailand to the school where Kaz earned his certifications to continue my education. (Their certifications are valid in the US.)  There are many different levels to take in Chaing Mai, but you only need the first two to begin massaging, so that is all Kaz teaches here.  I feel that I know more than enough from the classes here to work as a massage therapist, but I just want to learn more!
I have also received massages from ALA and they were wonderful.  It is reasonably priced and I felt a ton better afterwards.  Thai massage is a lot of stretching and acupressure, for those that aren't familiar with it.  Kaz also has Hot Stone Massage and Oil Massage and Hot Herbal Compress Massage on the list.  I haven't tried those but I definitely want to.  ALA Original Massage is something Kaz designed with some Thai and some Shiatsu he learned while in NY.  I loved it and felt like jello!  The price for this and the Original Northern Thai massage is: 50 min. for 4,000 Yen,  70 min. for 6,000 Yen, and  120 min. for 9,000 Yen.  Hot Stone Massage is:  90 min. for 10,000 Yen and 120 min. for 13,000 Yen.
*All students get a nice discount on these prices when taking classes with him*
---
ALA Relaxation
Phone: 81 98-936-7369
Website: alarelaxation.com
Address: Japan, 〒904-0113 Okinawa Prefecture, Nakagami District, Chatan-chō, Miyagi, 北谷町宮城2-111
GPS Coordinates: 26.3270474, 127.7467302
Directions:  From Gate 1 Kadena, turn left out of the gate, then get in the far right hand lane to go toward the seawall.  When you get to the last stop light before the seawall make a right, go a little bit down and it's on the right.  It has a green awning and banners up of massage.  It's right next door to tall whitish/manila apartments.  Catty-corner from a cafe.