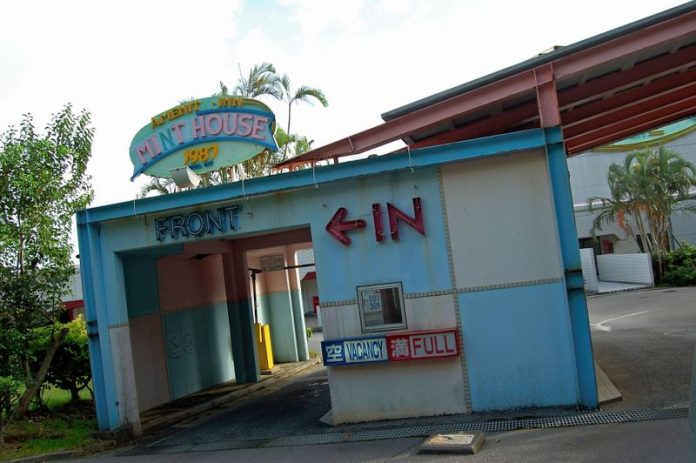 CONTRIBUTED BY HEATHER GELORMINE
When a couple has children, "alone time" becomes a precious commodity.  Whether it's escaping for an hour or two together for dinner without highchairs and a movie with a higher rating than PG, or getting dressed up in dress blues and gowns or tuxedos for a military ball, we cherish those sacred hours of child-free adult time, few and far between though they may be.
But what about the other kind of alone time?  The kind that we manage to scrape up here and there on nights when we're both home and free of obligations, after the kids have been bathed and put to bed for (hopefully) the next ten to twelve hours?  You know, that kind.  The kind that too often gets interrupted by hungry infants, kids asking for another cup of water, and teens who stay up later than we do.  The kind that got us those kids in the first place.
It's issues like these that help promote the "Love Hotel" industry.  In Japan, both mainland and here on Okinawa, several generations of families often live under one roof.   It's highly common for couples to visit Love Hotels in order to get some privacy for themselves when they might not otherwise have easy access to it.  Which means the pay-by-the-hour rooms that you can get here are a far cry from those in the US.  (And far cleaner, too.)
This past week your editors and I took it upon ourselves to debunk the mystery of the Love Hotel.  In an effort to figure out just how they work we visited not just one but four different establishments in an afternoon.  What we found was a little bit of everything: the good, the wacky, the boring, and the ugly.  Mostly we learned that not all Love Hotels are created equal, and you truly do get what you pay for.
The Boring
Our first stop on "Love Hotel Alley" was at the Pirate Ship Hotel.  From the road they've got a fancy sign; the exterior is in the shape of a ship (complete with painted-on waves on the surrounding walls).  We pulled our van into one of the covered parking spots, pressed a button near the door to lower the privacy screen from prying outside eyes, and opened a door into a long corridor where painted signs on the floor and wall directed us to climb a staircase to our room.  Once inside we found that the pirate theme was carried through only by the porthole window in the wall; the rest of the room was a neatly decorated, regular hotel room whose only interesting feature was the how-to sensual massage mat in the bathroom.
Deciding we didn't want to spend an hour (or the ¥2200 fee) in this rather uninteresting room, we turned right around and headed back down to our car… only to find that we were locked in.  After five minutes of sending in the bravest among us to get us out of this place, she returned and pressed the garage door button… we were free.  "I picked up the phone that called the front desk for me, and told her 'Cancel room!  No stay, no touch anything.  Sayonara! Cancel!', and she told me to go," Tara told us.  'Cancel' became a vital word in this process, we later found out.
The Good
We ended up driving right down the road to Hawaii Hotel, which was a far cry from its neighbor.  For one, this hotel is much more easily accessible for those who have trouble with stairs, as the trip from garage to hotel room was through an outdoor terrace with tables and chairs for each room.
Inside, the room had Hawaiian music softly playing in the background, His and Hers robes and bath products, a fully stocked mini-bar, and an overall relaxing atmosphere.
In addition, there was a large screen HDTV with several channels to watch (including one slightly edited adult channel), DVD player and Wii consoles, and a selection of movies and games to borrow.  Unfortunately, the staff at the front desk here didn't speak English and we never did figure out how to order those movies or games.  Nor did we stay long enough to order from the breakfast or "Afternoon Tea" room service menus available to us.  The biggest downfall with this room was that it smelled strongly of cigarette smoke, which for our group of non-smokers was a bit of a turn off.  In the end we classified this establishment in the category of "classy" Love Hotel.
The Wacky
Our next stop was Mint House (which several readers have written about on a previous short post with links here).  When we first drove up to the gate we came upon a booth with pictures of the rooms – lighted rooms were vacant; dimmed rooms were occupied – and once we made our (¥4500) selection we pressed a button next to the desired picture.
We followed signs that led to our chosen room, and when we arrived we parked in the allotted spot and entered the staircase that lead to our suite.  Unfortunately we didn't understand the sign that read Two People Only, and when we entered the room the phone rang to ask us if we'd like to cancel.  Which we did… but only after taking a few pictures:
This room was two floors, and included a foyer:
A bedroom area with a karaoke machine
A hot tub
And a very fancy shower.
Other rooms at Mint House were much less fancy – just a few are multi-level – and cost ¥1500 for an hour. While the rooms are not as wildly themed as some of those on mainland Japan, they're certainly not just your average hotel room.  It seems that Americans frequent Mint House because of its ease of use and the fact that the staff here does speak a bit of English.
The Ugly
We were fully prepared to head home after being turned away from Mint House, but the youngest among us was getting whiny and needed a diaper change, so we pulled into the driveway of Hotel 2001.
Because the one hour charge here was just ¥1500 we decided to try it out.  In reading over my notes of this room this stands out: "Bed not suitable for sleeping".  It did have other interesting features, though: a deep tissue massage chair, a bathtub with flat screen TV built into the wall at one end, and a menu offering a selection of adult toys priced at ¥1000 each.  There was also an extensive selection of DVDs (Japanese and adult) and a food room service menu, none of which we took advantage.
We did have an issue getting out of this room; by the time we contacted an employee to pay (again, buy calling the front desk), it took her about five minutes to reach our room, then another ten to return with our change.  By that time we were feeling very claustrophobic and were more than ready to leave.
What We Learned
Love Hotels are not for weekend getaways.  They're an easy escape from everyday life, intended for couples who want to make the most of a few precious hours together.  Depending on the hotel and the room, an hour's stay can range anywhere from ¥1500 to ¥4500.  Some of the hotels we looked at had 2.5 hour options, and nearly all had a ¥500 add-on fee for each additional half hour past the initial sixty minute stay.  Most of the hotels we saw had designated fees for "extended" stays; off-hours (i.e. from 1100 to 1800) cost x amount of Yen, while peak nighttime hours were a couple thousand more.
The four hotels here operated on a Yen-only basis; even the Mint House with its much pricier rooms did not accept credit cards so bring lots of it with you when you go.
With the exception of the Mint House, the three other rooms we stopped in required us to lower the privacy screen on the garage door before opening the hotel room to us, and that door did not reopen until after we'd paid (or in the case of the pirate hotel, had gotten out of staying).  All four establishments were under 24 hour surveillance with cameras outside the rooms and in the parking bays.
 We never really did figure out the correct protocol for leaving our rooms; mostly we had Tara call the front desk, to which she did a version of "Ready to leave – sayonara! Finish… cancel!", and afterward a hotel employee came to the small window in the room where only our hands showed; we had no face-to-face contact with anyone other than ourselves.
Change was made at the window (or in the case of Hotel 2001, took ten minutes to return to us) , and the garage privacy screens were opened.  I think now that had we all gotten directly in the car the employees would have raised the screens for us, to help maintain the same level of privacy that was provided throughout the stay.  We were impatient and a bit panicked, however, and didn't give ourselves or the employees that chance.
All the rooms we visited smelled strongly of cigarette smoke; I'd advise bringing air freshener spray or candles to help alleviate those odors if you're sensitive to them.  As a whole, however, it seemed to me that the level of cleanliness and hygiene in all the rooms were up to the standard I've come to expect from Japanese establishments.  Despite the nature of the Love Hotels, I didn't feel as though they were dirty or unclean in the least.
I would recommend bringing drinks and snacks and your own DVDs with you, unless you know how to order from a menu in Japanese.  The hotel employees we encountered spoke little to no English, and we spoke little to no Japanese, which made for a language barrier that was tough to conquer when unable to see the people to whom we were speaking.
In all, visiting these Love Hotels was a fun experience.  If you're interested in taking a look for yourself – but don't want to commit to staying in a particular one before seeing it – contact Army Community Services on Torii Station or MCCS on Camp Foster for information about their Love Hotel tours.  Or just take a drive, particularly at night.  Several months ago, Mary posted this travelogue video she and her husband made of "Love Hotel Alley" near Awase Golf Course… this will give you a good idea of what this area looks like all lit up at night.
This is by no means an extensive review of Love Hotels, though.  In trying to keep track of the ones we passed in Love Hotel Alley itself, I lost count at fifteen. There are many other Love Hotels around the island… and they probably fall somewhere in the spectrum between The Good, The Bad, The Boring, and the Ugly.
Directions to Mint House:
From Kadena Gate 2, go straight through the 330 intersection.  At the 6th stoplight (after the ENEOS gas station) take a right.  Follow this street until you pass a golf driving range on your right; on your left you'll pass Birdland Café; take your first immediate left.  Follow this street for about a kilometer; after a pink and white apartment building on your right you'll take a very sharp right hand turn into the Mint House entrance.
From Foster: Get on 330 heading east.  Follow to intersection with 20 (Koza Music City; Kadena Gate 2 to your left); take a right. Follow directions as above.
Directions to "Love Hotel Alley"
From Kadena Gate 2, take a right onto 85 toward Chatan.  Follow to intersection of 23 (gate 5); take a left onto 85.  Follow for several kilometers past Camp Butler and through the intersection of 330, past Awase Golf Course.  Street will begin to narrow and get hilly; follow until you get to a small T-intersection with a stop sign.  Take a right; you'll see many Love Hotels on both sides of the road as you continue on this road.  The Pirate Ship and Hawaii hotels mentioned in this post are accessible from this road.
From Foster, go out the Macaroni Grill gate or the PX gate and head east on 330.  At the Awase Golf Course take a right; follow directions as above.