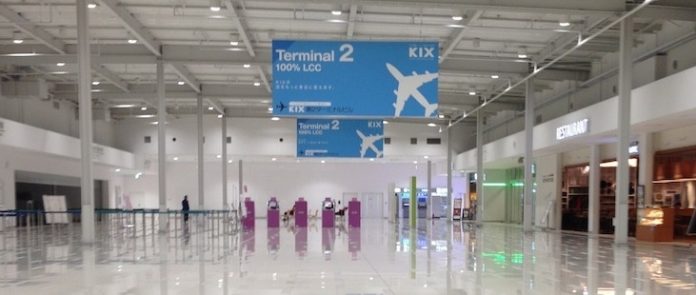 CONTRIBUTED BY LEAH MAGID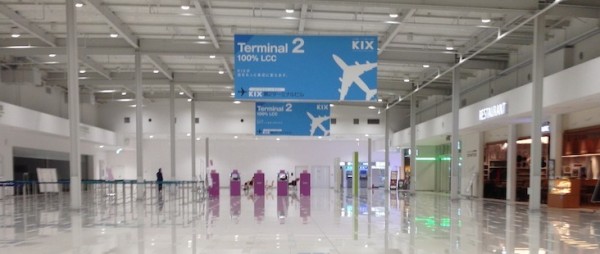 Katrina recently posted about a lot of new low-cost airlines. You can find her post HERE. If you have tried any other airlines, we'd love to hear about your experience! Click HERE to send us your story.
If you have tried to get around Japan, you may notice that airfare is little expensive, or "spendy" as it's called in the Pacific Northwest. And by a little, I mean insanely, out of control, cry-in-the-corner-and-stay-home-expensive. I have priced airfare to Tokyo and had to sit right the heck down. And we're not talking Supersonic Fast flights that feature those little nap pods and a foot rub – we're talking regular airplanes with regular seats. And so it is with great joy that we welcome the influx of LCCs – Low Cost Carriers.
We have been using Skymark for about two years and enjoy their service, but are always looking for other options. I am sure you have seen the notices on Facebook, heard people talking or might have even flown with one of these carriers. There are at least four that well get you out of Okinawa and either have connecting flights elsewhere or end up in great destinations.
We recently went to Osaka because of a screaming deal on Peach. Under $100 for two adults, round trip was all we paid (plus the money for the luggage when we decided to actually pack a suitcase instead of backpacking – I'm rolling up on middle age and I didn't want to deal with that aspect for this trip). I have seen even better fares, and they also offer flights elsewhere from Osaka, including Taipei, Hong Kong, Seoul and several locations in Japan. Ishagaki is being added as a destination, and that means that you'll be able to get there from here for a lot less, very soon.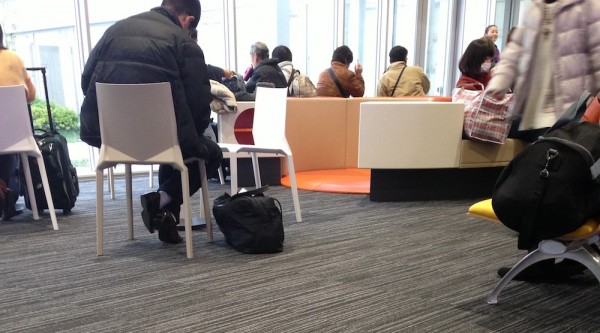 Remember, I have been slacking and have not yet invented time travel, so I do not know what will be there, only what is there as of right now. The Osaka terminal is snazzy as all get out, so maybe they'll jazz up the Naha end as well.
Getting there…
In order to get to Peach, you must ride their bus. You can't walk there, you can't drive and you can't catch a cab. The Peach Bus picks up at "Stop 4" at the Naha Domestic Terminal on the ground floor. (Where you exit with your baggage, right outside the door – not on the median). There is a bus schedule on the website. I suggest taking the shuttle that gets you to the LCC terminal about an hour before your flight. The bus hauls you over to the Cargo Terminal, and then you enter what looks like the receiving bay of a lumber store.
Being There…
Go inside and go through the process. First, use your printed bar code to scan in to the system. Then proceed to the counter to check in any luggage. After you have your boarding pass, you can either proceed through security or lurk in the antechamber. Once your flight is set to board, you walk through a little maze and out on the tarmac. It's not far. You probably walk more from your car to the BX/PX.
Before you go through security there will be bathrooms, vending machines, plastic lawn furniture and tables, and a coffee kiosk with a small variety of soft buns with filling. Pro-tip: "Cheese" is not sweet – it is a very nice, but pungent camembert. I think.
After you pass through security, there are more bathrooms, rows of standard airport lobby seating, and a small souvenir shop with chips, drinks, toys and pre-made foods like onigiri and sandwiches, ice cream, candy and some Okinawa treats.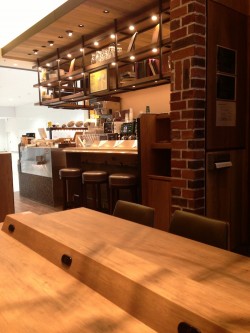 On the Plane…
The planes are shiny and bright, decorated with a big hot-pink tail and purple and pink décor inside. The cabin attendants are cheerful and helpful, and the seats are comfortable (although anyone over 5'8" might have to squish a little, the flight is only about two hours, so it's not awful.
This is no frills. There's no free snack and no free beverage. Either bring your own, deal with it for two hours or buy one of their lovely combos. They take Yen and have a nice variety of hot or cold, alcohol or non-alcohol beverages, and a pretty awesome snack selection. They have peach sorbet – a special item only offered via Peach.
You can also buy a model of the airplane, teddy bears, or a Peach blanket. (All this and much more including calendars and other logo items are available in the huge gift shop at Kansai International Terminal 2).
Dude. We're in Osaka. Now What?
Well, there's certainly enough to keep you busy at the amazing, floating KIX, but chances are you want to go somewhere else. The Airport Limousine (a bus) will get you to Osaka station for about Y1,500 per person. It takes about an hour and the bus seats are absolutely comfortable.
Coming Back – The Terminal at Osaka
Terminal 2 at KIX is, as I mentioned, snazzy. There is a 7-11, a gift shop a coffee shop and a restaurant before security, as well as a very nice restroom. After security, there is an even bigger gift shop as well as a really cool seating area with a variety of soft pods and family-friendly areas. There are also restrooms.
Coming Back – The Terminal at Naha
When you deplane, you go straight back into the warehouse from whence you came. If you checked luggage, STOP. There is no carousel. They just drag it in. If you leave the baggage area without your bag, you will have to wait for everyone else on the entire plane to get their stuff first. At the time we flew (January 2013), there was no announcement and no sign (in either English or Japanese). We were not the only buffoons standing there wondering where our stuff was, throwing mini temper fits in our minds. There were tourists from Osaka as well as Okinawans (who had been to Universal in Osaka) having quite a time of it.
Then, you ride the bus back to Stop 4. Simple!
Things to Know:
In order to get the latest information, buy tickets or just join up for the mailing list, go to: (www.flypeach.com) to see what they have to offer. Peach is a division of ANA (pronounced "ah-nah" and NOT "Ay-En-Ay" by the way).
Remember – you cannot book a million months in advance. It varies from airline to airline, but 60 days or 90 days out is when you can buy tickets. Also, you don't have to pay online if you don't want to. Most of these airlines allow payment (in Yen) at a convenience store. Each airline has its own policies, guidelines and deadlines.
Know where you want to go? Great! Check the airport website at your desired location and see who flies there from Naha. If you hit a dead end, then look to see who goes there from Osaka, Fukuoka, Nagoya, Haneda or Narita and grab a cheap connection.
Don't know where you want to go? Just hop on one of these sites and see where they go. Pick a deal and buy some tickets. You'll figure out the hotel and what to do after. There is not a single, solitary place in Japan that isn't interesting in my opinion. And each destination is unique, has a lot to offer and is full of people who are proud of their hometown. Get off the rock.
Other LCCs include, but are not limited to: JinAir, SkyMark, JetStar Asia, AirAsia
This post was featured in Stripes Okinawa!