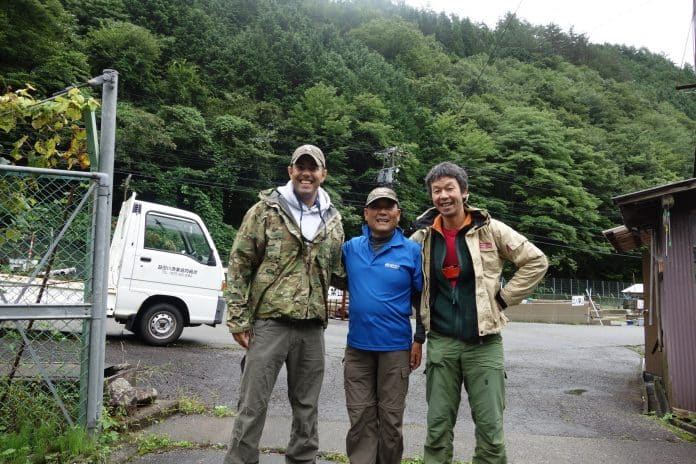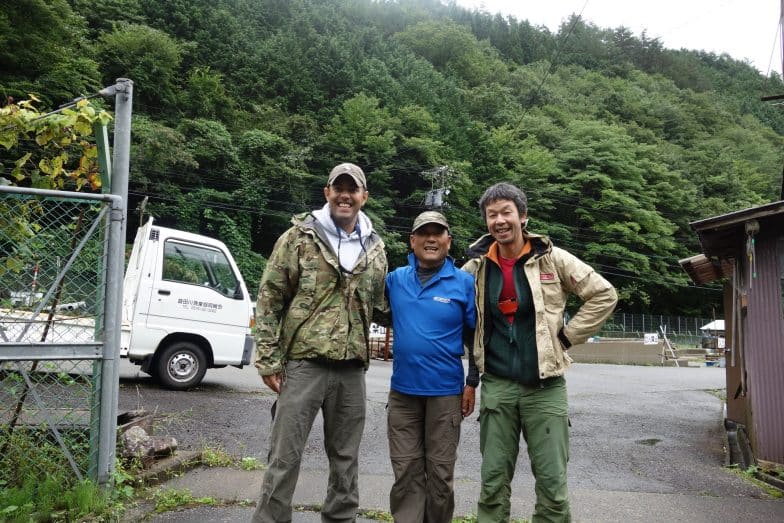 CONTRIBUTED BY HALEY MEAGHER
My husband and I were in search of a vacation where we could once again enjoy crisp fall air, scenic woodland views, and possibly a chance to fly fish like we had back in the states. In search of a fishing adventure, I came across a tourist page written and managed by a local named Rocky Osaki (
https://www.mazegawa.com/mizube/maze_gb.htm
). We immediately decided that we wanted to go, but as it is not a well-traveled American tourist destination, no hotel, B&B, or resort we could find spoke English and very little was able to be reserved online.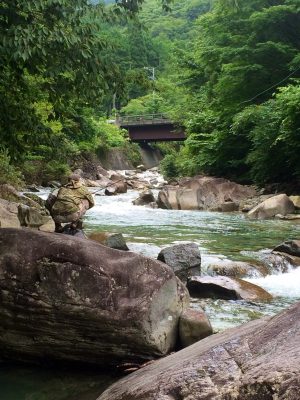 Almost out of hope, I sent an email to Rocky directly asking for his assistance, and he hooked us up with everything we could have asked for. He arranged our food, our hotel, and even all the gear we would need while fishing in mainland. He arranged local guides to fish with us and stayed with us for both days as a translator. My husband and I had such an incredible trip to
Gero
, Japan, that I knew I had to share our gem of an experience with others stationed here in Okinawa.
To get there, we flew to Nagoya Chubu International Airport via Jetstar, which is a cheap local airline and takes about as long as it would to travel to Tokyo. From there, you are able to get to
Gero
by train (approximately 3 hours) or by rental car (approximately 3 hours as well). We chose to rent a car from Nippon Car Rental at the airport and were able to do so online. It cost 225 USD for 3 days and the rental service even gave us an English Map and GPS! From there we drove to the city of
Gero
in Gifu Prefecture and met Rocky who had agreed to meet with us at the accommodations he had reserved for us.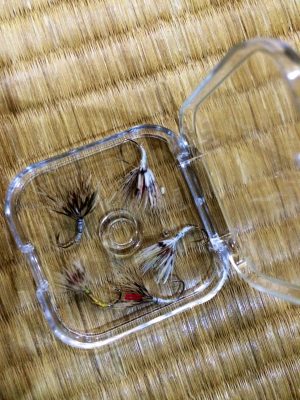 Rocky had arranged for us to stay at a bed and breakfast owned and operated by a world famous Japanese fisherman from the Gifu prefecture, Katsutoshi Amano. Amano spoke very little English, but welcomed us with a warm smile and some green tea on our arrival. Throughout our whole stay he was extremely hospitable and would bring us little gifts to our tableside at dinner. The most remarkable gift was our last night at the inn when brought us 5 hand made flies he had tied himself!
The inn itself was very simple and typical Japanese style with futon beds and public bath options. Without meals it was 4,000 yen per night and with meals it was 7,000. However, we made no mistake by choosing the meal option. The food was INCREDIBLE! Each dinner consisted of seven to eight plates of local Japanese cuisine and fish that Amano-san had caught himself. Every single plate was prepared by his daughter-in-law and was absolutely delicious. If staying at Amano's lodge, I definitely recommend eating there as well. (photo 2)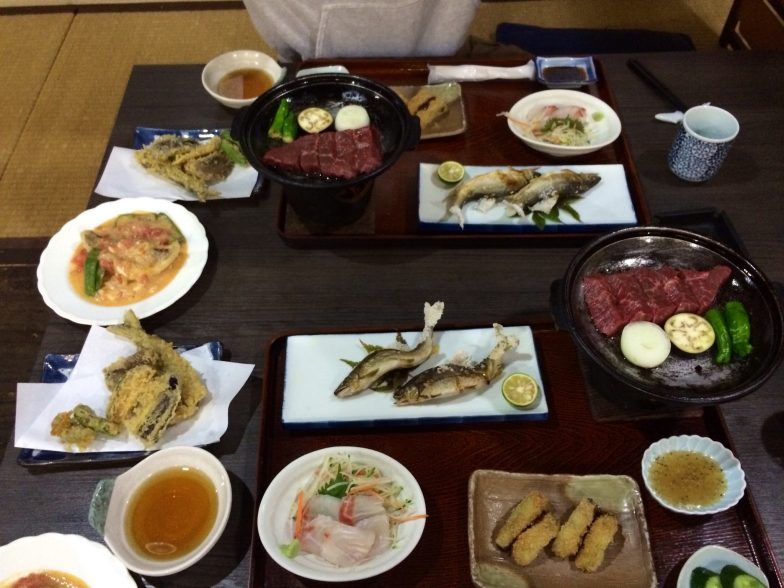 Rocky had arranged each day for us to be guided by a local fisherman in the
Gero
back country. All the gear was provided for us, and Rocky came along as a translator. The river was absolutely breath taking! I found myself taking short breaks in our hike up the stream just to take in the beauty of the tall pines and mountainous landscape. It reminded me so much of being back home in New York.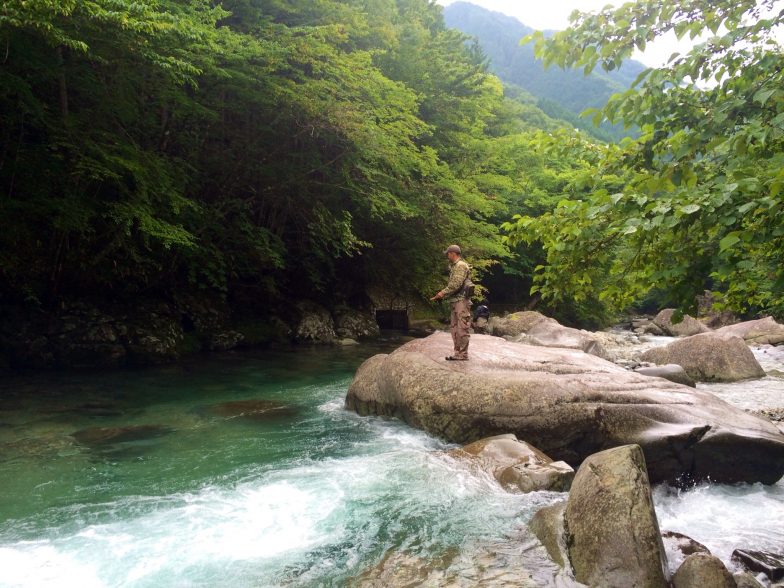 The last day we were there we had intended to fish all day with the legendary Amano-san, but due to the weather we had to change our plans. Rocky was quick to throw together a local tour of the
Gero
region and show us more about the local history and way of life. Amano and Rocky took us to tour one of Amano's fisheries followed by a trip to a local village museum and fishing demonstration of Amano's famous technique. Even though the day wasn't what we had planned, it was so much fun! It was worth it just to get to spend the day with Amano and learn all of his fishing wisdom. We had planned to do a fly-tying session with him in the afternoon but ended up having so much fun touring that we ran out of time.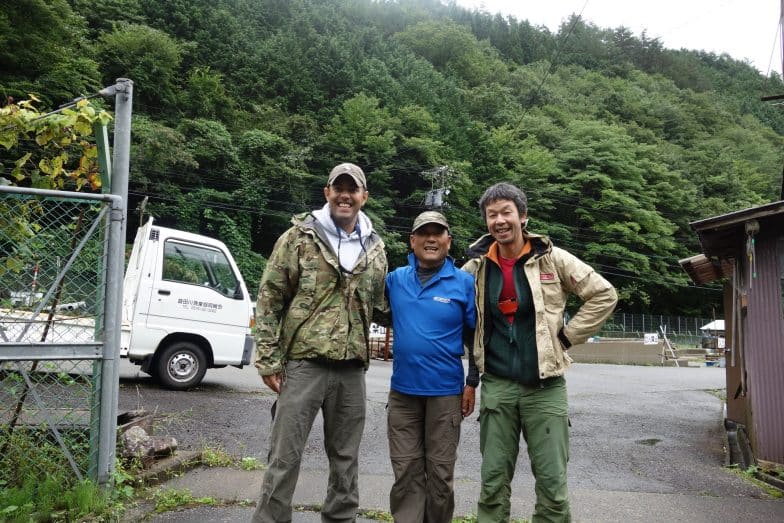 All-in-all I feel that my husband and I had stumbled across a well hidden gem in the heart of mainland. Amano and Rocky were incredibly hospitable and by the end of our time there, I felt we had made life-long friends. (photo 5) If you are adventurous, missing American fall weather, and love the outdoors, I highly recommend a trip to
Gero
with Rocky as your guide. If you are not into fly fishing, Rocky has many local tour connections that host hikes, canyoneering (hiking/waterfall jumping), rock climbing, and even trips to local 
Gero
onsen bath houses. Rocky told me that he is hoping to jumpstart more tourism to the region and was open to helping anyone looking to travel the region (Rocky Osaki –
info@mt-life-hida.com
)