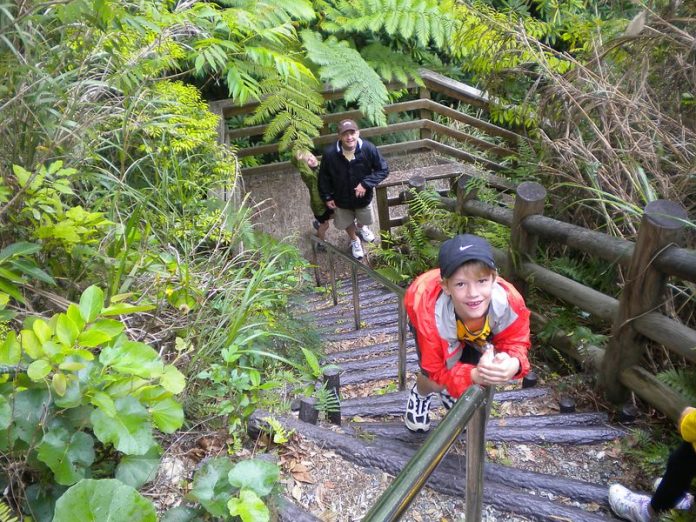 CONTRIBUTED BY CHRISTY SUTTON
Just after you pass Arume on the East coast of Okinawa, and before you reach the village of Higashi you will find the Mangrove Tree Park, a well-maintained nature preserve. You will cross over a bridge and see that a river extends inland and is lined on both sides by mangrove trees. If time and money permit, you can rent a canoe and make a day out of hiking and exploring this uniquely subtropical phenomenon of salt water sustainable trees.
What to expect:  A boardwalk takes you on a short walk alongside, in between and even above the beautifully unique mangrove trees.  Birds will create a melodious tune for you as you stroll along this nature trail.  An opportunity to find small marine creatures in the shallow water near the tree roots will await you around every corner as well. There is a lookout point that takes you closer to the river and at high tide may even bring the river closer to you! There is a paved road that runs between the boardwalk and the hillside.  We did not take this road past the boardwalk because of time restraints, but did not see any signs posted to deter explorers.
We chose the hillside route to return to the parking lot and counted 398 steps– mostly up and sometimes down.  (Hint, Hint—counting steps gives little ones something else to do other than complaining while hiking!!)  On this route, you are out of the mangroves and into a jungle setting – dirt trails and steep, rugged steps. There are some fun sliding rails along this route, but be prepared for high speed and possible catastrophic landings!! The good thing is that there are multiple places to turn off and get back to the paved road if you decide its not the right terrain for your group.  Altogether we spent about 40 minutes on the circular trail.  Depending on your curiosity and interest in the trees and wildlife, this could vary.
We saw many Japanese folks enjoying the canoes along the river.  The site of the boat landing allows you to go upriver into the mangrove-lined tributaries or downriver into the larger, open bay area heading out to the Pacific.  Because we did not have time to canoe, I do not know for sure if the price includes a guide.  We saw a lot of workers though, so I would expect so. We hope to return for canoeing this summer.
The parking lot is quite small so be prepared to park across the highway on a side street.  There is a jungle gym for the kids to enjoy and public restrooms right next to the parking lot.  Also, a large map that shows the river, boardwalk, trails and steps is mounted in the parking lot (no English translation, but good pictures).
---
Mangrove Tree Park
Cost:  Canoe rental 6000 yen for 3 hrs. per Adult, 4000 yen for 3 hrs. per Child
Boardwalk and Trails—Free
Parking–Free
(Note:  The boardwalk is stroller-friendly, but the trails on the hillside are definitely not.)
Address: Gesashi, Kunigami-gun, Higashi-son 905-1205, Okinawa Prefecture
GPS Coordinates: 26.6016422, 128.14260179999997
Directions:  Out Kadena Gate 2 to the Expressway, head North to Nago. Exit at Ginoza, 2nd to last stop heading north.  Turn left onto Rt 329, through Ginoza and toward Nago (don't be confused, you will NOT actually go to Nago, but the signs lead you that way).  Continue on 329 past Camp Schwab Gates 1 and 2 on your right.  You're about ½ way at this point.  Just past Camp Schwab you'll make a right turn onto Rte 331.  It is clearly marked with road signs. This road will twist and turn along the coast up and down through many villages—a visual treat in itself. About 20 minutes later you will pass through Arume, start watching for a bridge clearly designated by a river on one side and a large bay on the other.  The park is the first left AFTER the bridge. ( If you've gone into Higashi you have gone too far.  Turn around and calculate 2km back…) (And if you take the first RIGHT after the bridge, you'll be headed to the Strawberry fields.)