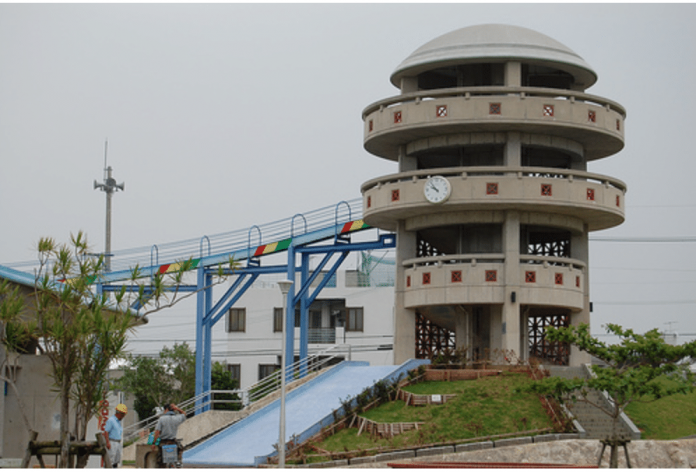 originally uploaded by juliamagnolia.
CONTRIBUTED BY JULIA
This park is near the Gushikawa Jusco mall and has a lot of fun things to do.  There is a large roller slide surrounded by a cement slide and climbing walls.  There's also a wooden play structure where kids can climb, slide, swing, or brave the balance beams.  There is plenty of open space to run around, a basketball court for older kids, and pavilions to take refuge under whether there's rain or shine.
Directions from Kadena from Gate 2:
From Gate 2 head straight through the Goya four-corners intersection onto route 20.
Pass the intersection for 329 onto 33 and take a LEFT at the 1st traffic signal to continue on Route 33.
Follow 33 as it curves to the left and right.  You will pass an Esso gas station at the 3rd traffic signal and then a Hot Spar, both on your left.
Pass a San A on your right and you should see a sign for Union and then an Eneos Gas Station on your left.
The park will be on your right side just past Eneos.
Take the Legion Gate Exit (exit by Taco Bell and the Shopette) and head straight out onto 81.
Continue on 81 as it turns into 227 and pass Comprehensive Park.
You will pass a Shell station on your right and then an intersection with both a San A and Mos Burger.
Take a LEFT at the 2nd light after the San A/Mos Burger intersection.  You should see a yellow building with some big fish on your right just after you turn.
Take a RIGHT at the 2nd light (there will be a Lawson's on your right).
Take a RIGHT at the 3rd street and park along the road.  It's an easy turn to miss so if you overshoot you can take a RIGHT at the Eneos gas station instead to loop around the park.