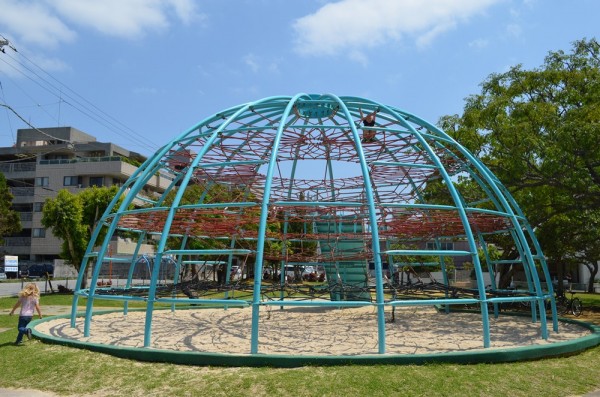 CONTRIBUTED BY KARA PIERACCINI
So many times when going to the park, the equipment is geared towards younger kids. My oldest is fine with this; he's only 7, so he's not that big, but he sometimes needs more of a challenge.
Enter the Mashiki Rocket Park.
For a neighborhood park, this place is pretty big. There are large, open areas where we've seen many baseball games, as well as playground equipment. There are a couple of swings and a small carousel.
The main attraction though, is a large dome in the center of the park. It has layers of climbing ropes to reach the top. Only when you reach the top can you go down the slide!
My 7-year-old can climb the maze of ropes with no problem. My fearless 4-year-old made it, but it took her a few tries. She tried to climb up the slide to avoid climbing the dome, but it's too steep.  She had to go down the slide, so climb she did!
The park has lots of shade and bathrooms, so it's easy to spend an afternoon here.
Directions: From the Foster Commissary gate, take 58 towards Naha. Pass the turn off for Futenma and then start counting lights. At the fourth light (its right past the Ginowan Police Station) take a right. Take the third street on the left. You will see the park right in front of you.