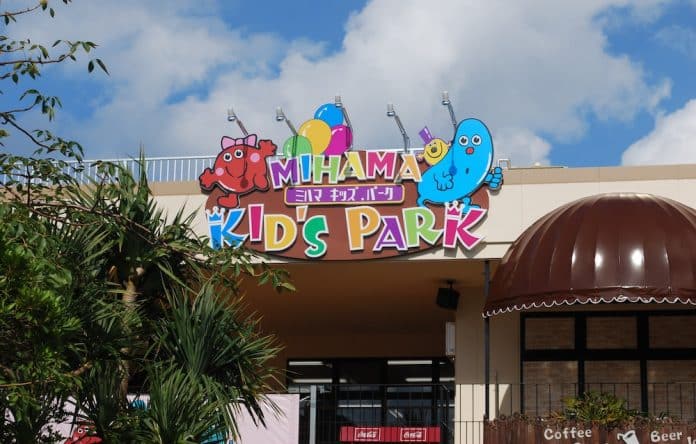 CONTRIBUTED BY CLAIRE BRAY-COLLINS

Mihama Front
Tot and I love a good quarter mile roller slide over a freeway, like the one at Urasoe Park, a not-so-miniature "Navy S.E.A.L.'s" training site or a hair-raising ride on a "tilt-and-hurl" spinner like those at the Okinawa Convention Center, or even a vaguely supported free fall down those wicked drop slides we happen upon in the strangest places. In short, we really dig the ample and most entertaining playgrounds here on Okinawa. But sometimes an excursion to the park is just not an option; like when the weather's not cooperating, Mommy's bum knee is acting up, or Newt (our latest addition), has chosen to forgo her morning snooze for some family fun…Enter Oki's other awesome post-naptime venue: The indoor play place.

Mihama Inside
I'm happy to report there's a new such venue open in American Village: Mihama Kid's Park! Despite the name, this IS an indoor facility. I am not certain (my limited language skills may have hampered this particular interaction), but I believe this new kid-spot may be owned/operated by the same folks who opened Xystus Kid's Land a few months ago. In any case, M.K.P. although smaller, is as clean and as engaging for my kiddos as its larger counterpart (for those who have yet to venture down route 85 in Uruma to Xystus, it's really clean and loads of fun).

Mihama Blocks
Tot had a blast running, romping, sliding, bouncing and climbing throughout the labyrinth of raised tunnels, slides, ball pits, trampolines, zip lines, swings and bouncy balls. There's a smaller ball pit for wee ones, which Newt thoroughly enjoyed; as well as big blocks for building and a few play houses and several rocking horses and "Rody" (inflatable) horses around accessible to all ages.

Mihama Toddler

Mihama Seating

Mihama Nursing
M.K.P. offers a full service café offering fried chicken, curry, spaghetti with meat sauce, loco-moco and various sides (regular plates average about 500-600 yen, 300-400 yen for kids' plates) as well ice cream and beverages. There is a large seating area in front of the play structures, as well as a semi-separate café area in the front. They have kid-friendly bathrooms and a small nursing/feeding room equipped with a changing crib. I asked about WiFi, and was told it was coming soon.
They are happy to accommodate birthday parties, and have an area of seating they will rope off (but no private rooms), the cost for parties is the regular admission fee and they ask that no outside food be brought in other than birthday cake.  
One *minor* drawback for us was that this place does not have elevators! It's on the 2nd floor of the building which makes for some great ocean views out the back windows, but we had to carry our strollers up. Not such a big deal for us, but if anyone in your group needs wheelchair access, be prepared to lift.

Mihama Ball Pit

Mihama Tix Machine
Payment: Entrance fees are per 3 hours (MORE than enough time to wear out my 2 ½ yr. old who can out-play a litter of Dalmatian puppies), payment is by ticket machine, in YEN and are as follows:
0-18 months: 200 yen (every day)
19 months- 6yrs: 750 yen weekdays, 950 yen weekends
Adults/guardian: 200 yen (every day)
Hours: 10 a.m. to 7 p.m. daily.
Directions:  Mihama Kid's Park is located in the building behind the Sega building/Mihama Seaside Bowl in American Village. You can park anywhere in American Village and walk; go through the breezeway (1st floor of the Sega bldg) and you'll see the play land is directly behind, across the street on the 2nd floor.  From 58 North or South turn at Lester main gate (Starbuck's on the corner), left and the 2nd intersection (Aeon), park at Aeon or go left at the next intersection (before Dragon Palace) and right into the large lot shared by the village shops and the Sega building (Makeman will be on your right). For reference, look for the giant bowling pin atop the Sega building roof.