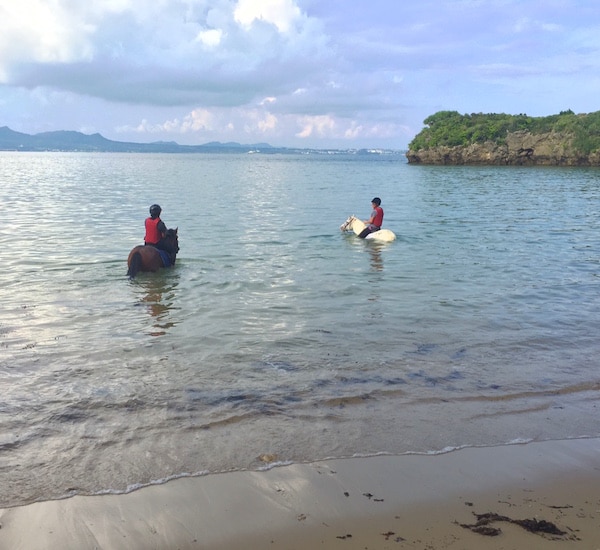 Mihara Horse Stable Guided Beach Ride
CONTRIBUTED BY SARAH BANCROFT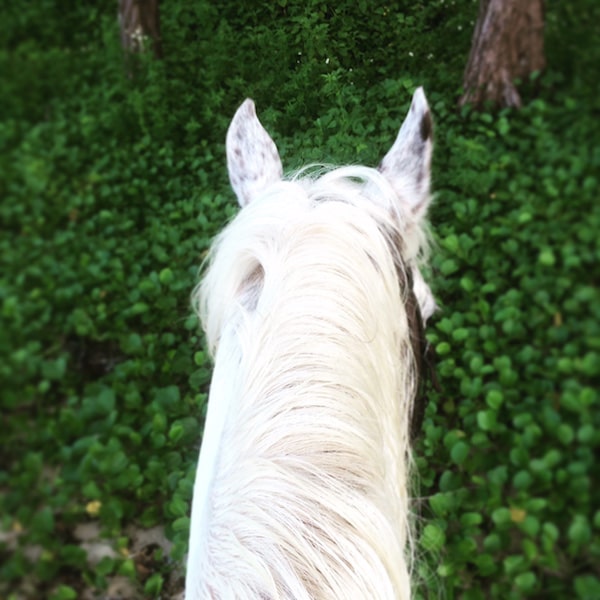 Every now and then I get the itch to get back up on a horse and ride around for a bit. When a friend was recently visiting Okinawa we both had the chance to satisfy that need and we were surprised at getting a bit more than we expected!
I initially did some thinking back to the first time I did a guided ride with Mihara Horse Stables. I remember riding along a road and then ending up on a beach where we got a chance to walk the horses through the water. I don't recall going all that deep, maybe up to a foot, into the water. I thought this would be a fun and memorable experience for a visitor so I called up Mihara and booked a guided beach ride.
I called and talked to the receptionist who was very friendly and informative. I asked her if the beach ride was still available and she said yes. We booked a ride that day for 4 pm when the tide was high at the beach. She advised me to wear capris or pants with a light t-shirt, and no shorts or open-toed shoes.
When we arrived at the stables we were guided to a shed-like area by a young lady and she told us to find a chest protector and helmet. All the gear was clean and tidy. We then had to wait for a bit until our horses were ready. Once we were all set to go she had us mount our horses and then she walked in front of us while we rode behind. The first part of the ride is a bit boring as you ride on the sidewalk next to the nearby major road, but it was fun to see all the weird stares and gawking from all the passers-by. Finally, we made it to the beach and that is when the fun started.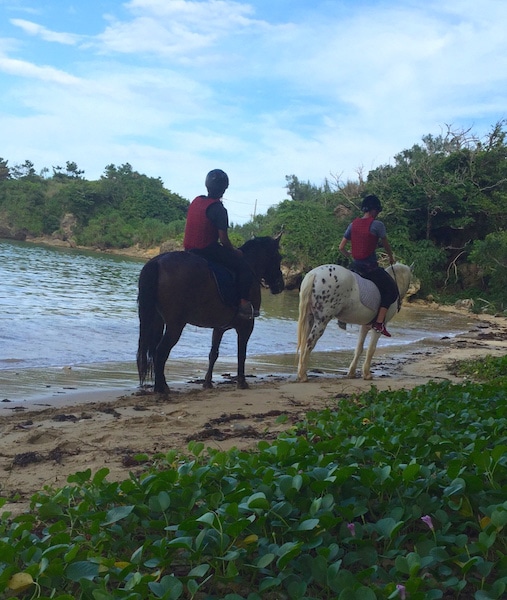 Upon arriving at the beach I first noticed that the tide was high and thought, "Oh no, there is no beach to explore." But I was surprised to hear our guide say, "Okay, now it's time to swim!" She then explained that the horses loved to swim in the ocean and to take them as deep as we, or the horses, wanted to go. She gave us a few tips in case our horses rolled or spooked, or if something crazy happened; the bottom-line was to not let go of the reins. Once all our additional questions were answered, we were off!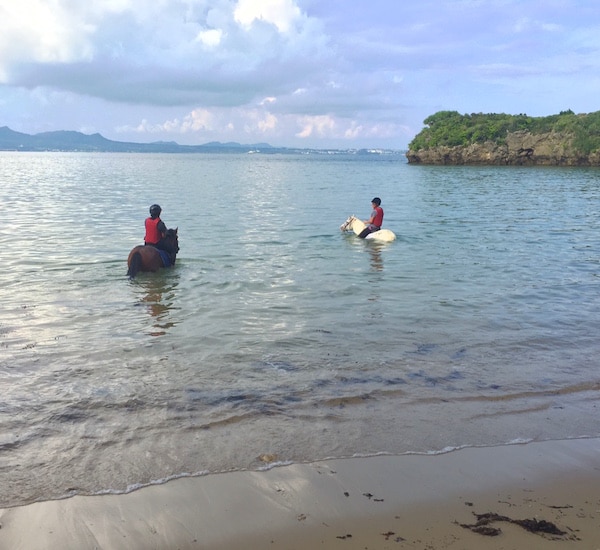 It took a little while for the horses to become comfortable but eventually, our horses responded to our commands and into the water we went. Deeper and deeper we got them to go and at the end, I would say we got to about waist deep. It was something I have never experienced before and was totally worth it! Feeling the horse beneath you but being weightless in the water is such a foreign feeling. I didn't stop smiling the entire time! Overall the experience is worth it as long as you're willing to get wet and be aggressive with your horse. Very fun!
---
Mihara Horse Stable Guided Beach Ride
Cost: A 2-hour ride costs $80 per person
Payment: Yen or Dollars
Hours: Monday-Sunday 8:00 am to 5:00 pm by reservation only
Phone: 070-1510-1977 or 098-964-6278
Website: https://miharahorse.com/english.html
Facebook Page
Address: 1495-7 Ishikawa Higashionna, Uruma, Okinawa Prefecture 904-1111
GPS Coordinates: 26.4072228, 127.8371313