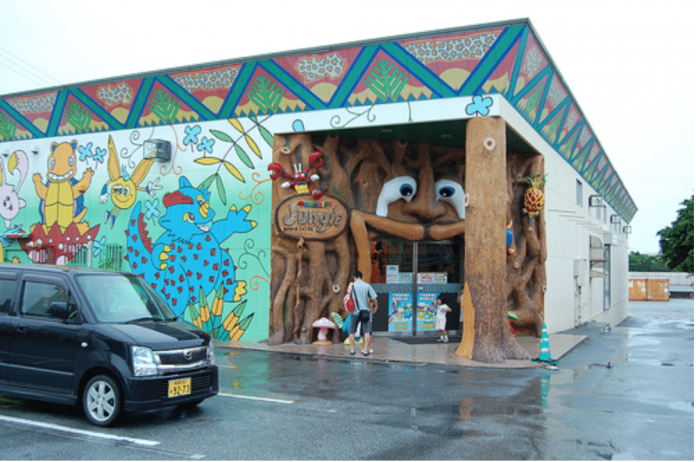 EDITOR'S NOTE: This attraction is now closed. We're leaving this post on the site so that those of you who may be looking for this information will be able to find it.
Monakids Jungle, originally uploaded by okinawa hai.
(Click on the photo above for more pictures.)
CONTRIBUTED BY JULIA
Chances are that you've been to Monakids Jungle at least a half a dozen times if you have young children and you've been on the island a while.  However if you're still trying to get your bearings on this island then this post is for you!
Monakids Jungle is an indoor playground complete with a rollerslide, zip line, ball pits, and plenty of tunnels to climb through.  There is also a smaller play structure for the really little kids.  Your monkeys should be quite pooped after they're done with this place.  Nothing like a drive home with two sleepy monsters and a stop at the coffee shop to make me happy!
If you're planning on throwing a party they also have a party room that you can rent that has kid-size tables and chairs.
Don't forget yen for food and drinks (no outside food is allowed) and socks when you visit.
ADMISSION for three hours of play:
18 mos-35 mos: 500 yen (Under 18 months free only with admission of older child)
3 yrs-12 yrs: 700 yen for weekdays, 800 yen for Saturdays, 900 yen for Sundays and Holidays
Admission on weekdays covers 3 hours of play while weekend admission covers 2 hours of play.
PHONE NUMBER: 098-875-3665.
HOURS: 1000-1900, closed on Tuesdays and Wednesdays
DIRECTIONS FROM FOSTER:
Take a LEFT from the Camp Foster Commissary Gate to head South on Hwy 58.
Pass MCAS Futenma and stay in the middle or right lane to go over the overpass.
After you pass KFC and Makeman (big orange and white monkey sign), both on your right side, make sure to be in the right lane.
You will see a San-A (yellow sign with three red triangles) on your right.
Get into the next right-hand turn lane and make a U-turn.  NOTE: If your car is large you can turn RIGHT at the next light instead (the same one for Camp Kinser) and loop back around to head North on 58.
Turn LEFT into the parking lot for Monakids just before this sign.