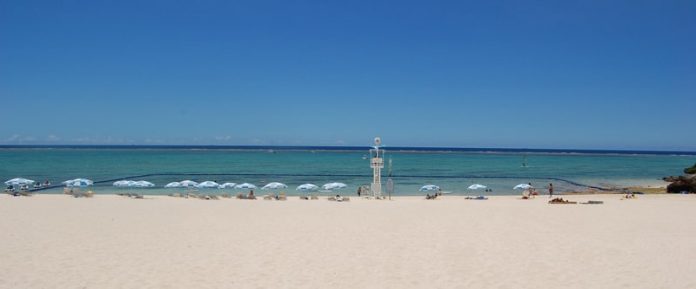 CONTRIBUTED BY DANIELA
Moon Beach is one of the first beaches I visited after first arriving on Okinawa and it remains one of my favorite. Far enough away from the bases yet close enough for a quick trip. Located in Onna Village it is easily accessible. Hotel Moon Beach is one of the oldest resort hotels on island. The story has it that military officers frolicked here with their wives right after WWII. Alright, I am a military wife. I am up for some frolicking. So I take my military husband and off we go.
First off the scores:
Accessibility – 10
Amenities – 10
Facilities – 10
Cleanliness – 10
Snorkeling – 0
Kid Friendly – 10
Life Guard – yes
Booties needed – 5
Parking – 10
Low/High Tide – 5
Surrounding Area – 10
Daniela Score – 10
After you make the left off of 58 (directions follow later in detail) you drive a few hundred yards and will encounter a guard in a booth. Now, entry for adults is 500 yen, children are 300 yen. Then there is a 500 yen parking fee. All I had was the 1000 yen for entry,but the girl at the booth let us in anyway. There is also a sign that states that military personnel have to show ID as only E-5 an above is allowed. I have yet to be asked for our ID and I think it a remnandt from said "officer frolicking times"
I like to park at the very far end closest to the beach because you now have a choice – head for Moon Beach to your left or go to the far right and you end up on a secluded very private small beach. If you come early enough there is usually still a corner available that you can have just for yourself and your sweetheart. (See frolicking above) Note that there are no facilities at the small beaches to your right.
Now let's turn our attention now to Moon Beach itself. If you park where I suggested you approach it by walking through a well manicured lawn. There are some benches to sit and enjoy the view of Cape Maeda and Zanpa. You can even see the lighthouse in the distance. Make sure you stop by the mermaid and get a picture.

The beach itself is beautiful white sand that gets raked every morning. You have your usual chairs, umbrellas, and water sports all at Japanese resort prices. One very cool thing I noticed was that they offer a tour of their own private island called "Nap Island". After staring at the sign for a while I gave up on trying to figure out how much it would cost. Maybe when I am further into my Kanji studies.
You also have other amenities; there is beautiful terrace to sit and eat, outdoor swimming pool, bathrooms and showers. There are also several stores and a restaurant. As we were leaving they were getting the outdoor BBQ set up. This is the kind where you grill your food at your table.
We went at low tide and the water was still coming up to my waist. This is the time when you need booties for the little ones. If you go all the way to the end of the swimming area you can see Ie island to your right and Cape Maeda and Zanpa to your left. All are much more stunning at high tide though. The surrounding area is beautiful and once you are tired of the beach stop at Bios on the Hill or the newly opened Jungle Adventures. I like this beach because it has something for everybody. Families will enjoy it as much as couples (see frolicking) or singles.
Directions:
from Kadena Gate 1 make a right and go north on 58. Stay on 58 until you see the Moon Beach Hotel on your left on Onna Village. There is also a sign that will lead you to Moon Beach. Make a left and you are there.