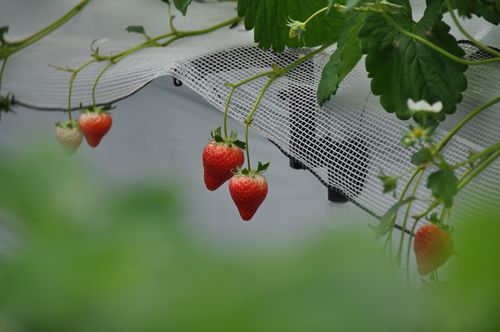 CONTRIBUTED BY CALYN PAQUIN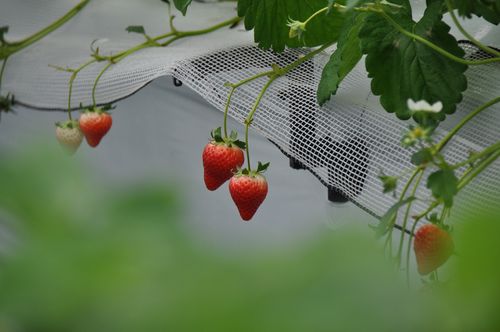 If you live in the US, chances are by now you would have gone strawberry picking or your child might have gone on a field trip to do it. My oldest did 2 years ago and this year, my youngest got to do it on his field trip with his Okinawan school. There is a big difference between the two… size of the farm.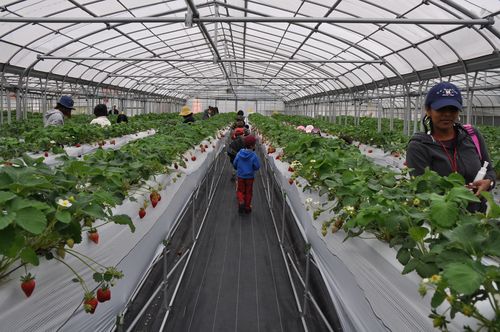 We went to Tomoya Farm.  They have 5 greenhouses where rows and rows of strawberry plants were planted just about 4 feet high so the strawberries are hanging at eye level for preschoolers! A gentleman gave a brief before we entered the designated greenhouse. He did it in Japanese for the school but I've spoken with him and he speaks enough English to give me all the information I need.
Due to the size of the farm, your group will be designated to a green house where you are free to eat as many ripe strawberries as you can in 30 minutes. You get a clear plastic container to put the tops/caps of the strawberries you ate. Adults and children 13 and up is 1300 yen, children 7-12 is 800 yen and 3-6 is 500 yen. Children under 3 are free. If you have 10 or more people, you get 100 yen off each person.
Just to give you an idea, my 4 year old ate about 22 strawberries in the 30 minutes and he didn't even rush. The berries are not very big. In fact most of them are about the size of a walnut but they are super sweet and very delicious. If you have any uneaten ones after 30 minutes, you will pay 150 yen per 100 gram to take home. If you go to the local grocery stores, they are usually about 500 yen for 12 – 15 berries depending on the size.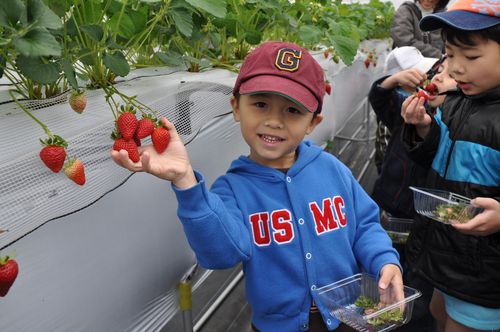 Tomoya Farm is on the south side of Okinawa. The guy told me they hope to have strawberry picking available until May 31st but right now, he knows for sure they will have it at least till Mother's Day. Reservations are preferred and I would strongly recommend it especially if you have to make a special trip to get there. He said to call on Wednesdays for reservations. Right now, strawberry picking is only available on weekends. He also told me that if everything goes according to plan, they should start strawberry picking season again in November.
Directions: Take expressway and exit at #3 Kitanakagusuku. Instead of turning right to go to Foster, you turn left and head south on route 29. Drive about 4 km. You will pass 2 gas stations on your right along the way. The 1st one is ENEOS and the 2nd one is Carenex. Right after you past Carenex, the 2nd building on your left is Tomoya Farm. Parking is right as you enter.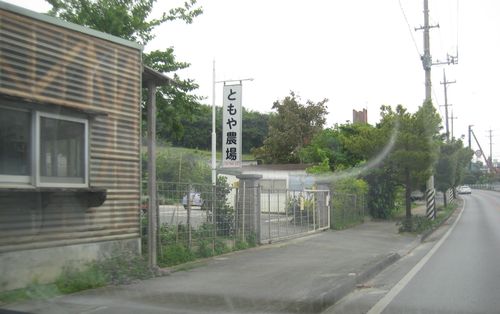 Phone:  090 1946 1247
Hours: 10:00 – 16:00 Closed on Mondays – but picking only available on weekends
Payment: Yen only
Another post about strawberry picking:  HERE