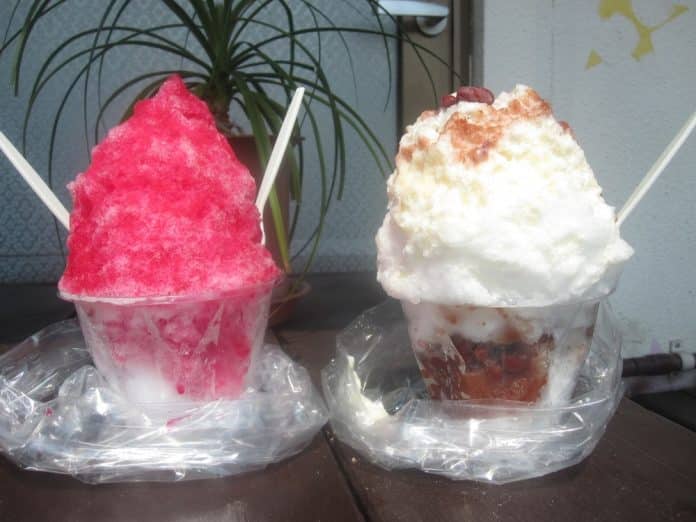 CONTRIBUTED BY MONETTE EAMES

Motherleaf Exterior
A recent visit to Camp Schwab reminded me of visits to the North Shore in Hawaii. Visits to the North would always end with trips to the competing shave ice stands. I remember patiently waiting in line for my soft, pineapple flavored shave ice with a treasure trove of vanilla ice cream and azuki beans on the bottom while chatting away with my best friend as she waited for her rainbow shave ice with sweetened condensed milk topping.

Motherleaf Shave Ice
With the end of our trip to Oura Wan Cottages, I was on a mission to find a shave ice stand, and then I remembered the little shop by Camp Courtney. Soft, melt-in-your-mouth, ice, just like home. We arrived and there were a few people enjoying their huge servings of delight. We ordered ours—one strawberry and one with milk zenzai which is basically sweetened condensed milk with mochi balls and soft bean jam. We ate them—or more like placed them in our mouths and swallowed, drank, as the ice melted instantly. It was heaven under the sun!

Motherleaf Menu
This place is a great place to visit on a warm Okinawan day. The best thing about this place? It's the best QUALITY shaved ice I've ever had in Okinawa. And it is also the cheapest, with the basic flavored ones being only Y150.

Hours: 11:30-6:00 closed Mondays
Phone: 972-3769
Directions: From Courtney's main gate, turn right and keep driving until you see Family Mart. Motherleaf Shave Ice is right next to Family Mart.