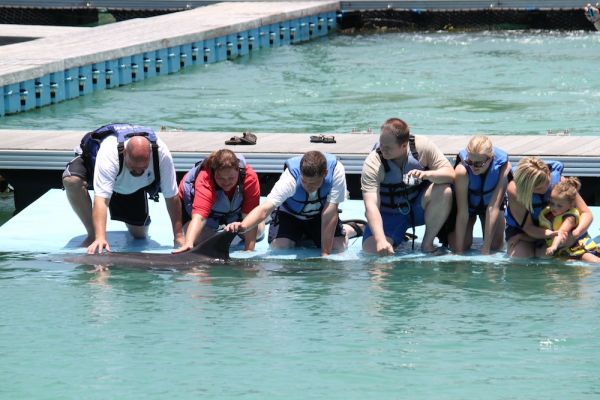 Motobu Dolphin Jump
CONTRIBUTED BY AMY MADDOCKS
We swam with dolphins! Literally! This last weekend my family and I were blessed with the opportunity to join in a program where we were able to interact with dolphins, including swimming with them and having them do tricks around us. All of this was done at a facility called Motobu Genkimura. You can visit their website here. However, the website has only partial English so you'll have to decipher what they have to offer with the pictures and such.
Basically, this location is an enhancement program that promotes culture and traditions of sea animals. You can enjoy canoeing, sailing, jet skis, pottery, crafts, interaction with sea life, and much more. They offer three different programs: the Marine Program, Dolphin Program, and Cultural Exchange Program. We participated in the Dolphin Program, and it is an experience we will never forget.
After signing a disclaimer, we were able to change into our swimming suits and put our belongings in a locker (the locker requires a 100 Yen coin, but you get it back when you return the key). The front staff keeps your key for you—just don't forget the number! We were then given life jackets and taken to wading pools where we were able to pick up different forms of sea life and learn about them.

Motobu dolphin touch
After going over the rules of the dolphin program, we were led out to where they keep the dolphins. For 90 minutes we were able to touch the dolphins, do tricks with them, learn about them, and finally, swim around the pool with them while holding onto their fin. We even got to see a baby dolphin that was only 4 days old. It was truly an amazing opportunity!

Motobu Dolphin Feed

Motobu Dolphin Happy
Some of the staff speaks English, so communication was not a problem. Reservations are recommended due to the language barrier, so make sure you call in advance. Their locker rooms are very nice, and include free showers and towels to use after you've been in the water. They also have a small restaurant or you can bring a lunch and eat on the patio overlooking the dolphin tanks.
Prices range from 1000 to 13,000 Yen depending on what you want to experience. The dolphin program is the most expensive, but so worth it! Also, I did see signs that say to call the day of your trip to make sure the sea conditions and dolphin conditions are optimal. They sometimes cancel programs if it's not safe for the people or animals. They do have age/height requirements, so make sure to ask about that when you call for more info. For example, only kids 7 years and older (and 4 feet and higher) can participate in the Dolphin Program.
Bring a waterproof camera—there are LOTS of picture opportunities!

Motobu Dolphin Ride
Phone: 0980-51-7878
Hours: 0800-1800
Directions:  Travel going north as if you are going to the Aquarium. Just before you get to the aquarium, while traveling on the 449, take a left onto the 114. Travel around 400 meters and you'll see a sign for the park to turn left. This road takes you to the parking lot with plenty of signs pointing the way.