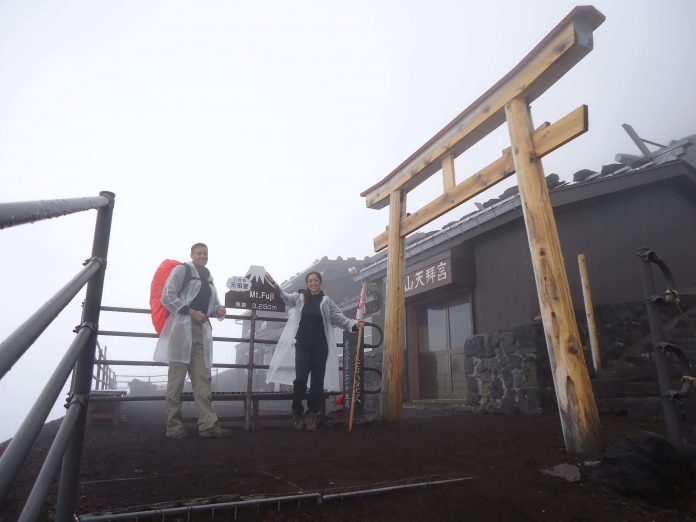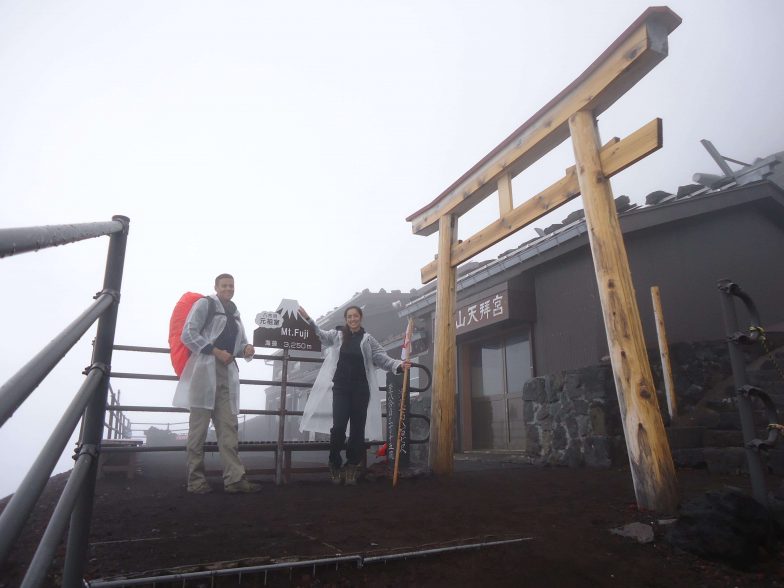 CONTRIBUTED BY ANABELA DA SILVA JENKINS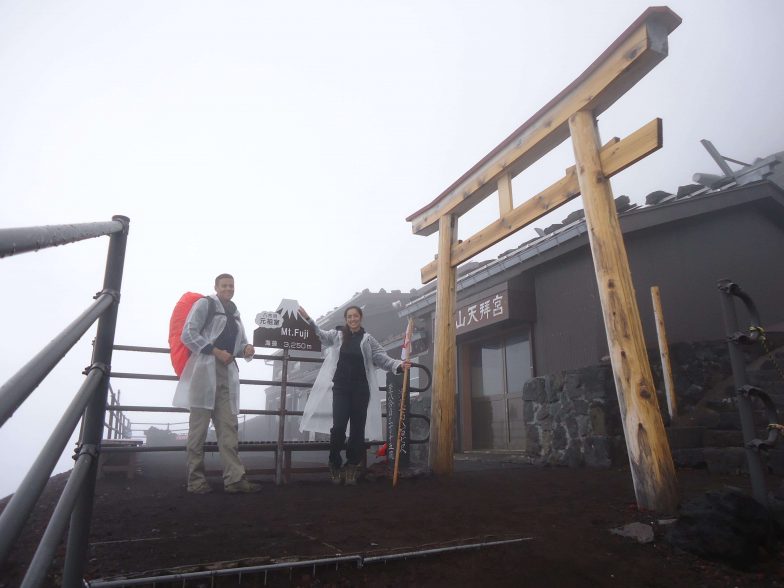 Expectations were high when we booked this trip. The plan was simple: quick three day trip solely dedicated to visit our friend Fuji-san. We booked the tickets with LCC Vanilla Air and flew from Naha to Narita Airport, on the outskirts of Tokyo. From Narita we took the Keisei Narita Limited Express to Nippori Station and from there headed to Shinjuku Station where we got on the direct highway bus to Kawaguchiko Station located right in "Fujiland". The airline sells the Keisei Express tickets on board at a slightly cheaper price than at the counter.
Upon arrival at Kawaguchiko Station we were picked up by our hostel's shuttle, a free service that K's House Mt. Fuji offers to all guests with reservations. This Backpackers Hostel is part of a friendly chain of hostels that offers great services in some of the main cities in Japan and is very well located, just within walking distance from Kawaguchiko Lake and Kawaguchiko Station. You can expect friendly staff, a variety of rooms with tatami floors and bunk beds in the dormitories, cold A/C and very clean and well maintained bedrooms and common areas. For all the backpackers that enjoy cooking, K's House Mt. Fuji has a large, clean and equipped kitchen for all your cooking desires. I would recommend this hostel to a friend.
After check-in and a late dinner it was time for bed. The following day was going to be exhausting and required rest and sleep. We were excited, but when we got up at 6 am ready to head to the mountain it was raining cats and dogs and three hours later we were still at the hostel. This was an unexpected and inconvenient delay of our plans since we only had that one day to climb up and down. At last, after countless prayers and peeks out the window the heavy rain turned into drizzle and we headed out to Kawaguchiko Station. There we purchased the round trip bus tickets to the 5th Station of Mt. Fuji and waited patiently. While waiting we bought the famous walking stick, thinking it would be our last chance to get it – and boy, were we wrong. After a fifty minute bus drive we arrived at the 5th Station and imagine our surprise when we found they had the Fuji walking sticks for ¥400 less, plus a stamp: Lesson learned.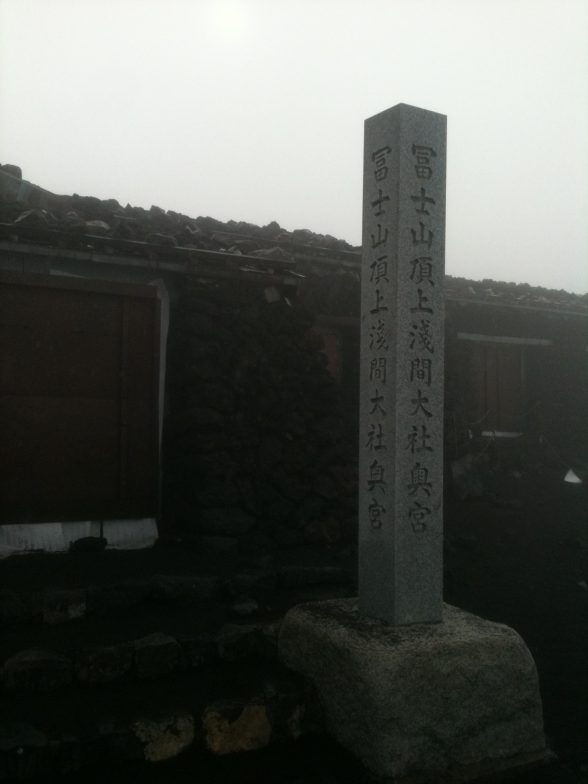 The climbing season had just started on July 1st and the mountain was already bustling with people. We had planned to climb on July 5th, were expecting sunshine and clear skies, but Fuji gave us rain and fog. When we arrived shortly after 10:00 am all the beauty and eminence of the mountain was wrapped in a thick veil of cotton. As we started climbing we could see the excitement of the fresh faced climbers contrasting with the fatigue of drenched bodies and tired expressions of the ones that had just gotten back from the top. Moving up the mountain we made quick stops at each station to hydrate, snack and stamp our beloved walking stick. Apart from memories and very few pictures this would be our great and only souvenir from Mt. Fuji.
With one eye on the prize and the other on the time, we kept moving up as fast as we could. It was getting late and the last bus was leaving at 7:55 pm. As we got closer to the top we started feeling considerably tired, cold and hungry. Our last stop before the top was at the 8th Station Hut. Here we wished we had split the climb and booked the hut to rest, a thought lured by the sweet smell of microwavable soba at a raging price and the cozy heat on a packed hut. Instead we looked inside our pack only to find empty packs of baby food, fruit peels and some leftover power bars. Be advised that there are no garbage bins as you climb and since littering the mountain is not an option you must carry all you bring.
Further up the mountain on that misty day the visibility was zero to none, the fog was dense, the temperature was dropping and the air was thinning, so we used the oxygen bottle we had bought at the 5th Station. Personally I found it to have more of a placebo effect than anything, but it is still recommended to carry a bottle just in case. Finally, after about six hours we reached the foggy mountain peak where we rested for about 20 minutes before heading back. On our way down we took a different route per advice of a Fuji worker. It was pretty deserted and had a path of gravel that allowed  to almost slide down at a much faster pace. We were running down the mountain hoping not to miss the last bus and as we ran the fog started lifting, unveiling a scenic view where the mountain meets the sky in between layers of dissipating clouds. We made it to the bus on time and got to see a glimpse of the beautiful mountain.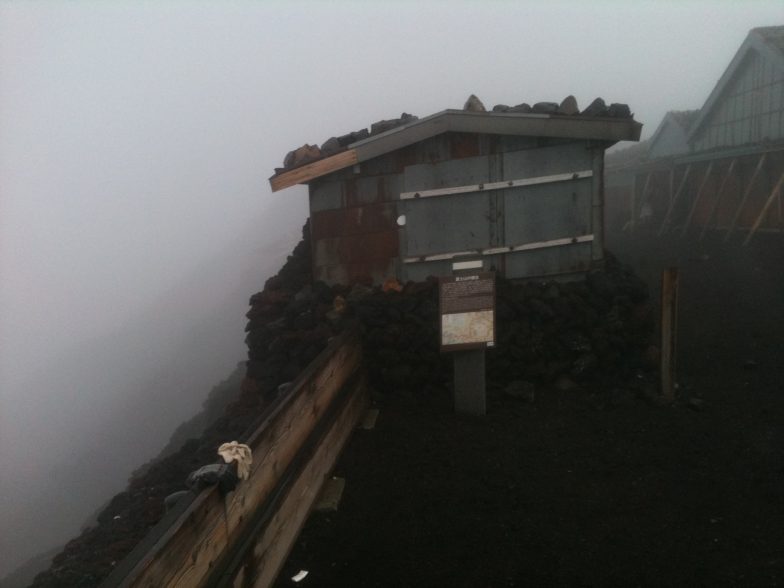 We did not witness the sunrise or the sunset, but it was still was a hike to remember. There is nothing like having your personal experience of Mt. Fuji and we did it on a budget of roughly $650 for two. I do recommend booking a hut or travel with time to wait for good weather. When we left the next morning the sky was blue, the sun was shining and Fuji was showing off beautiful streaks of snow on a perfectly clear day. However: even in the rain it was a worthwhile adventure.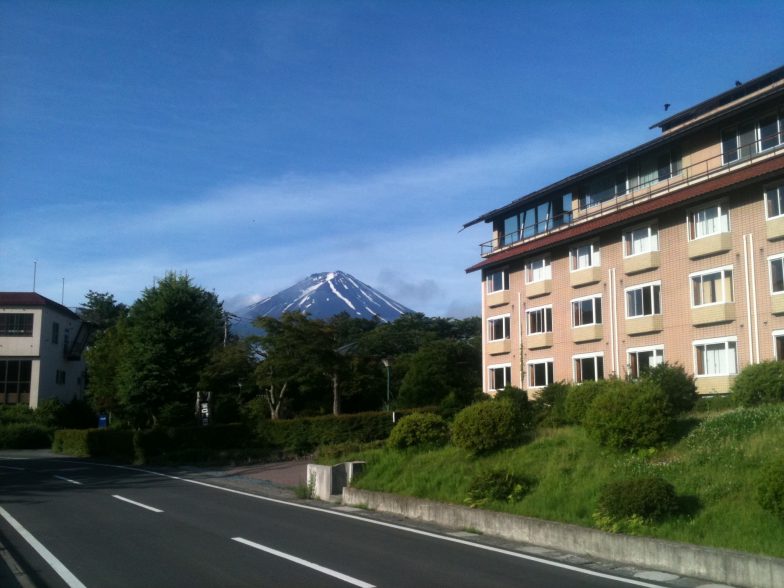 USEFUL INFO:
*HIGHWAY BUS: https://highway-buses.jp/fuji/: Please visit their website for more information on the highway bus schedule, timetable and prices. Tip: The Shinjuku Expressway Bus Terminal is located only 2 minutes from Shinjuku Station West Exit. You can make a reservation online without making any payment. Print the confirmation they provide and once you get to Bus Terminal buy the ticket on the automatic machine or at the counter.
*K'S HOUSE MT. FUJI: https://www.kshouse.jp/fuji-e/index.html: Please visit their website for more information.
*WALKING STICK: If I remember it correctly the walking stick cost was ¥1400 at Kawaguchiko Station, it was ¥1000 at the 5th station and each stamp was ¥200. We then mailed it to our address off base because we were flying low cost carrier and were afraid they wouldn't allow. However, we saw a few people putting it as checked luggage.
*TOILETS: In some of the stations up the mountain there were fairly clean toilets with toilet paper. Bring your own paper just in case. You have to pay to use it, but there wasn't anyone at the time collecting money, only a small money box.
*¥EN: Bring plenty of ¥100 change. Everything up the mountain has a cost and it gets higher with the altitude. There are small vending machines with drinks but be prepared to pay ¥500 for that favorite CC lemon.