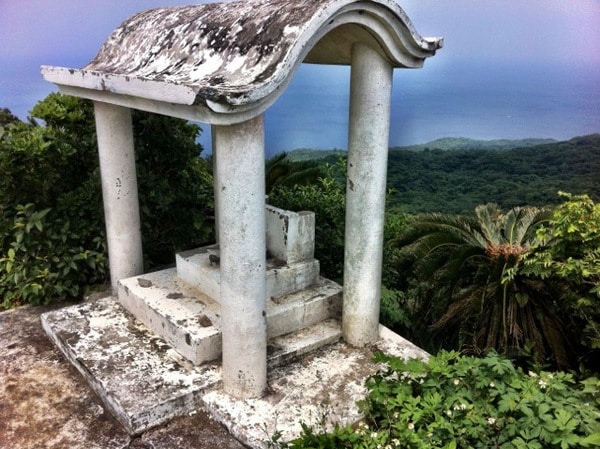 CONTRIBUTED BY QUENTIN RICHARDSON

Mt Hedo Shrine
During my last visit to Dai Sekirinzan Park, I noticed a few trails leading off the yellow trail. Later down the trail and inside the center of the blue path, I noticed a small white structure on top of the mountain. I asked the park staff if it was accessible, but I'm not sure if they knew exactly what I was asking for. I hopped on the internet searching for answers and couldn't find out anything. After searching various sources, I found out that there was another route outside of the park.

Mt Hedo Structure
Trying to use search engines to find this place would bring up pictures of Cape Hedo, Dai Sekirinzan Park and Kayauchibanta Cliff over and over again. Running a search under the word "Asumui" finally paid off, but it was in kanji. Again, with the help of a my beloved co-worker Megumi-san ("Meg"), I found this amazing hike via a blog dated back about 3 years ago. It provided pictures and a simple description of their experience.

Mt Hedo Ropes
The trail (outside the park) begins off a small ramp off of Highway 58 near Hedo village. It quickly becomes a muddy path. At the foot of the hike, there are prayer sites amongst the trees and a set of ropes to guide you up the mountain. The trial becomes more difficult as it alternates between sharp rocks, mud and tree roots the higher you go. It is highly recommended to bring hiking boots (or Skeletoes if you are bold and hardy). Along the climb up, you will need to use the ropes (placed to keep you on track) to help to traverse over steep hills. In some places, there will be a chain linked in to help you pull yourself up.

Mt Hedo View 2
About half way up you catch glimpses of your progress and realize how high you really are. You start to see Cape Hedo, Highway 58 and Yanbaru Kuina Lookout in the distance. Along the trek you also see other prayer sites tucked insde small caves. Near the summit, you reach a T-instersection and a preview of how the view from the top is going to look. You are able to see a few of the attractions inside Dai Sekirinzan Park as well as the outer edges of mountain when facing west.

Mt Hedo View
Turn left at the intersection and continue up the trail to the summit. Once you see the two sacred sites, you are near the summit. Please be respectful and don't touch the sites. At this point, you see almost every side of the island except the south. Go further past the sites and you get a view of Ginama village.

Mt Hedo Ramp
Directions:  To get this hike, drive north on the Expressway and exit at Kyoda Interchange. Go north on Highway 58, turn right at Highway 329 and left at Nago Higashi Road to bypass the traffic. Turn right and continue north on Highway 58. Just past Cape Hedo and Hedo village at marker 6.5 you will see the ramp. Across from the ramp is a clearing with a pile of junk.  (Pin below is at the base of the ramp.)