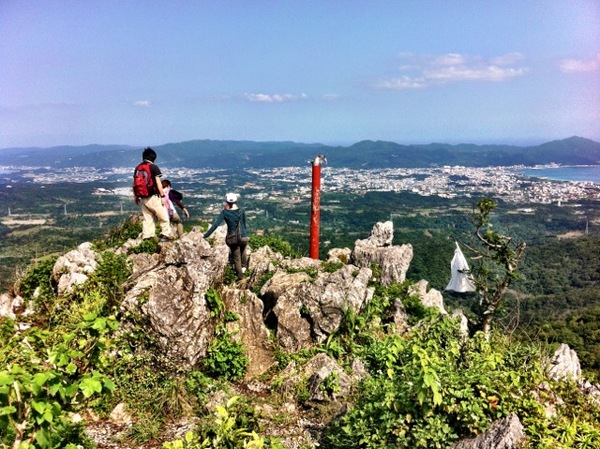 CONTRIBUTED BY QUENTIN RICHARDSON

Katsuu Peak
For a quick, but tough hike with an awesome view of Nago, head up Mt. Katsuu. It took me about 20 minutes to reach the top, the trail was rough, muddy & in some places, steep. Once I reached the top, I saw as far as Cape Zanpa in one direction and Kayauchibanta and Kouri-jima in the other.

Katsuu Pano

Katsuu Parking

Katsuu Base

Katsuu White Cloth
At the beginning of the trail, there is a wide parking area with a observatory and a Japanese-style bathroom. The beginning of the trek starts with stairs and changes back and forth between rocks and muddy paths during the first stretch. Parts of the trail cuts through dense overgrowth and near steep edges protected by ropes. Other parts of the trail require you climb up and around tree roots and rock. Halfway up the climb, there is a fallen tree, which you have to crouch down over mud and walk over.

Katsuu Stairs
Along the route and near the top there are several other trails that branch off. The route you want to follow is marked by white rags tied to trees. Once you reach the final clearing, you climb to the summit. At the summit, there is a red metal pole and the most amazing view of Nago.

Katsuu Outcropping

Katsuu Sign
Directions:  Drive north on Highway 58 until you reach Nago. Veer left at the fork with Highway 449 (Miyazato 3-chome Intersection) instead of heading north on Highway 58. Immediately after you pass Pref. Route 72, turn right and follow the white signs for Mt. Katsuu Entrance. Follow the signs until they end at the parking area.