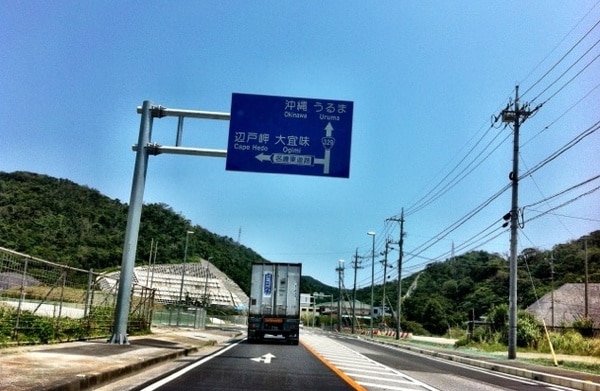 CONTRIBUTED BY QUENTIN RICHARDSON
The first time I rode through Nago on a trip with some co-workers, it seemed like forever. It was the middle of the summer and we seemed to catch every red light on the way up north. Every trip that required travel through Nago after that had the same results, especially during the summer.
Along the route I noticed a hill that had road construction signs and barricades placed around Highway 58, but there was never anyone around working on the site. This small stretch would easily go unnoticed since it did not interfere with the traffic flow.
Recently while driving north through Nago, I nearly ran a newly placed signal and intersection on the same hill I usually fly over. This intersection led into a tunnel into the mountains. Trying to find out where it leads using any map or GPS apps won't work, neither will Google Maps.

Shortcut Sign
I quickly discovered where it leads and its purpose later that day on the return trip home due to horrible traffic leading back into Nago from the north. I made the left turn and followed the route until its end. Surprisingly, a bridge and two tunnels later, it terminates on Highway 329 about 500 meters to the east of Highway 58. This put me kilometers ahead of the horrible congestion in Nago without a single red light!

Shortcut Tunnel
With the help of local co-workers, I was able to locate and name this mysterious route, which now has the blue guide signs the read "Nago Higashi Doro" or "Nago East Road".
It is a bypass route of Highway 58, or rather, a shortcut that saves you from the horrible bumper-to-bumper traffic of Nago. The entrances are located between Pref. Route 71 and the Neo Park Entrance signals in the northside, and about 500 meters from Highway 58 on Highway 329 in the southside.

Shortcut Map
Directions heading northbound:
Drive north up Highway 58 just past Kyoda Road Station until you reach Highway 329 (Yofuke Intersection). Turn right on to Highway 329 and go about 500 meters then turn left. The blue guide signs will lead you there as soon as you turn off of Highway 58 since it will be the first intersection. You will enter the first tunnel here and exit back on Highway 58.
Directions heading southbound:
Driving south on Highway 58, immediately after the intersection with Pref. Route 71 (Isagawa West Intersection) turn left at the next signal at the top of the hill. If you see the intersection for Neo Park, you have gone too far.