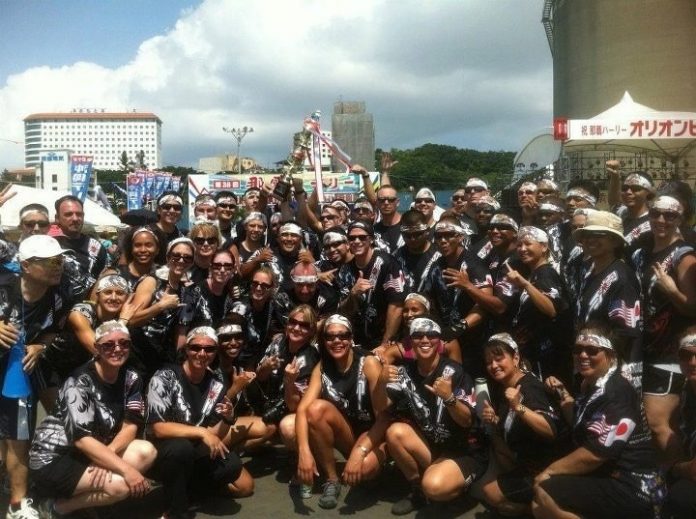 Editor's Note: Naha Dragon Boat Races was originally published on September 16, 2012; we're pulling it from the archives for those of you who are interested in cheering on the competitors at tomorrow's races!
CONTRIBUTED BY KATRINA RAYMOND, photos by Zabrina Songui

Dragon Boat Men
History:
"Hari" boat racing or Dragon Boat Racing, is held during the Japanese holiday "Golden week" (April 29-May 5) and is celebrated throughout the island of Okinawa. The word "Hari" comes from the Chinese word representing the action of oars hitting the water. Dragon boat racing dates back to the 14th century derived in part from a Chinese war hero's death which Okinawans were influenced and in part by local tribes. Hari was believed to be brought to the island by one of two Kings: the Nagahama Taifu of the Nahanishi tribe or the Oso, king of Nanzan from the sea. In the past, three teams raced in this event from local ports out to the open sea's and then back to port. Today it's a lap within the Naha Port 800 meters, 400 out to sea then a 180-degree turn and 400 back.
It was believed the boats would bring back fertility, wealth, and happiness from the sea. Priests would offer prayers for a safe voyage and a bountiful harvest. Teams consist of 8 to 32 rowers, representing businesses and organizations on Okinawa. The original boat was made of wood lightweight and intricately carved and painted to resemble mythical seafaring. Boats used today range from 4-6ft wide by 48ft long made of fiberglass. In addition to the Naha Boat race, which is the biggest festival race, there are numerous dragon boat races throughout the island especially during May and June in local communities where fishery ports exist. Armed Forces are permitted to participate having 2 teams male/female each competing against each other in a series of races.
My Experience:
Before even coming to Okinawa friends who had been stationed here had talked about the Dragon Boat festivals on the island. Curious and intrigued, I thought that would really be something cool to do, but it looked tough. One day while sitting at work, I got an email that the Kadena Dragon Boat Team wanted members. Intrigued, I emailed back and found out that a practice was that evening. I looked at my calendar and was free so I thought, Okay, let's do it and I'll see what I think. Calling upon some friends I knew would like to come too, we joined together and showed up to practice.
I thought when showing up it was going to Olympians In The Making and I am far from an Olympian. Having never touched a paddle in my life, I prepared myself. At the first practice, we worked on core, upper body, and strength training. Everyone was so nice and welcoming, I knew I would come back for more. Plus, in two days I would get to experience my first water practice. Again I got more friends to come, because who doesn't love company? The team had already been practicing one month and I could tell I was going to need to put in some hard work.
As we paddled our way around the pool everyone yelling "DIG" and "ROCK" I could feel my adrenaline surge and the muscles I lacked in my arms tire. We practiced about two more months between ocean, pool, and then the inevitable Dragon Boat in Naha. As we all piled into the bus, nervous and excited for a practice in the real boat, you could tell we all had grown as a team. Novices and veterans alike, we were all there to have a good time. Two practices took place in Naha at the port where race day would happen. The intentions of the team were to row and take home a trophy for Kadena. There are teams for all branches to support and I happened to be on Kadena.

Dragon Boat Women
The Big Day:
We all met up at the Risner gym to wait for the bus. Coolers were packed and we were all anxious for the day ahead. The ladies' team had such a great turn out we had to wait till the big day to find out who was rowing. Talk about a grueling process. Both the men's and women's teams arrived and lined up. We took roll and then we waited to hear our names called for the big race. The selection was based on attendance over the weeks leading to the event. I was nervous, excited and ready to paddle.  I was third from the bottom, but I made it and so did my friends. The hard work would pay off soon.
The event was full of culture and so many supporters. The experience of the bonding with the team and camaraderie is nothing like I had experienced before. We spent five to six hours a week with each other learning and growing for this day.
The women's team went first. We had a horrible start, but in the end, it was all in fun. BANG! the gun went off and there we went. We raced against "The Krazy Girls" co-ed team and "Army Ladies". The race only lasted five minutes and it was the most invigorating and straining thing I have ever done. A gonger sat at the front of the boat to keep us rowing in time; the coach ran up and down the middle aisle, screaming with all her might "DIG" and "ROCK". It hurt, but all I kept thinking was, "It's almost done, it's almost done". We made the turn to come back and we hit the buoy (that's not supposed to happen). As we tried to get our momentum back from the mishap we were in the last stretch and saw the light at the end of the tunnel. We now realized there was no recovery from the mishaps and the other teams were gaining on us. We continued to paddle harder to make up for lost time. We crossed the finish line, not 1st, but 3rd, with smiles on our faces not because we lost but because we FINISHED. The men's team won their heat and actually competed again in the Top 3, making history.

Dragon Boat Teams
All in all the experience was amazing. I got the opportunity to row with Navy ladies over the summer as we continued the fun in the local ports of Kadena, Yomitan, and Chatan.
With all the teams you find there is a unity amongst the paddlers. It's all about the fun and it's cool to take home a win too. I will continue to row and prepare for next May's race. As for me, I knew from the first day this was something I wanted to be a part of.
If you are interested in being a part of Shoguns Team find us on Facebook. There are also Army, Marine & Navy teams.
Facebook:  https://www.facebook.com/groups/323685244347525/
Schedule:  Training begins in the fall or spring of each year.  The Naha Dragon Boat races are always held on May 5th.