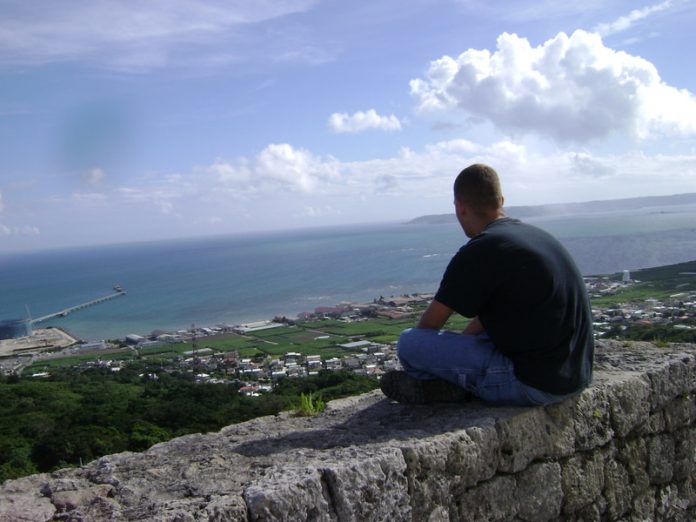 Editor's Note: The Nakagusuku Castle Ruins were originally reviewed on Okinawa Hai on December 12, 2008; you can read a PDF copy of that original review HERE. The post below is an updated take on this attraction, published May 16, 2016.
CONTRIBUTED BY LOUISE DUPUY
Who doesn't love a good castle? Okinawa has a long, rich history, and more than a few UNESCO world heritage sites. Nakagusuku Castle is one such place. It's definitely worth some of your time. Here's why.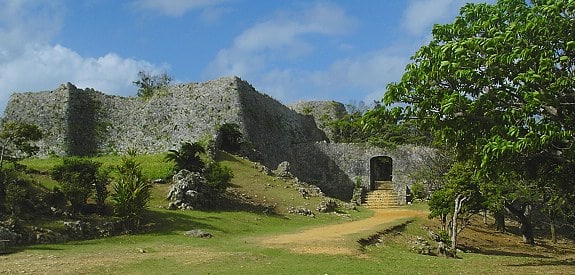 click photo for source
History
Nakagusuku was originally built around the Muromachi Period (14th century), by the Nakagusuku Aji's (Ryukyuan Lords) who made it their private residence. Subsequent generations went on to build the south, west, fourth, first and second enclosures. In 1440 (also Muromachi Period), Lord Gosamaru was moved from Zakimi Castle to Nakagusuku Castle on orders from the King in preparation for an attack on Katsuren Castle. During his residency, Lord Gosamaru built the third and north enclosures. Following his death in 1458, Nakagusuku's management fell to royalty, becoming a king-controlled district until 1470, when it became part of the Prince's territory.
In 1879, Meiji Era, the Meiji government imposed the "Ryukyu Disposal Act", changing the Ryukyu Han (principality) into the Okinawa Prefecture. However, the Magiri retained their headquarters in the first enclosure of the castle. In 1882 the Nakagusuku primary school was established in one of the headquarter's rooms. Four years later it moved to the east side of the castle, sporting 4 classrooms with tiled roofs and a playground. Over the next decade, the Magiri headquarters were changed to the Magiri office and later, after Chosonsei (a system of towns and villages) decree, it became the Nakagusuku village office.
Early in the Taisho Era, 1920, the primary school was moved to Yagi, leaving the empty site to be turned into a horse training ground. Sadly, in 1945, the Showa Era, the Nakagusuku Village Office was destroyed during the Battle Of Okinawa. The village office was reconstructed in Okuma, leaving the castle remnants to be abandoned. Over the next twenty years, the castle was designated as a park; construction of park facilities, including shops, playgrounds, a bullfighting arena, and restaurants, began, and was subsequently given the designations of "Historic and Picturesque Cultural Property, "Special Historic Property", and "Special Important Cultural Property". In 1972, on the same day Okinawa was returned to Japanese rule, it was designated a government historical site, How auspicious.
In the year 2000 saw it was officially named a UNESCO World Heritage Site, and in 2006 it was chosen as one of Japan's 100 most famous castles by the Japan Castles Foundation.

Visiting
I hope my history lesson piqued your interest! It's a truly fascinating site. Park up in its surprisingly generous car park (it's a little rough, but not terrible), and take a short walk to the entrance.
Pro Tip: These ruins have a lot of steep inclines, narrow paths, areas with no path at all, and places with no safety barriers, so keep a close eye on small children. It sadly may not be suitable for the mobility impaired, elderly and strollers.
Entrance is 400 yen, less for children, paid for at the little ticket window. They speak little English but do have maps available in a variety of languages, including English. Facilities include a small restaurant, toilets, and drinks machines. From here you have full access to the site and can stroll around the remnants of its grounds. The following is a guide only, you can view the castle in any order you wish!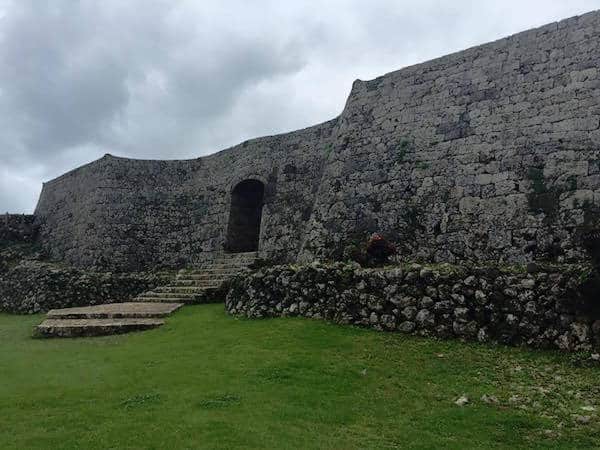 Enter from the rear gate, which faces northeast. The beautiful arch prompted Commodore Perry to compare it to ancient Egyptian architecture! From here you move to the north enclosure, said to be constructed by Lord Gosamaru to enclose the Ufugaa Well. Find the well within the North enclosure; its name literally means "big well"! You can find two other wells in the west enclosure, called the Mituugaa, literally "married couple wells". The water supply within the castle grounds is a very specific feature.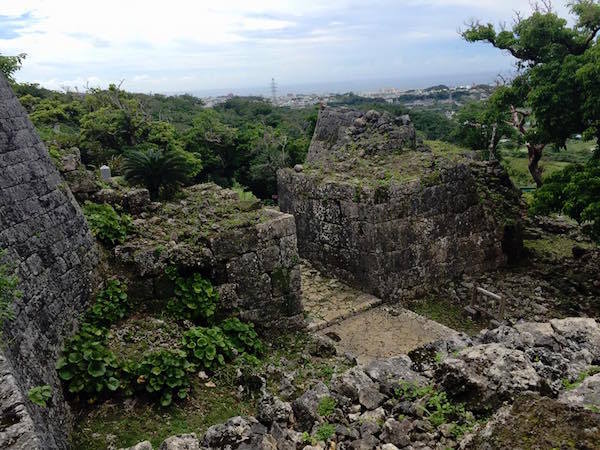 The third enclosure is next, often referred to as "Miigusuku", or "New Castle", due to its later construction. It was constructed using the "Aikatazumi" (turtleback) method, an apt name given its curvilinear lines. Moving on to the west enclosure, this was said to be a training ground for soldiers and horsemen, and is 120 meters long!
From here enter the second enclosure, and marvel at not only the beauty of the "Nunozumi" stone laying technique (also found in the first enclosure) but also the panoramic views from the wall. Simply breathtaking. Set your camera to panorama, and walk away with a memory to behold fondly. Be careful walking the walls though, as I said previously, no safety barriers, and a steep drop makes it a little hairy! Keep hold of your kids! Otherwise, enjoy it.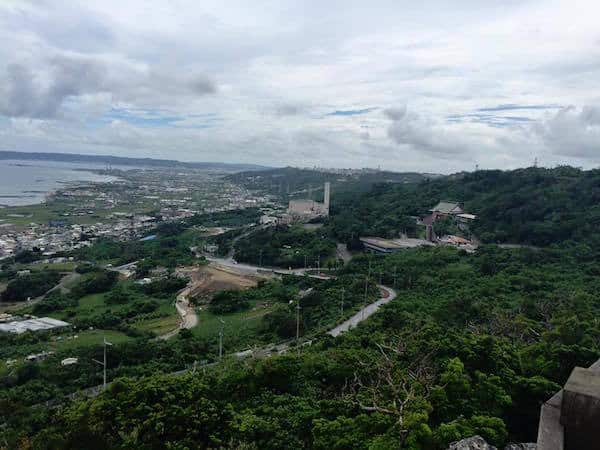 Once you've had your fill, stroll over to the first enclosure, Nakagusuku's largest, and once the site of the Magiri headquarters and the main hall. You get a feel for how big it really was, though sadly it's very incomplete, due mostly to its destruction in the Battle Of Okinawa.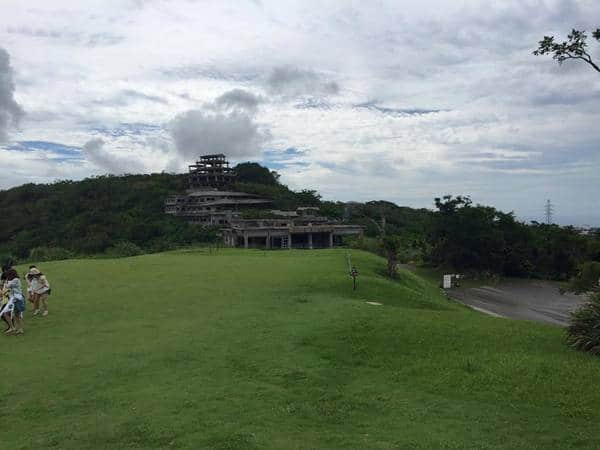 From here you can access the south enclosure. This is home to the Shuri Uutushi, a worship area, as well as the Kudaka Uutushi, also a worship area. There are actually 8 sacred places of worship to be found in this area, and most interestingly, they are still used to this day.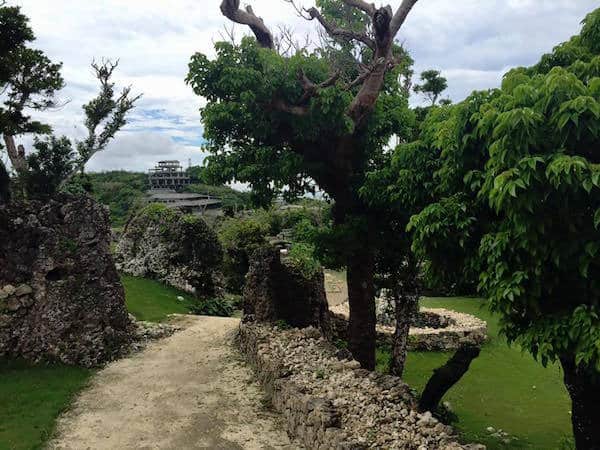 The main gate, Yagura (tower) faces southwest. It's a narrow passageway with stone walls flanking each side. There's also part of a barricade that was removed near here. During World War 2, the Japanese army tried to build an air-raid shelter but was forced to abandon it due to the solidarity of the walls.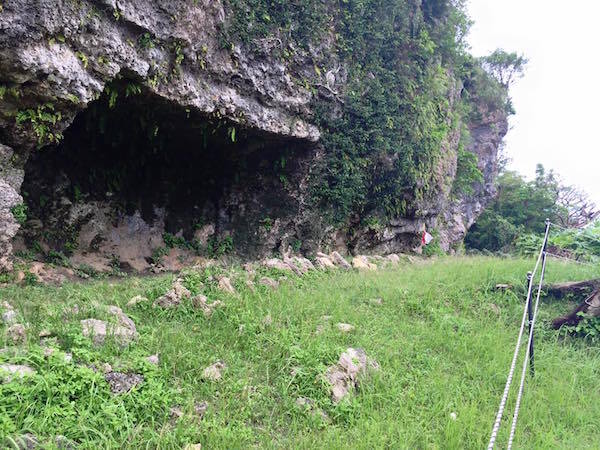 Finally, you can see the Kanjaagama, a blacksmith's workplace. This is a cutout within a rock wall. It's unknown if the ironworks carried out here were for the village or the castle, though it's speculated that Lord Gosumaru's weapons were forged here. This opens out into a field, from which you get another fantastic view over Okinawa. From here you can also see nearby Narita-San shrine, as well as the abandoned hotel Kogen, said to be haunted! Also contained within the grounds are the tombs of Lord Gosumaru and Lord Ijyurun.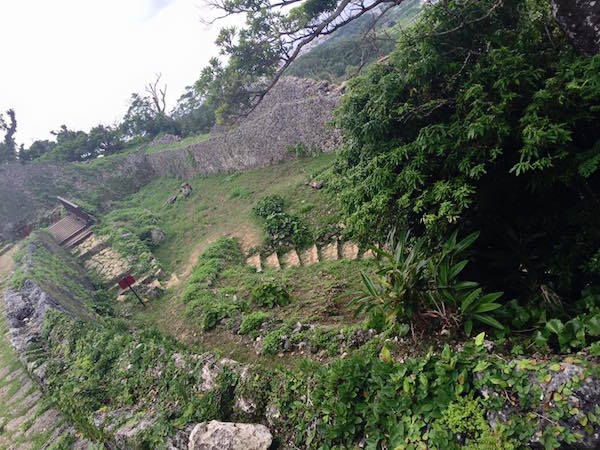 All in all, a wonderful place to visit. Serene, beautiful, a great outlook, and steeped in history, it's a real treat on multiple levels (pun intended). Come along to see exactly why it's worthy of the title "100 most famous castles in Japan". There is a lot of walking involved, and quite a few stairs so plan to get plenty of exercises. There are also several large grassy fields, so bring a picnic lunch and let the kids run around!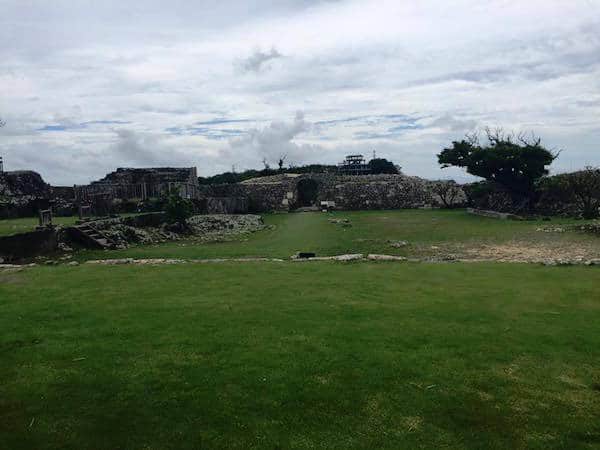 ---
Nakagusuku Castle
Hours: 8:30 am – 5:00 pm
Fees: Adults Y400; HS/MS Students Y200; Elementary Y100; preschoolers are free
Phone: (098) 935-5719
Address: Oshiro 503, Kita-Nakagusuku Village, Okinawa-ken 901-2314
GPS Coordinates: 26.2876944, 127.7994774
Directions: Practically in Camp Foster's backyard! If you are on Foster, head straight out the SgtMaj gate, directly across 81. Otherwise, take 81 till you see this sign: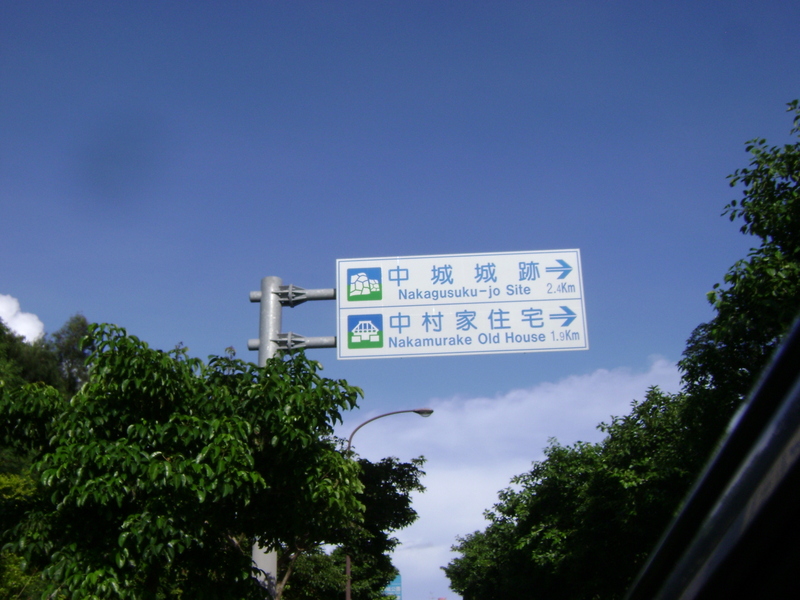 Turn on the road directly opposite Foster's SgtMaj gate. Follow it till you see this sign and you're there!