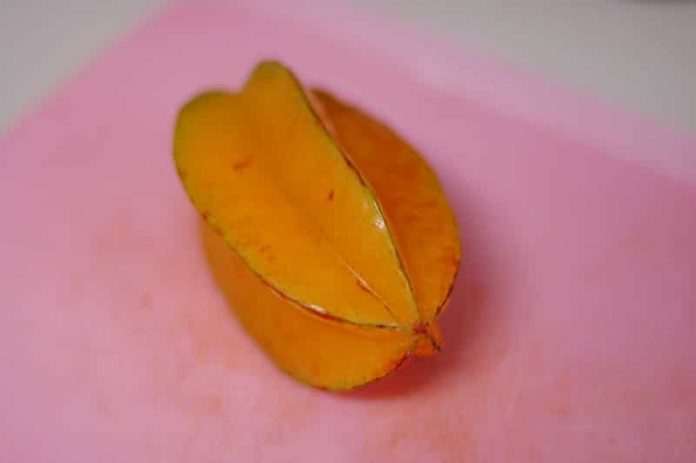 CONTRIBUTED BY JOELLE YAMADA
It takes me about two and a half minutes to do my hair, one and a half to do my makeup.  Those times have shortened somewhat since the arrival of kids, but I've always been the type who preferred not to spend much time in the pursuit of "cleaning up nice."  Hence my love for the starfruit.  It takes little to no effort to make this yummy fruit look beautiful.
Hmmm.  That segue was a little smoother in my head.
But anyway!  I do love starfruit (aka carambola) — especially when making bento for my son, because it's so dang purty sitting there in his box.  Just slice perpendicular to the edges and you have this pretty bite-sized fruit.
I bought starfruit just this week (December), but I'm not sure of the exact season.  When you buy, you are looking for a mostly yellow-orange fruit with some bits of light green and usually some brown on the edges.  If there is too much brown or lots of brown spots, that's overripe and you'll want to give it a pass.
It has a refreshing texture — kind of crisp, with a mildly sweet flavor.  It's high in Vitamin C, so great for cold season!  You eat the whole thing — slightly waxy skin and all — except the seeds which are easily removed.  Enjoy!
Kumquats (in Japanese, kinkan) may be familiar to you from the States.  They take a little mental effort to try the first time, because we are so well trained to peel anything that looks like citrus.  But in the case of the kumquat, you eat the WHOLE thing — skin and all.  (Interesting note:  kumquats were originally considered to be citrus, but in 1915 were given their OWN genus fortunella.)
I've been buying them in little bags, 20 or so per bag, over the last month or so. I love eating them because of the explosion of flavor that happens in my mouth. The skin does have that slightly bitter citrus flavor, but there is also a sweetness to the skin.  That coupled with the tart citrus insides make for a plethora of gorgeous flavors!
I love them, as does my oldest.  But not everyone does…  this was Quinn's face after spitting his out — a bit too much flavor for him…
Kumquats are a good source of Vitamins A and C and if you move to a warm weather area after Okinawa, you might consider growing one of these pretty evergreen trees.  Kumquats are popular for candying and making jams/jellies, but I admit I just eat them straight out of the bag… usually on the drive home from the market!
What other fruits or veggies have you come to love since living on Okinawa?