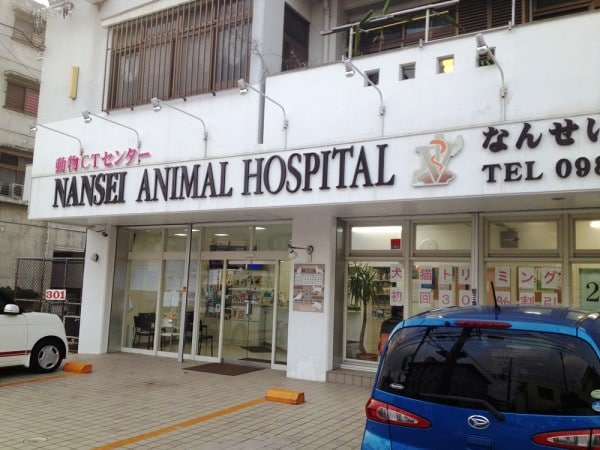 CONTRIBUTED BY HEATHER OLSEN
If the Kadena Veterinary Clinic is unavailable, there may be few of us that start to panic when thinking about finding veterinary care out in town. I am one of those people. My dog had broken a tooth and it needed to get checked out immediately. Luckily, I was told of a vet that was right off base with an English-speaking veterinarian.
The Nansei Animal Hospital is a short distance out gate one of Camp Kinser and is open every day. The staff was very friendly and helpful as they did their best to address my concerns. The office has a comfortable environment and is fully equipped to provide care for many things. Doctor Saito is the only person that speaks English. She was comforting and understanding of my feelings. It was evident to me that they wanted what was best for my pet. She provided a list of options to suit my situation and recommended the cheapest option instead of the most expensive one. I was very happy with my experience and there is a good chance that I will seek all of my veterinary needs here at this clinic.
They are also a pet hotel and groomer. To utilize the pet hotel, your pet must be vaccinated and be using flea/tick preventatives for at least one month. Small pets (under 8 kg) are 2,625 ¥ and large pets are 3,150 ¥ per day.
Grooming services inlude: shampoo, trimming by clippers or scissors, nail trimming, ear cleaning and gland expression. Nail trimming, ear cleaning and gland expression are included with the shampoo. The price categories are broken up by weight:
Less then 8 kg
8-15 kg
15-25 kg
More than 25 kg
The first scheduled appointment is 30% off. After 10 appointments, you will get 2,000 ¥ off your next grooming.
Hours: Open Daily
Vet services 10:00 a.m. – 12:00 p.m. every day, including holidays; also open 4:00 p.m. – 7:30 p.m. Monday-Friday and 3:00 p.m. – 6:00 p.m. Sunday & holidays
For grooming services, you can drop your pet off at 10:00 a.m, 2:00 p.m., or 4:00 p.m. on weekdays and at 10:00 a.m. or 1:00 p.m. on Sundays and holidays.
Cost/Payment: The price for shampoo varies from 2,100-5,250 ¥ and shampoo/hair trimming varies from 3,465-5,775 ¥. Cost for veterinary services varies. Yen or credit card is accepted.
Address: 〒 901-2126, Okinawa Urasoe Miyagi 4-1-7
Special Note: Appointments are preferred but walk-ins are fine as well. Doctor Saito suggested calling the office first to make sure that she is in before coming to the office. This will help avoid confusion due to the language barrier, and help you to receive the best possible care for your pet.
Phone: 098-988-8012
Emergency line: 098-833-6067
Website: Nansei Animal Hospital
Directions: From Camp Kinser gate one, go straight out the gate. At the T-intersection with the 251, go left. After 2 stop lights, you will see the sign on your left.
Google map coordinates: 26.244214, 127.70647