Editor's Note: This is one of several hotels Marie visited in Vietnam and Cambodia. Click here to read her full itinerary.
CONTRIBUTED BY MARIE LEWIS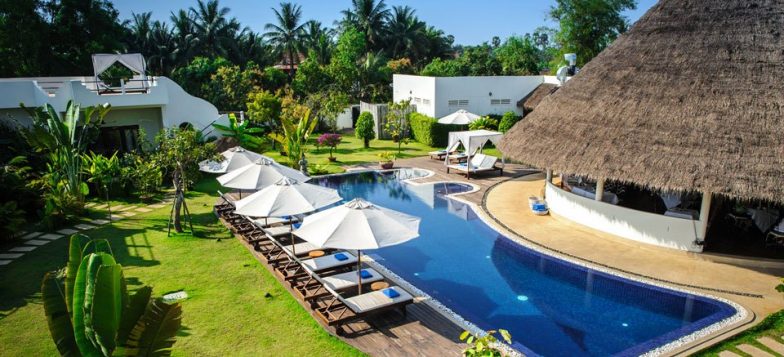 Navutu Dreams Resort and Spa is a 4-star hotel and wellness retreat in Siem Reap, and it was my husband's absolute favorite hotel of the entire trip. I am torn, because each of the places we stayed was awesome in its own way, but this one was for sure the best for families (and yogis)! It has a Mediterranean feel and a wealth of options for people looking to detoxify and unwind.
Rooms: The resort consists of 18 "Explorer" rooms, each with a private terrace facing the gardens or the pools. Furnishings are modern and minimalistic. I LOVED the bathroom and the separate stone-floored shower with two shower heads. There are also a handful of larger suites available.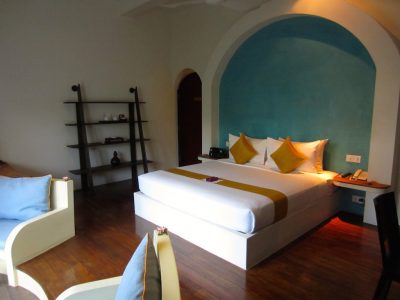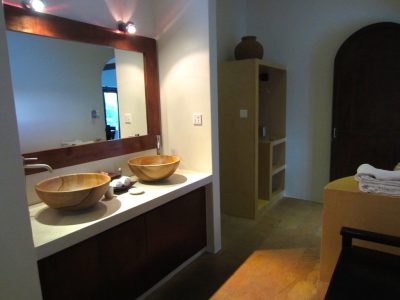 We never heard any noise from inside our room, and were surrounded by a lush garden. The short walk from the reception area to our terrace was gorgeous!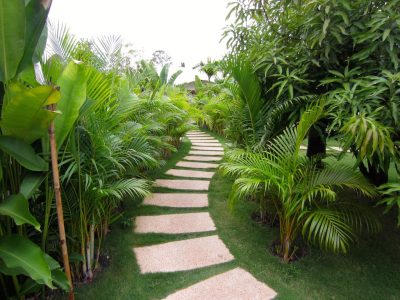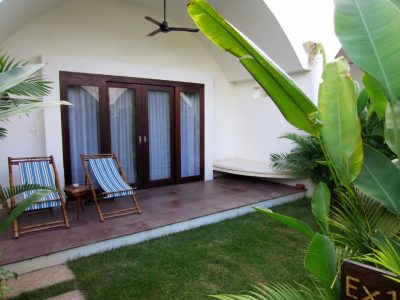 Location: The resort is on the fringe of Siem Reap, definitely not walking distance to anything, but that was okay with us. We really wanted a place to relax in the quiet after exploring the temples. Plus, we had a personal tuk-tuk driver at our beck-and-call for the entire length of our stay, and it was FREE (included in the cost of our room – but you have to book directly with the hotel to get this perk.) Our driver was always ready to take us into town whenever we wanted to go, and was waiting for us when we were ready to return. It was about a 10 minute ride each way to the center of Siem Reap.
Service: The service was phenomenal. We took a bus into Siem Reap, and our hotel tuk tuk driver was waiting for us at the bus stop when we arrived. At the resort we were welcomed with drinks, and the manager sat down with us in the reception area to explain the layout of the resort and give us an overview of the services offered (including yoga classes!)
We used room service a few times and it was always prompt, and the poolside service was also fantastic. Also of note, our flight home from Siem Reap wasn't until late at night, so on the day of our checkout they let us stay in our room until 8:00 p.m. – at no extra charge! That was pretty amazing. To clarify, we did have to move to another room because the one we were staying in was needed for the next guest, but they moved all of our things for us and it was no trouble at all. We were so grateful to be able to relax at the pool all day and be able to shower in the evening in a room before our flight.
Food & Drink: Nothing but good things to say here! Entrees were around $7-11 USD and alcoholic drinks were around $3-6 USD. I had an awesome curry served in a coconut on our first night, and it set the bar pretty high. I was scraping the bottom of it to get every last drop.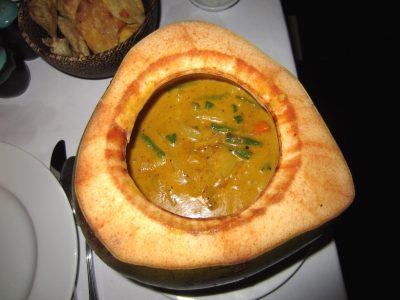 For breakfast every morning we were served a tray of delicious exotic fruits (i.e. papaya, dragon fruit, mango), homemade yogurt, jam, toast and pastries. In addition we could order standard western or Asian breakfast fare (all included in our stay).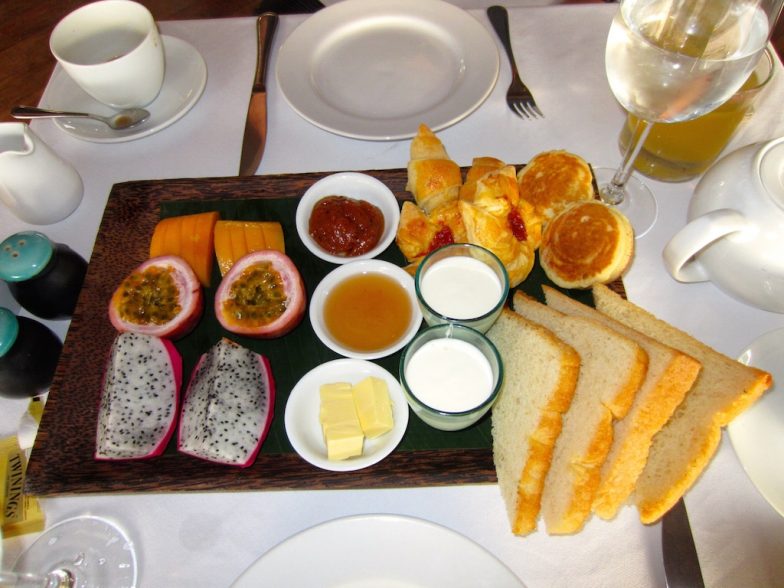 We spent more time at the pool at this resort than any other, and there were all kinds of healthy salads and tasty snacks (the fried calamari was perfection!) to order from the restaurant, which is nestled in between two of the resort's pools.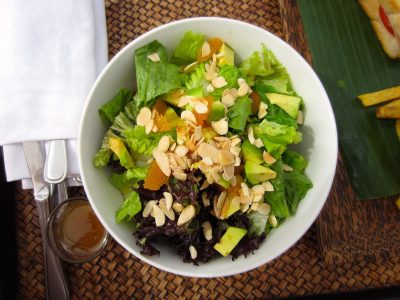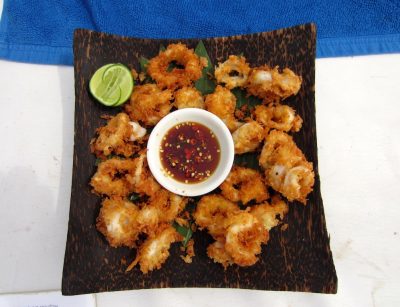 I also want to give special mention to the "Juice Menu," which had a wide array of vitamin-packed juices  with names such as "Beta Clarity," "Digest," and "Vital Veg." I had the "Blood Builder," a blend of carrot, beetroot, pineapple, apple and ginger, to improve circulation. I am kind of a health nut so this was just my thing!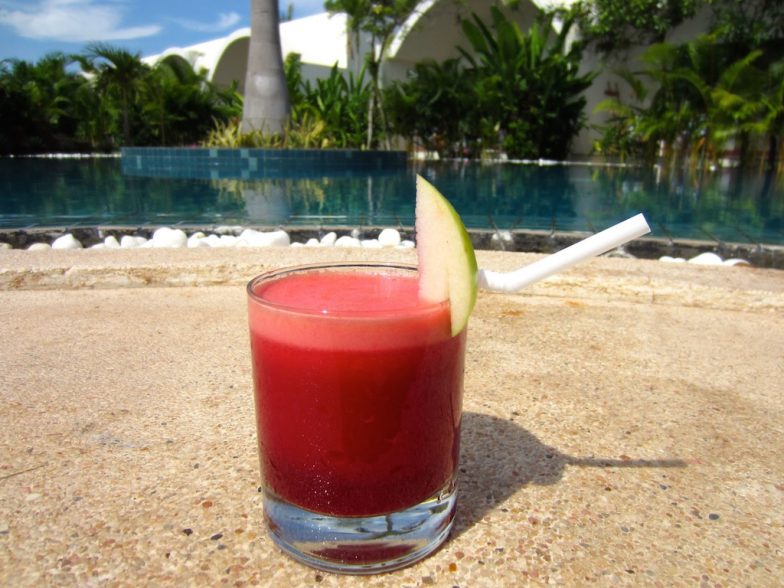 Pool: Oh, where do I begin? There are two salt water pools and one fresh water pool, and wow, talk about the perfect place to relax. We could have stayed here all day, and we actually did, on our last day.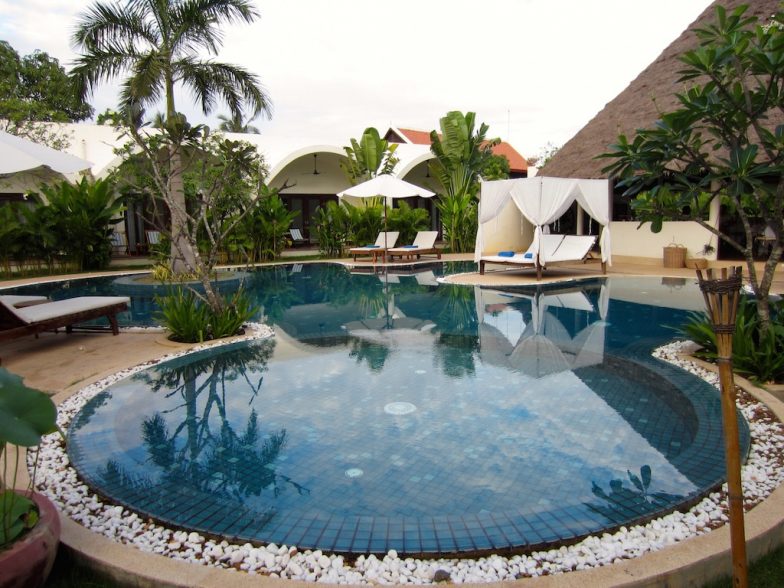 One other cool thing is that one of the pools is specifically designated as the "family pool," so if you have kids, this one is perfect! If you are looking for more quiet, just head to one of the other pools. There were several families with kids while we were there, and we enjoyed spending time at all of the pools.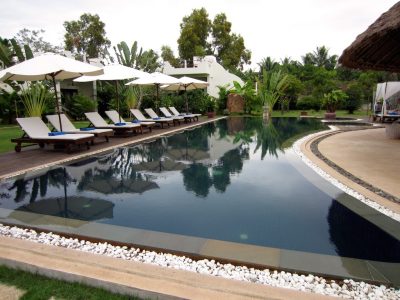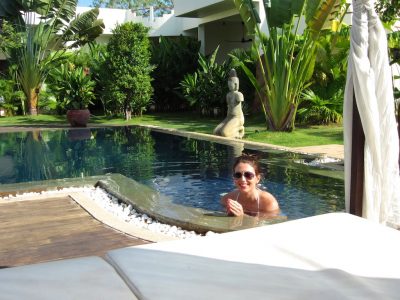 Spa: The spa had a range of facials, body scrubs, body wraps, and massages. My husband and I each had an aromatherapy massage (60 minutes, $25 USD per person) and the coconut shrubs body scrub (60 minutes, $25 USD per person). I enjoyed both, but particularly the scrub. It left my skin glowing and so smooth! I only wish there had been background music I could hear during the treatments. I think there was some playing, but it was so quiet I could barely make it out.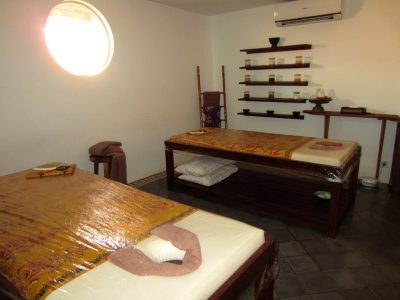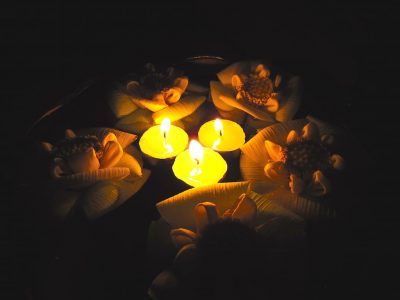 Other Amenities: YOGA! There is a fully equipped yoga studio that was about 20 steps from our room, and the classes were $8 USD each. I took a 90-minute Vinyasa class and a 90-minute Hatha Flow class, both with Khira, the resort's resident yoga instructor. She is an American and I loved picking her brain; she used to teach at yoga retreats in Thailand before coming to Cambodia. I had tried yoga a few times before without really understanding what the craze was about. Khira's classes made me finally get it. Her classes were soothing and invigorating at the same time, and I left feeling so energized!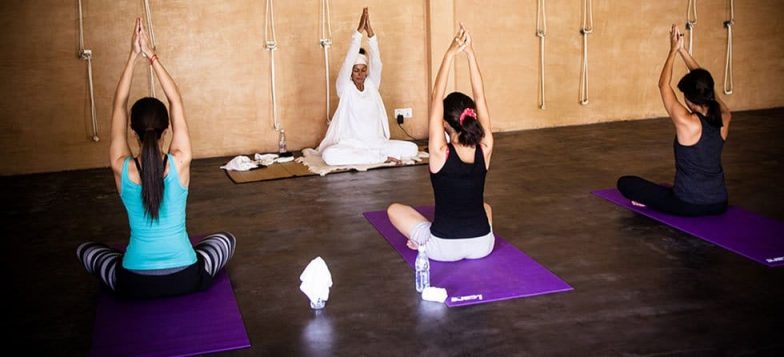 Other types of yoga classes offered include Ashtanga, Restorative, Iyengar, dance yoga, and meditation. Khira also led body rolling and "Vitality Talks," but I didn't have the chance to go to one of those. Also, anyone could go to yoga class, not just resort guests. There were a few others in my class who were visiting from other hotels.
The resort also offers wellness programs targeted to detox, stress/burnout, and yoga, and if given the change again I would love to try one of these options. We jammed a lot into this trip!
Value: We felt the value was excellent for the quality of the room, service, food, drinks, tuk tuk driver, etc. Room rates range from around $130/night for a double room to around $260/night for a family suite. You can find cheaper rates on travel websites, but be aware that in order to get the free tuk-tuk driver included in your stay, you have to book directly with the resort. There are also package deals for "3 days detox," "5 days burnout program," etc. Check the Navutu Dreams website for specifics. We would definitely stay here again and would recommend it to anyone who is seriously in need of some R&R!
Hotel Website: Navutu Dreams Resort & Spa