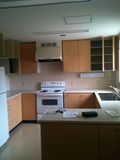 Living overseas has its challenges, and a commonly agreed upon one is finding that perfect place to live. To help those of us who are curious about the different options for living on Okinawa, readers have answered some of the most frequently asked questions about on-base housing. If you live in an on-base house that has not yet been featured on this site, please contact our Submissions Manager for the template.

Here's a great link to access, too, if you're on the fence as to whether to live on-base or off-base.
CONTRIBUTED BY MARGARET
What military base is your home located on? Camp Foster
What area of the island is your home located on (i.e. North Island, Central Island, South Island)? Central
What is the name of your neighborhood in which your home is located? New Chatan
Generally speaking, most on-base homes are approved for occupancy based on military or government rank.  If you would like, please provide the range of ranks that your home is approved for? No idea, I guess Junior Enlisted. My husband is E-4
Please describe the "feel" of your neighborhood.  Pets friendly, lots of kids, spacious and safe
Please describe the style of your home.  Multiplex, we are in an end unit. From what I understand they are about 2 years old with American appliances. 3 bedroom, 2.5 baths, 2 stories, huge closets with the master bedroom closet being a walk-in, lots of storage.
What services are available near your home? There is a playground on pretty much every block, PX is across the street (with-in walking distance), Macaroni Grill is under the tunnel less than 2 min away, shoppette is within walking distance, commisary is about a 3 min drive.
How is parking provided for your home? I have one parking space and there are visitor spots we use for 2nd cars
Is there any yard space or outdoor spaces provided for your home? We have a front yard, small backyard, big back porch that has a fence type thing around it, and since we are on an end unit we have a side yard.
What do you feel is special about your home or neighborhood – what makes it feel like "home" here on Okinawa? Our neighborhood really has a family feel to it. Everyone has kids.
Are there any expenses or fees associated with on-base housing? Just our internet/cable bill — we have the biggest package available it is about $80 a month.
Finally, what advantages and disadvantages do you feel have been your experience living on a military base here on Okinawa? On base we still get the American feel and it has helped me be less homesick. We still get to experience what Japan has to offer with the festivals both on and off base without being overwhelmed.
On-base is not as bad as people seem to make it out to be. I love how close knit the community is and how we can choose how involved we want to be with the Japanese culture. We have extremely young children (15 months and a newborn) and I personally feel safer on base than I think I ever could off-base.
---
If you live in on-base housing OR off-base housing that has not been featured on Okinawa Hai, or in housing that has been renovated since its last post, please contact our Content Manager for the on-base housing template and instructions on how to share your little slice of Okinawa with the rest of us.