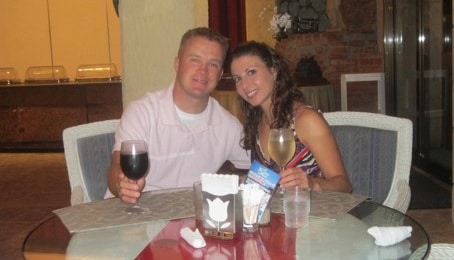 For those of you planning a move to Okinawa soon, we hope Marie's descriptions of the process of their travel and first months of settling in can help you with a few of the "unknowns."  To read more of their story see links at the bottom of the post.
CONTRIBUTED BY MARIE LEWIS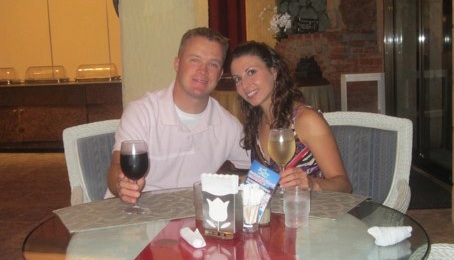 It's been just over a year since I married my best friend. For Kenny and me, our anniversary was the first major milestone to celebrate in Okinawa. I am realizing just how many families celebrate some of the most significant moments of their lives on this island, thousands of miles from their extended families and friends. Thousands of births every year. Anniversaries like ours. Even weddings, for some. It makes me think about how far we have come. I'm not just talking geography. I'm talking about the nuances we have discovered about each other in the past year, and the efforts we have made to adjust to sweeping changes in our lives.  I feel proud of us.
For me personally, the last year brought moves across the United States and then across the world.  With each move I had to re-group: find another job, make new friends, find a new niche. Kenny's specific duties changed but he was always a Marine. My professional identity felt less concrete; I wanted to support him above all else, but I also didn't want to lose my sense of self. I am tremendously grateful to have found a job, friends, and activities that I love to pursue in Okinawa. Kenny and I enjoy snorkeling and exploring new restaurants together, but I savor my Saturday mornings running with WOOT (Women on Okinawa Trails) while Kenny fits in a round of golf. We have established a rhythm that works for both of us. Our new friends make our outings more exciting and our homesickness less acute.
I think I am most proud that during every stage of the past year, we worked as a team to adapt and adjust. We said for better or worse, and we meant it. We didn't anticipate the PCS orders that would turn our lives upside down, but we're better because of them. I have been forced to experience a life outside of the never-ending sprint that is the TV news cycle. I am gradually learning to appreciate life at a slower, more reflective pace. We have our arguments and our personal hardships, but at the end of the day we are each other's unwavering source of guidance and support.
Our favorite wedding photo – which has since become the theme of our married life – was actually an afterthought. The photographer was packing up to lead us to the next location when Kenny stopped and said, "Wait a minute." He hoisted me up in the air, picked up a prop suitcase with his free hand, and we both turned around and smiled. We couldn't have known how far those tracks would lead us, or all the amazing things we'd find along the way. We can happily say that our journey is far from over.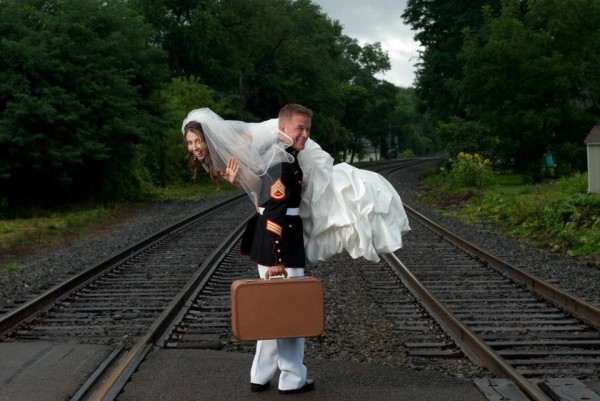 Read all the posts in this series: Parts 1, 2, 3, 4, 5, 6, 7, 8, 9, 10, 11, 12, 14