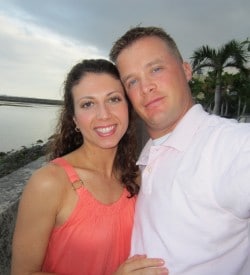 For those of you planning a move to Okinawa soon, we hope Marie's descriptions of the process of their travel and first months of settling in can help you with a few of the "unknowns."  To read more of their story see links at the bottom of the post.
CONTRIBUTED BY MARIE LEWIS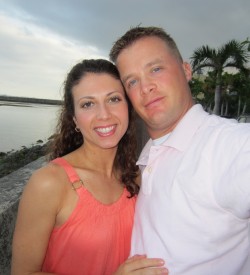 Kenny and I have turned over a new leaf in Okinawa: celebrating our first Christmas and New Year here. We didn't take any exotic trips or do anything particularly glamorous. In fact, we spent New Year's Eve playing board games and sipping champagne in our sweatpants with close friends. It was fantastic.
It was fantastic because we had a chance to look back on the year with a deep sense of accomplishment. Last January, I was a bundle of nerves. Would I clear the medical screening hurdles? Would my husband have to move to Japan without me? What if we got here together and I hated it? What if I couldn't find a job? What if I couldn't make friends? How would I survive without my family?
If you are on your way here, you may be agonizing over the same worries and fears that consumed me back then. My mother always told me that everything happens for a reason. It may be a tired old cliché, but I still believe it's true. Once I accepted the fact that certain things were simply out of my control, I could attack my doubts with a clear head. Worrying wasn't getting me anywhere. Educating myself did.
As Kenny and I checked items off of our ever-changing PCS checklist, I spent my spare time surfing the web to find out all I could about Okinawa. I've harped on this before and I'll do it again. In my research I discovered Okinawa Hai – what I like to call my "online angel." She inspired me to open my mind, and now she helps me with everything from directions to JCI tips.
I didn't stop once we got here. I practically camped out at the Personal Services Center on Camp Foster and made it my mission to perfect my resume and snag myself a coveted job. It worked.
There was a pivotal moment, sometime before we arrived here, when I thought, "I'm just going to DO this. I'm going to make it work." And you know what? Once my attitude changed, everything felt easier. When I helped myself, God helped me even more. It was like making an investment that always gave good returns.
We love it here, and we wanted our families to have a piece of this important place in our lives. We started our Christmas shopping in July – taking advice from others on this site – and we saved ourselves from a lot of stress in December. The job of bubble wrapping and packaging took several hours, and we spread the project out over a few weeks. We mailed everything home on December 1, just before the USPS deadline for standard shipping. Every box reached its destination before Christmas Eve.
We have big plans this year. Plans to travel to other countries, plans to save for a house, plans to host more relatives who visit. We want to uncover more treasures on this island. We look no further than this blog every time we're seeking to explore a new corner of Okinawa.
My mind is a world away from where it was last January – literally and figuratively. This year, I have no qualms about what's coming. I am in cruise mode. That's not to say I've lost my resolve to improve in 2013. Sure, I'd like to try yoga on the beach and eat a few (okay, a lot) less cookies this year. But I have no heart-stopping questions lingering. And if the military (or anyone else, for that matter) throws us another curve ball, I feel more prepared to take a swing.
More and more, I feel our "island newbie" status slipping away. I know the shortcuts home from work now and I don't think twice about driving on the left side of the road. It's time to take our training wheels off. Or maybe they already came off on their own – sort of like a young Forrest Gump running in slow motion until he's completely uninhibited by the braces on his legs. Okay, maybe that's a stretch. But you get the idea.
I sincerely doubt my Newlywed PCS posts moved you to tears the way Tom Hanks did in that epic movie. However, if I saved some of you a little time here or a little worry there, I'm happy. This will be my last Newlywed PCS post. I'll be sure to write about new things to do here as I stumble upon them, but they will stand alone outside this series. Thanks for reading, and have a wonderful 2013!
Read all the posts in this series: Parts 1, 2, 3, 4, 5, 6, 7, 8, 9, 10, 11, 12, 13