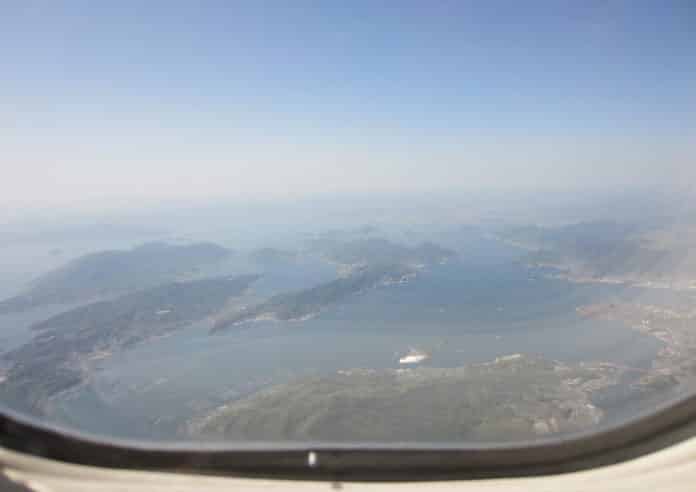 For those of you planning a move to Okinawa soon, we hope Marie's descriptions of the process of their travel and first months of settling in can help you with a few of the "unknowns."  To read more of their story see links at the bottom of the post. 
CONTRIBUTED BY MARIE LEWIS
Ah, jet lag. As many times as I'd flown back and forth from New York to California when Kenny and I were engaged, I was totally unprepared for the disorientation that hit me like a rock when we landed in Okinawa. It had been quite a trip.
We started out by flying into Seattle the day before the Patriot Express flight. We had planned on sightseeing the rest of the day, but in hindsight I think that plan was a little too ambitious for us. After traveling for one month straight, all we wanted to do was sleep. (My advice – if you want to do the tourist thing before you leave Seattle, give yourself a couple of extra days there.) Our checked bags flew for free with AirTran because we were traveling on orders (I believe Delta and US Air have similar baggage policies for active duty military.) Before we headed to the baggage claim in Seattle we looked for the AMC Terminal we would be checking into the next morning. It was easy to find, next to Hawaiian Air. We also looked for the USO, which was up one floor on the mezzanine level. The volunteers there were extremely friendly and offered to make extra copies of our orders (I've learned you can never have too many.)
Next we checked into the Red Lion Hotel across the street from the airport. I was so grateful we had booked it at the same time we bought our plane tickets from Atlanta (using Orbitz) We ended up saving $80 on our room. A free shuttle picked us up from the airport and drove us to the hotel, which was clean and comfortable. It felt wonderful to get a good night's sleep — well, half a night's sleep. Our alarm went off at 2 a.m. It was go time!

Newlywed Pat Exp Line
We took the free shuttle back to the airport and were at the AMC terminal at 2:30 a.m., as soon as they started checking people in at the ticketing counter. I was floored when I saw the line. It snaked around…and around…and around. I learned a lot of folks had flown into Seattle a few hours after us and just camped out at the airport instead of checking into a hotel. An airport employee told me they started lining up at midnight. It took us about two hours to get to the counter for our tickets. The deadline for checking in was 5:30 a.m. before they started opening up the flight to Space-A passengers, so make sure you've got your tickets by then! The fee for our extra bags (one for each of us — two total) was $224.00! Yup. One hundred and twelve bucks for each extra bag. This fee applied even though our TOTAL weight allowed for ALL of our bags was UNDER the limit. So be prepared: pack light and fit your stuff into no more than two bags each. Otherwise you'll end up like us. (Note: the weight limit for each bag was 70 pounds. Each of ours was no more than 50. So I wish we had packed our things into larger bags that could carry more weight and save us the two extra bags.)
After that minor bump, we proceeded through security as you would at any other airport. We had plenty of time to kill at our gate, so we had breakfast and charged any electronics that could use some topping off. It was a good thing we remembered to bring a power strip in our carry-on. Everyone around us was thankful too — there are not many outlets.
Our first flight was directly to Tokyo (Yokota Air Base, to be exact.) It lasted about ten hours. We were on an Atlas Airlines plane. There was more leg room than I expected and they played family-friendly movies throughout the flight (no individual TV monitors though.) We were served two meals plus one snack and non-alcoholic drinks. There was no shortage of food and it was decent, nothing gourmet. When we landed we had about a three hour layover at Yokota (no pictures allowed on flight lines.) Everyone got off the plane here and was free to hang out in the terminal while the plane re-fueled. They had a couple of computers with internet access but it was so slow that it was virtually useless to try to connect. I had better luck with wi-fi on my laptop. We re-boarded in the same seats. Next stop, Iwakuni.

Newlywed Iwakuni
This flight lasted about two hours. The views as we descended over Iwakuni were breathtaking. It reminded me of the scene in Jurassic Park when the helicopter is flying through the lush green hillsides of the island. Again, we de-boarded and spent another two hours at the base terminal. Kenny and I both slept on the floor for most of this stop.
Finally, we were on to Okinawa. This last flight was only an hour or so. It was dark by then, but the lights over Okinawa were spectacular. It looked like such a dense city! Not what I was expecting – much more urban. I remember flashes of neon and thinking, "I can't believe we made it." My foggy, sleepy mind was clear for a few moments as it finally hit me – we were not going back to San Diego. This was home now.
We stepped off the plane and breathed in the thickest air I've ever felt, like you could slice it with a knife. It's true what they say about the humidity. And it was only April! But the steamy air felt like a blanket to me – I actually liked it. That is, until we walked into the first building I saw. It must have been one hundred degrees in that room. The good news – the line moved quickly. We made it up to customs and a man stamped my passport. Just like that, we were on our way. We retrieved our bags (this can take a while – be patient) and walked through another set of doors. The sounds of cheering met us on the other side. It was all of our sponsors, welcoming us to the island. I couldn't wait to soak in this new paradise.

Newlywed Sponsors
---
Read all the posts in this series: Parts 1, 2, 3, 5, 6, 7, 8, 9, 10, 11, 12, 13, 14