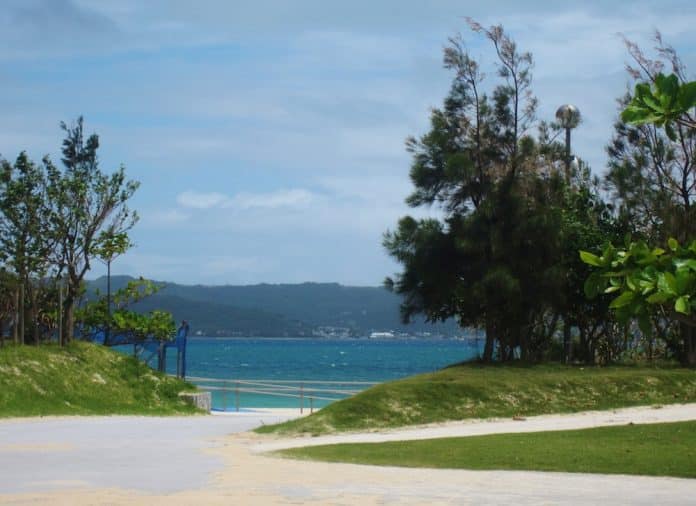 Nishihara Beach
CONTRIBUTED BY MICHELLE SANCHEZ
When a couple of friends invited me to spend the day at the beach, I was all game. When they suggested that we drive 30-40 minutes to go to a beach at the east end of the island, well that was a different story. Blame my hesitation on the fact that there are several beaches much closer to home and on the idea that following three other cars in a mini-motorcade sounded like a recipe for getting lost. But their convincing powers were just too strong. So we all headed towards the Pacific and luckily managed to stick together on the road.
When we got there, we initially parked on the far side of the beach and I immediately noticed how nice and blue the ocean is here. There were two play areas for children however the water on this side was not sectioned off declaring it unsafe for the kids. So we moved our vehicles to the other side of the beach.

Nishihara Kids Play Area
There are several pavilions with built-in concrete picnic tables and bench seating perfect for large barbeques. If you want to lounge closer to the beach there are a line of tables with umbrellas available for rent (I think it's Y500). Or you can just do the normal thing and lay down mats or beach towels right by the water, the perfect spot to watch your kids play in the waves or build a sand castle.
There is a stroller-friendly ramp that leads you to the sand and at least two lifeguards on duty. The swim area is netted off from lurking jellyfish making it safe for children to splash around in the water. There are ring floaties and other inflatable toys for rent on the premises but you are welcome to bring your own. Vending machines dot the main courtyard area but there is also a snack bar. There is a locker area and showers cost Y300.

Nishihara Beach Vball
Being the resourceful mother that I am, I used a sand pale and a faucet at the "foot wash" area to rinse off my sandy kids after their playtime at the beach. Everyone had fun but I had to wonder to myself if it was worth the drive. It was a chance to see more of Okinawa and to get a break from the American population. Nishihara Marine Park allows for a variety of other activities including jet skiing, banana boat rides, or a friendly game of volleyball. But best of all, Nishihara Mall is just around the corner. We weren't able to stroll around this full-sized mall much with pooped out kids in tow but I liked what I did see. Marine Plaza is also close by. I might drive all the way back there just to satisfy my shopping itch!
Directions: From Kadena Gate 2, drive straight on Rte. 20 till you reach 329 (Takahara Intersection). Make a right onto 329 and keep driving down till you see Nishihara Mall on your right. Make a left at the next traffic light. You will go down a winding road towards the beach and make a right at the t-intersection. Nishihara Marine Park will be on your left. There are several parking spots available.
Phone: 098-944-5598
Hours: 8:30 – 20:00