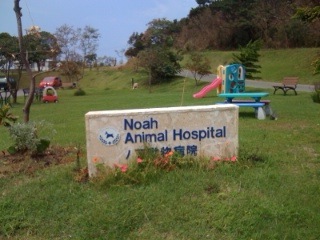 Noahs Sign
CONTRIBUTED BY ALEXANDRA KEY

For all the pet lovers on Okinawa, I need to fill you in. Vets out in town aren't scary. Sure, the Kadena veterinary clinic is fine but the waits can be long, the waiting room cramped, and the yard a little, for a lack of a better word, "poopy".
My Oki mix needed to get a heart worm test quickly so we went to Noah Animal Hospital out it in town, which accepts walk ins-but only at certain days and times, so be sure to look at the calendar before you load Fido and go.
When we arrived at the clinic, I was stunned. I hadn't seen a yard this big since I'd left the states. It was complete with a small play area for young kids, a bird bath, benches, a table and chairs, and lots and lots of grass to roam and play on (by Oki standards, mind you). There is even a convenient Coke machine and a sink to wash your hands at just by the front door. However, there are no pooper scooper bag dispensers like on Kadena, so be sure to bring your own.

Noahs Yard
The waiting area is pretty spacious, big and bright white, kind of like a hospital waiting room. There is a shelf of children's books for the little ones while you wait. Fortunately, it shouldn't be a long wait. When I arrived there were three people in front of me and I was seen in no more than ten minutes. The staff spoke English fluently and was patient with me while I filled out all the needed paperwork with two preschoolers in tow.
The vet himself is kind and a quick worker. Tinkerbell's blood was drawn in no time and I was told the results would be ready in ten minutes. It doesn't get much better than that. The whole thing cost approximately 3,900 yen (although, they also accept dollars and credit).
Noah's animal hospital is very conveniently located right outside of Kadena gate three. Just go straight until you see the sign on your right hand side. If you pass Marui gas, you have gone a litte too far.
Phone: 098-934-4477
Directions: Go straight out Kadena Gate #3 on Route 26 and it is approximately 2 km down on the right.
Hours:
Sunday 2-6
Tuesday 9: 30- 11 and 3 -6
Wednesday 9: 30-11 and 3-6
Thursday 9: 30-11
Friday 9: 30-11 and 3-6
Saturday 9: 30-11 and 3-6
*closed for all national holidays
Website: http://www.noahanimalhospital.com/