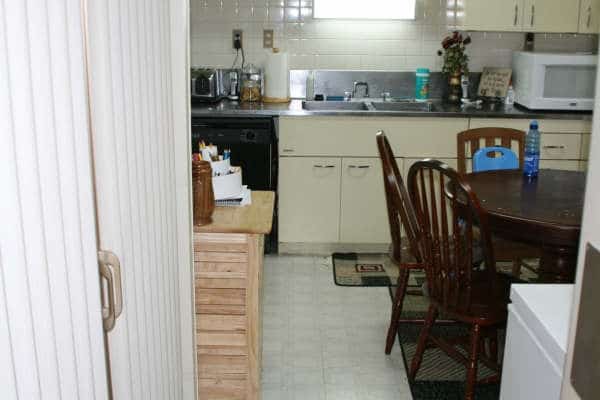 Living overseas has its challenges, and a commonly agreed upon one is finding that perfect place to live. To help those of us who are curious about the different options for living on Okinawa, readers have answered some of the most frequently asked questions about on-base housing. If you live in an on-base house that has not yet been featured on this site, please contact our Submissions Manager for the template.

Here's a great link to access, too, if you're on the fence as to whether to live on-base or off-base.
CONTRIBUTED BY BAMBI
1. What military base is your home located on? Camp McTureous
2. What area of the island is your home located on (i.e. North Island, Central Island, South Island)? North
3. What is the name of your neighborhood in which your home is located? McT
4. Generally speaking, most on-base homes are approved for occupancy based on military or government rank. If you would like, please provide the range of ranks that your home is approved for? Ours is for NCOs. Air Force considers E-6 NCO and not a SNCO so that is where we are living. It works though because most our neighbors have lived here long enough that they are also SNCO.
5. What DoDDS school district is your home attached to? Is there a schoolbus system available? We go to Bechtel Elementary School and do not get bussed because it is on the same base and all houses on McT are under a mile from the school.
6. Please describe the "feel" of your neighborhood (i.e. pet-friendly, child-friendly, level of safety, friendly neighbors, spacious, etc.) Our neighborhood is unique. There is only housing, the school, the pool, youth center, fire station, and Shoppette on it. So it feels like living in a gated community. It is pet-friendly as all the houses on McT can have pets and almost everyone has children. It is very safe as PMO patrols at least 2 times a day. There is also plenty of grass space with all the houses so there is room to play!
7. Please describe the style of your home (i.e. detached home, duplex, apartment, age of the home, etc.) We have a Multiplex and don't know the age of it
8. Please provide general information about your home such as square footage, number of bedrooms and baths, number of stories/levels, special amenities, etc. The square footage was a little over 1100. It's a 2 story house and we have 3 bedrooms, 1 full bathroom, 1 bathroom that also has a shower, and a ½ bath downstairs. My one complaint is the lack of cabinets in the bathroom.
9. What places of services are available near your home such as restaurants, shops, commissary, playgrounds, parks, etc.? Playgrounds are out our back door so that is nice. There is the one by us, the one that with the Youth Center (that you can use if the Youth Center is closed), the Officer playground (has swings!), and the Elementary school (again you can use if the school is closed). There are no restaurants on our base, but there is plenty just a little ways away (we usually walk to them. Takes 10 min. and you don't have to worry about parking spaces!). The commissary is about a 10 min. drive, but is in the same place as where you get the mail so you can do it in one stop. The PX is really small and doesn't usually have what you want. A couple blocks farther is the movie theater and bowling alley (closed for renovations) and the base clubs. Out in town has flower shops, book stores, and various other stores
10. How is parking provided for your home? You have 1 designated spot and then there are a handful of visitors. Most people usually park on the road where there is plenty of parking because there isn't enough parking.
11. Is there any yard space or outdoor spaces provided for your home? We have a front and back yard. The front yard has a patio that you can buy a cover for (we did so it is usable year round). The front yard is about 10 feet of grass then the patio area. The back yard is fairly large and nice to be able to go out and let the kids run.
12. What do you feel is special about your home or neighborhood – what makes it feel like "home" here on Okinawa? What makes it feel like home is our personal items we brought with us. If I knew then what I know now it would have all came and I wouldn't have left anything behind. The government furniture doesn't help it feel like home. The thing that I like the most is the kids wall clings that we bought at Lowes and Walmart. They are re-usable so we took them off our walls in our old house and brought them with us. The day we moved in we put them up and the kids knew that was their room. It helped them transition really well!
13. What housing expenses are included with on-base housing (i.e. utilities, rent, appliances, etc. Living on base the power, water, rent is all covered.
14. Are there any expenses or fees associated with on-base housing?  We have to pay for our phone and cable
15. Are you satisfied with the maintenance services provided by your on-base housing organization?  The little things we have needed done they have been out to take care of that day or first thing the next day (depending on what time you call). They have been very quick at fixing it and not taking up a lot of your time.
16.  Finally, what advantages and disadvantages do you feel have been your experience living on a military base here on Okinawa? For us it is the size of the house as a disadvantage. We downsized to move from our house in the states to our house here on base, but weren't sure about expenses were like living out in town. I do love the closeness to the school and that our kids don't have to get on a bus. They are right there and easy to get in an emergency (which hasn't happened yet). I also love all the cupboards in the kitchen and the fact that there is a pantry!! There is plenty of space for storing all my kitchen gadgets!! The shape could be better though as it is L shaped and unless someone is in the kitchen with you, you don't know what is going on in the living room.
---
Want to see more? Take a look at this video by The Lovelys, who have included an example of this housing area in their Okinawa Military Housing Compilation video on YouTube from May 2016:
---
If you live in on-base housing OR off-base housing that has not been featured on Okinawa Hai, or in housing that has been renovated since its last post, please contact our Content Manager for the on-base housing template and instructions on how to share your little slice of Okinawa with the rest of us.