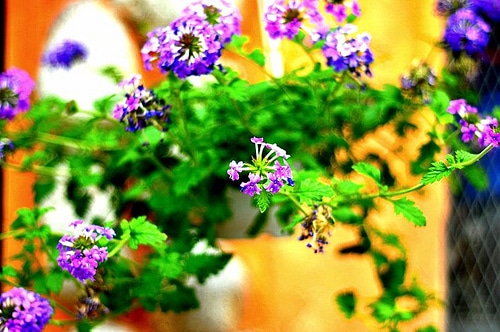 CONTRIBUTED BY JANNINE MYERS
Not so long ago, on my way to visit a friend whose wife was recovering from a minor surgical procedure, I decided to stop by the nearest shopette on base and pick up some type of floral arrangement. It's a good thing I asked the Japanese cashier if the plant I was holding would be an appropriate "get well" gift, because she quickly directed me back to the flower stand and suggested that I choose a pretty bouquet instead. The cashier wasn't confident enough to explain in English why a bouquet would be more appropriate, so I made a mental note as I left the store to do some "flower-etiquette" research, and earlier this week I did just that.
Momo from Hanatoki Flower Shop on Kadena Airbase, was kind enough to advise me on the cultural dos and don'ts of giving flowers to Japanese recipients. She informed me that it isn't appropriate to give plants to sick people because it symbolically implies that the plant's roots may also take hold of the person's illness and cause their condition to deteriorate. A more appropriate gift would be either a brightly colored floral bouquet or basket. Momo said it's also important to consider that Japanese hospital rooms are very small so if you're planning on taking flowers to someone in hospital, a smaller bouquet or basket is better.
Giving flowers when someone has died also involves an element of careful selection and should be mentioned to the florist so that you'll be sure not to offend the grieving family. A good choice, according to Momo, would be any species of flower from the "mums" genus (see the picture below). These flowers are long-lasting and are quite often placed in special vases which are positioned beside the tombstone. I asked Momo if colors mattered, and she said that older generation Okinawans might disapprove of certain flower colors but more than likely any color arrangement would be acceptable.
Moving onto less somber reasons for giving flowers, I asked Momo about ordering roses on Valentines Day and was surprised to hear that off-base florists generally don't acknowledge rose petals as a romantic gesture, although recent years have shown an increase in the use of rose petals as floral decorations at weddings. Momo recommended ordering Valentines Day roses from any of the base, or American-owned florists.
One other flower-giving occasion I was curious to learn about, was the celebration involved when someone opens a small store or starts a small business. I remember years ago, congratulating one of my Japanese students who had just opened a new restaurant with her husband. During the days immediately prior to the opening, friends and family members stopped by the restaurant with beautiful flower stands and flower baskets, all of which were proudly displayed outside the establishment on each side of the entrance. I witnessed the same thing happen again just a few months ago when a new bakery opened near the house where we used to live. I managed to capture photos of just a few of the flower stands that were delivered to the owners of that bakery, but there were actually far more than what you see below in the photo. Momo said that this is a customary practice in Okinawa and often, groups of people will pool their money together to pay for the larger and more expensive stands.
These are just some of the things I found out for you about giving flower gifts in Okinawa, but if you're buying flowers for one of your Okinawan friends or coworkers, and you're not sure if they're suitable for the occasion, please ask the florist. And if any of you have anything to add to this post that would also be helpful to know, we'd love to hear your comments.
---
Hanatoki Flower Shop
Located on both Kadena AB and Camp Foster
Hours: Kadena 9am to 9pm
Foster 10am to 7pm Sun thru Thurs; 10am to 8pm Fri and Sat
Location: Kadena – Ground floor of BX, at rear of building
Foster – Inside Concession Mall