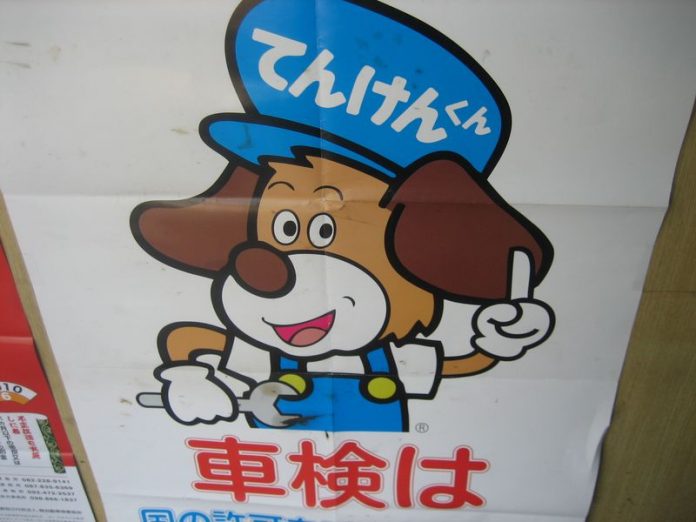 CONTRIBUTED BY KATHERINE MOORE
Although I just arrived here on the island in January this year, it's already time for me to renew my JCI.  I have heard so many horror stories about JCI renewal, and was not sure exactly what the best thing to do.  I read Shannan's very helpful and detailed post "The dreaded JCI" and thought, that's still a lot of work!
I do speak Japanese, so I thought, why not try something off-base and share my experience with the readers of Okinawa Hai?  I have driven many times by Koza Automobile on my way to my daughter's daycare and so I thought, I'll take my car there for JCI inspection!  By the way, if you have seen this picture of a dog with a wrench, it means that this place is certified by the government for JCI inspection, also known as Sha-Ken in Japanese.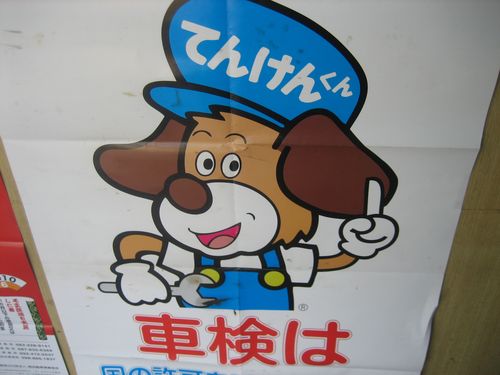 So, here's how it went.  Once I arrived it took about 15 minutes for the mechanic to evaluate my car and come up with a free estimate.  (Ask "Sha-Ken no mitsu-mori onegai-shimasu", for an estimate.)  He told me that my fan belt needed to be replaced for 6,000yen including labor.  My options were to fix it then and arrange for transportation myself, or make an appointment when they could give me a loaner car.  Note: the loaner car is free and available for as long as the repair takes.
I came back two days later and dropped off my car, and drove away with a loaner car.  Note: if you are going on-base, you need to get a vehicle pass for the loaner car, ask Koza Automoile for the paperwork. Later that afternoon, I got my car back and was told to come back the next day to pick up my new JCI sticker.
Next, I decided to call Foster Vehicle Registration Office to get all the up-to-date information regarding JCI renewal.  This way, I'm able to compare the difference.  Here's the price comparison (without the repair fees):
| | | |
| --- | --- | --- |
| | Koza Automobile | Foster etc. |
| JCI Policy | Y 10,890 | Y 10,890 |
| Weight tax | Y 12,600 | Y12,600 |
| Weight tax fees | Y 8,100 | Y 8,100 |
| Inspection fees | Y 8,000 | Y 1,760 |
| Final inspection fees | Y 6,000 | Y 1,800 |
| Total | Y 45,590 | Y 35,150 |
Off-base:
•    Everything is done at one place, no waiting in line at Koza Automobile!  I spent a total of 30 minutes for the whole process.
•    Show up at your convenience, able to make appointments including Saturdays.
•    Free loaner car is available.
•    Make repairs on-site.
•    Car is detailed (cleaned) inside and out.
•    Credit card is accepted.
•    Very friendly with nice waiting area.
On-base:
•    Difficult time table.  Open at 7:00am for JCI inspection, but requires Weight Tax paid, which is not available until 9:00am.
•    Must show up early or risk waiting several hours or the whole day in line.
•    Different lines for JCI policy, Weight tax, and Inspection.
•    If repairs are needed, you need to find a repair shop on your own, repairs can be made at the Car Care Center, but is not part of the process – potentially another long line.
•    If not  repaired the same day, there is a $13 re-inspection fee, and more lines.
•    Need to carry both yen and dollar, credit cards are not accepted.
So, in conclusion, off-base is approximately $100 more than Foster, but you don't waste the day in line, hoping to get it done without a migraine.  Koza Automobile operates on the principle of convenience and respect for the customer's time.   No unnecessary repairs were recommended and they even fixed a dent in my bumper for free.
---
Koza Automobile
Hours: Monday – Saturday, 0830 – 1730, inspection not available from 1200 – 1300
Phone: 098-938-8668
Address: 〒904-2151 Okinawa-ken, Okinawa-shi, Matsumoto, 5 Chome−13
GPS Coordinates: 26.3577857, 127.80926829999999
Directions: From Kadena gate 3, turn right immediately after exiting the gate (this road is 74). At the second light (Ikento) with the overpass, continue left on 74.  The sign will show that 74 is straight and 85 is right, but you actually need to turn left to stay on 74.  Turn sharp right on the first light, almost feel like a u-turn.  Koza Automobile will be immediately on your left side.  Look for the big blue sign with their phone number on it (as shown on the picture) and the Sha-Ken dog.