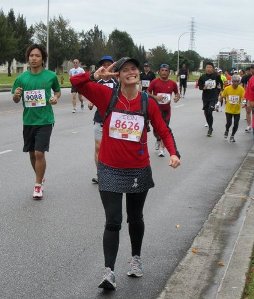 CONTRIBUTED BY ANNA BOOM

Okinawa City Marathon was on February 20th; were you there? If you weren't running or cheering, you most likely enjoyed the traffic control outside and inside the gates of Kadena Air base and Camp Mctureous and all throughout Okinawa City.
The Okinawa City or OkiCity Marathon is the first marathon of the year on Okinawa Hontou, the main island in the Okinawa island chain (similar to Hawai'i, the Big Island of Hawai'i). Here is your chance to follow through with those goals on your bucket list and enjoy the fun of running a race on Okinawa.
This race is not just for the runners, it is also for all the cheerleader, spectator, and super happy type of folks to come out and bring it. It runs right through Kadena, so you don't need worry about where to park or where the course is going. Just bring a lawn chair, a water bottle, Swedish fish, your camera, pom-poms and a noise maker to join in the fun. Ahh, what fun…watching thousands of sweating, stinky people in pain run by you, while you relax in your chair. And they paid to run this!
What makes OkiCity different (more fun in many ways) from the Naha Marathon? After you read our previous OkinawaHai post on the Naha Marathon, you may remember how big that race is. OkiCity has around 11,000 entrants with a limit of 13,000 (goodness that still is a lot of runners!) for the full marathon. OkiCity also has a 10Km race, which kicks off at 9:30 am; a half hour after the full marathon gun goes off. The 10Km is limited to 2500 entrants. It is a flat and fast out and back course.
A second difference is the marathon race course. If OkiCity marathon ever has a slogan, it should be along the lines of "Come for the 42.2 Kilometers, Stay for the Hills!" Some runners think this is fun too. Crazies.
It starts at the Okinawa City Comprehensive Park. This is that same huge wonderful park you have visited with your kids or to just go for a stroll. If you haven't, it is an Okinawa must do. Bring your scooters, Frisbees, hula hoops and enjoy the open space with our local friends.
After leaving the park, the course takes runners up and up and up past the Katsuren castle and then back down, down, and down. We run past Camp McT then through Okinawa City and into gate 2 of Kadena and back out gate 5. It is always a boost to hear, "You can do it! Run faster!" and helped us run faster for a bit (past where they could see me, at least).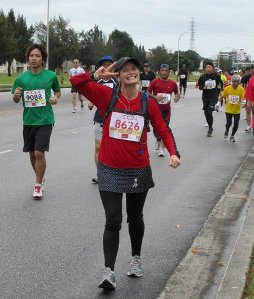 Always cheerful Kathleen Lennard. photo by Amy D Stewart
This year, as in previous years, the rain started in the morning and continued through the first half. There were people out cheering for all of us, holding their umbrellas and trying to clap. It gives the runners a feeling of elation to hear them all. At the end of the race, and this is one of the best parts, there is a long downhill. If you've driven straight out the Foster Shoppette gate before, you know which hill I mean. At this point in the marathon, there is nothing left but luckily gravity is on your side here. Just let it take you away and fly.
Like many marathons, there is one final lap inside the stadium to complete before crossing the goal. Many people dislike this as they finally, finally made it to what they believed was the end yet still have to run one more lap. For others, it gives us a chance to drop it all and go all the way to the finish line.