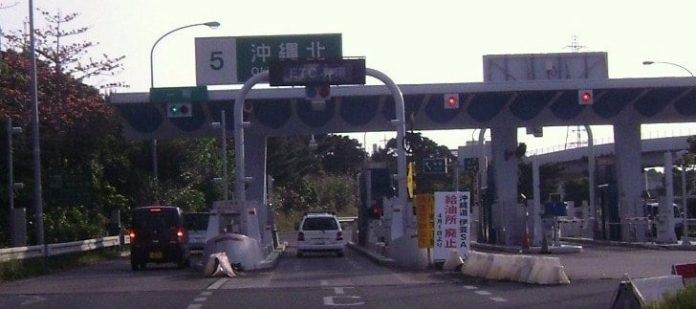 Editor's Note: Okinawa Expressway and ETC was originally published on Okinawa Hai on March 27, 2009; you can read a PDF copy of that original review HERE. The post below is an updated take, published May 23, 2016.
CONTRIBUTED BY LOUISE DUPUY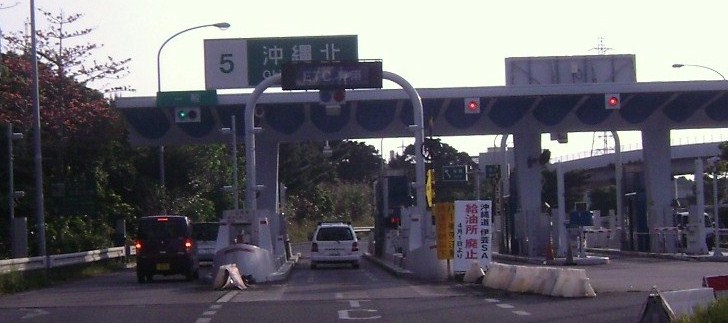 zjnjyone who has been here more than five minutes (and for anyone who just arrived really), Okinawa is infamous for its traffic. "Going nowhere fast" has never been more apt than here on this pretty little subtropical haven! However, there is a way to beat the traffic: take the expressway! Allow me to take you on a brief journey, and impart some wisdom about the ETC (automated pay) system whilst I'm at it!
What Is An Expressway?
A highway, usually 3 lanes wide and with a top speed of 80km/hr, making it much faster than the standard roads and routes on the island. It runs from Naha to Kyoda on Okinawa, a distance of 57.3km (35 miles). It's run by the West Nippon Expressway Company and has been in use since 1975.
Where Does It Operate?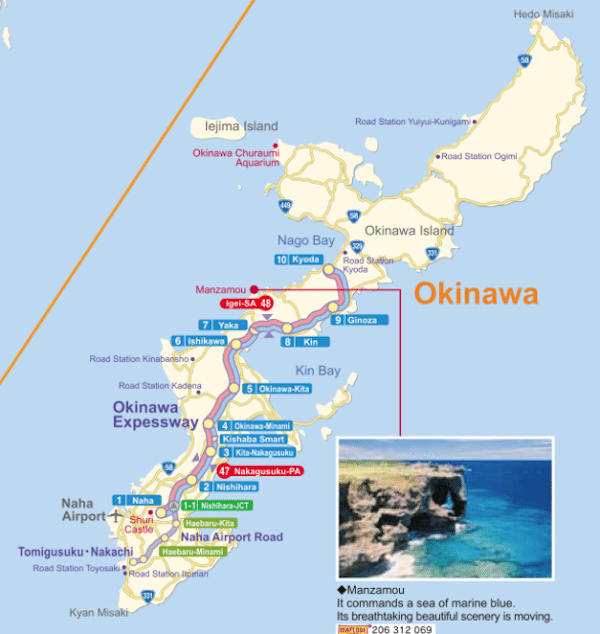 The route begins in the South, in Naha, accessed from Prefectural route 82, right up to Kyoda, Nago, with the interchange emptying out onto Highway 58. There are 12 interchanges altogether, running South to North, these are:
1: Naha I.C.: Naha City, Shuri and Naha Airport
1-1: Nishihara JCT: Naha Airport, Outlet Mall Ashibinaa
2: Nishihara I.C.: Camp Kinser
x (not a full exit): Nakagusuku Parking Area
3: Kitanakagusuku I.C.: Camp Foster
4: Kishaba Smart I.C.: Camp Foster
5: Okinawa-kita I.C.: Camp Courtney
6: Okinawa-minami I.C.: Okinawa City and Kadena Gate 2
Ishiwaka I.C.: Onna Village
7: Yaka I.C.: Onna Village
x (not a full exit): Igei Service Area
8: Kin I.C.: Camp Hansen
9: Ginoza I.C.: Camp Schwab
10: Kyoda I.C.: Nago City and Ocean Expo ParkThis means it's pretty accessible from most of the island and allows for a quicker, stressless route, particularly important for those middle of the day airport runs!
How Do I Find It?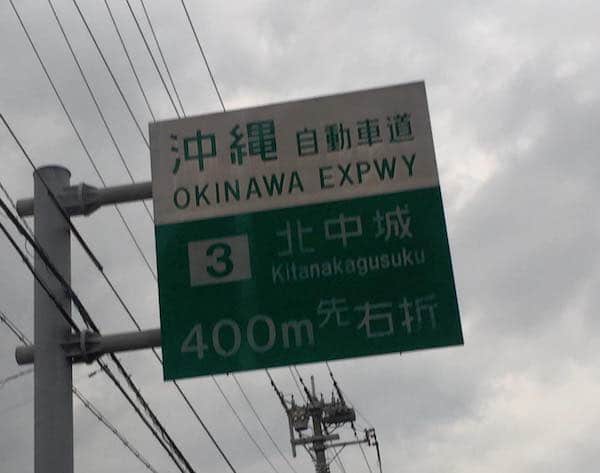 Its signs are well posted. Look out for the green and white signs that say expressway, or the green and white boxes on normal road signs pointing you in the right direction to join.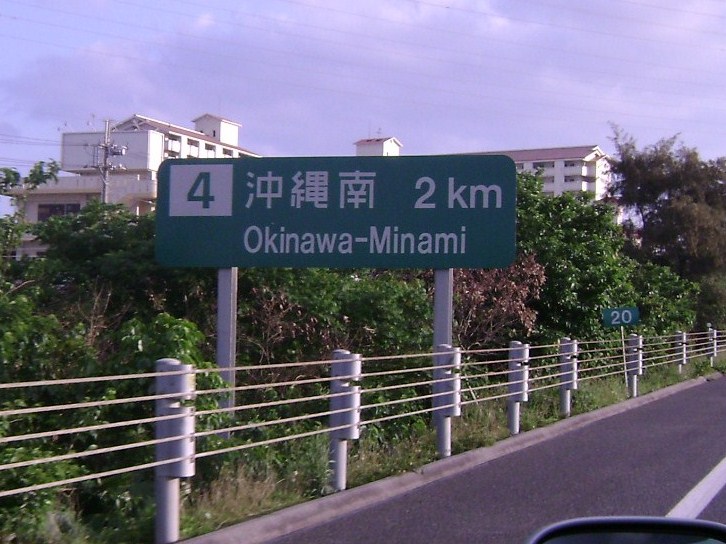 How Much Is It?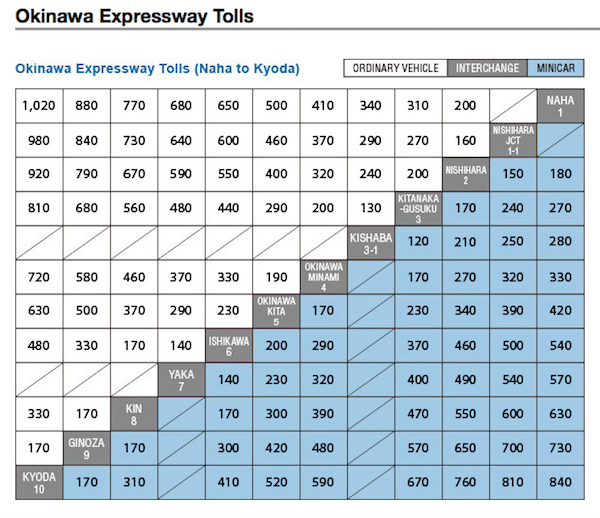 The only downside to the expressway is the fact that it's a toll road. This means that depending on your journey length, it will cost you. Price also depends on the type of vehicle you have too. You are looking at anywhere from 120/130 yen for the very shortest journey, right up to 840/1,020 for the longest. Again, this depends on the type of vehicle you own, with categories for mini and ordinary vehicles.
How Do You Pay?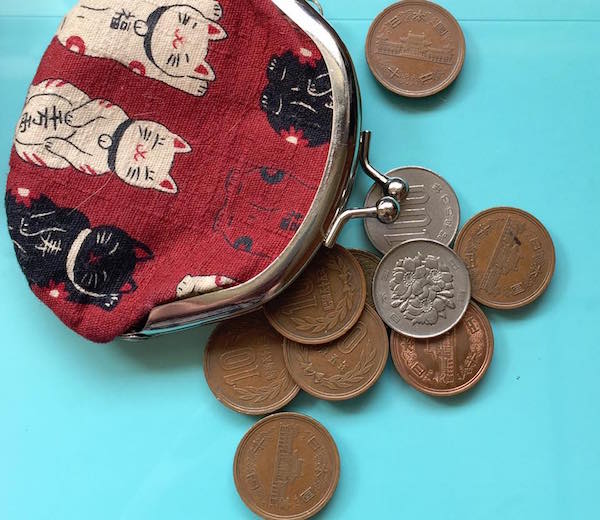 Yen cash. They accept coins and notes, but don't put a 5,000 yen note in, they can't change it! No dollars. If you plan to use it regularly and don't feel like having a car full of change, there is an alternative. It's called ETC, and it's awesome!
What's ETC?
It's an electronic collection device, much like the EZPass system on the east coast of the US, which allows you to pass through specially marked gates at all intersections without fumbling for change. All you need is a card reader in your car, an ETC card, and voila! The readers can be installed at Autobacs or Yellow Hat. There are different types, depending on your vehicle type and needs, so discuss this with the installation engineer.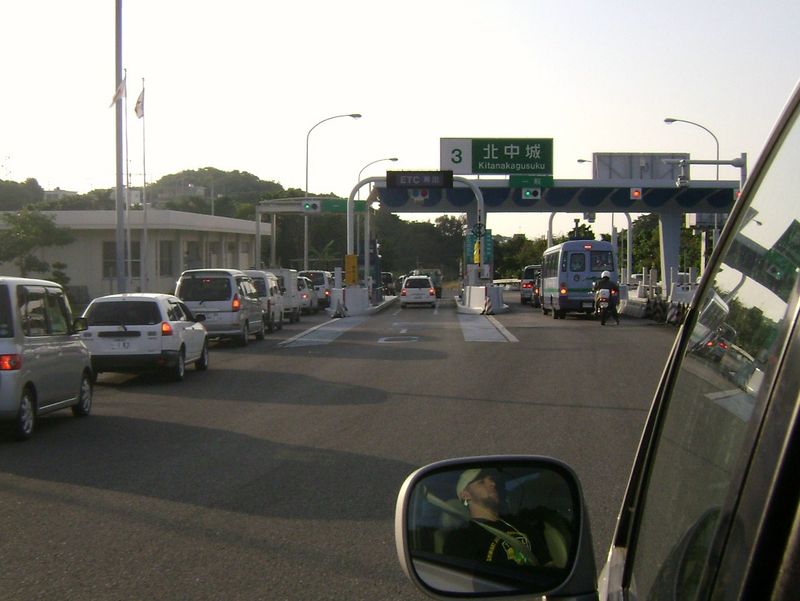 You simply put the ETC card into the reader device, enter the toll road through the ETC gate (marked with purple signs) and off you go! There are three service price plans available too, which are:
Monthly: 1200 per month
Yearly: 989 per month, billed annually
One-time fee: 20,000, billed once
Referral code: OKIHAI , lets them know you read it here and that gives us a small commision to help run our community.
These are service fees for the ETC, and you still have to pay for all tolls. However, if you sign up and don't use the expressway, you won't be charged the service fee. And with the one-time fee, you pay once then never have to pay the service fees again, just the toll price. Also, you can have multiple cards for one vehicle, or for the household! So if there's more than one driver in the home, you can keep track of who is spending what with individual cards. They have a website to explain everything, you can find it here. It's in English, and you can link the ETC card to an American bank account or credit card; with all fees for using the expressway pulled monthly, you don't even have to remember to pay them by a certain date. It's efficient and clever.

Happy and safe driving!
Do you use the Expressway often? Who has an ETC unit installed in their car? Tell us about your experiences!